The Last Express
Help Robert Cath, a fugitive American with a mysterious background, find his friend's murderer aboard The Last Express! Travel aboard the Orient Express as you unravel a dangerous mystery in this exciting Adventure game. Take on a tale of international intrigue with Robert and find love in an unlikely place! Expertly navigate different plot twists as you try to stay one step ahead of the complex characters and figure out who killed your friend!
Incredible gameplay
Exciting storyline
Find your friend's murderer!
Game System Requirements:
OS:

Windows XP/Vista

CPU:

600 Mhz

RAM:

128 MB

DirectX:

7.0

Hard Drive:

1887 MB
Game Manager System Requirements:
Browser:

Internet Explorer 7 or later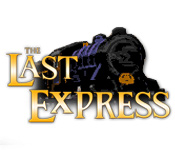 NEW299
The Big Fish Guarantee:
Quality tested and virus free.
No ads, no adware, no spyware.

Reviews at a Glance

The Last Express
0
out of
5 (
0
Reviews
Review
)
Customer Reviews
Finally...a game that makes me think!
I played this game less than half-an-hour before I fell in love with it! I read the reviews in the BFG forums before I bought it and they were mixed, but I took a chance. I was a little concerned, since there was no trial, that it would run on my 64-bit Vista PC, but I've had no problems so far. It did rearrange my desktop icons a bit, because the screen resolution changes (I presume to a lower one) when you play the game, but my resolution went right back to what it was once I exited the game. I was a little confused as to how to exit the game prior to completing it (you definitely will not finish it in one sitting), but figured out that if you click off-screen at the very lower right-hand corner, it will take you out to the main menu where you can exit the game. I have a 19-inch monitor and apparently there is a button in the lower right-hand corner that is cut off the screen. I've had that problem with another game, too. It may simply be my monitor. So just be aware of that. The main menu allows you to exit or come back and continue the game where you left off. Now, for the game itself. Nice music. The graphics are in a style reminiscent of old-fashioned art deco nouveau. If you're expecting the crisp hi-def graphics of the modern computer games we play now, you may be disappointed. I happen to love art nouveau, so it doesn't bother me. According to what I've read, the game was first released in 1997. I was intrigued by the descriptions of the game and, after watching two youtube presentations, was sold on it. Just Google "Last Express" or search youtube and you will find them. All the action happens in real time aboard the Orient Express. In other words, if you don't move your cursor and you stand in the diner car for 5 minutes doing nothing, you're literally doing nothing in front of your computer for 5 minutes. So technically, I could stop playing, go wash the dishes, fix lunch and come back and pick up exactly where I left off. HAA - love it! The graphics look much like a real film that was then animated and that's my understanding of how the game really was made. There is no explanation of what to do, no sparkles, no hints. There may be strategy manuals online, I don't know. You just click and move along the aisles or wherever you're "walking" with your mouse, uncover clues and figure out what to do next. People speak to you as you "walk" up to them. I DON'T THINK THESE ARE SPOILERS, because they show them in the youtube videos, but people in the diner and coach cars carry on conversations with each other, a little boy runs up and down the aisle of the sleeper car blowing a whistle and irritating his mother who fusses at him, a growling dog warns you away from another sleeper car. People speak French and, but for the translation at the bottom of the screen, you don't understand what they're saying. Very realistic game play and it's fun when you discover something and then you know you're on the right track and the game progresses a little. It's also my understanding from reading other reviews of the game that there are several ways you can play this game out, so it sounds like you could play it over again once you finish and try doing things differently the next time. There's definitely some strategy to be figured out and the game really makes you think about what to do next. I feel like a detective, just like in a real who-dunnit. I give it a 4 on fun factor only because some gamers may not like the atmosphere or the graphics and may find that there is not enough explanation of what you're supposed to be doing to make it enjoyable. But for me, it's a win-win because I love who-dunnits and a challenge. I think this game is going to keep me busy for quite awhile and I'm really glad I bought it. Well worth the price!
November 22, 2011
Thank you BFG!
Excellent game!! You can play this dozens of times and it is never the same, due to the fact that events in the game happen both reactively to you and independent of you. The historical research, acting, and thought that went into this game sets it well apart from the average adventure game. If you are not ready to seriously use your brains, this may not be for you. For those of us longing for a true immersive challenge, this game is the ticket! Soooo excited BFG picked this up. This game was produced in the late '90s and suffered from bad timing. The entire marketing dept of the company quit, and the company was sold to a firm that was only interested in educational software. So, it won TONS of awards and acclaim, but was a commercial failure. I owned it back then and I am glad to see it here where it can be appreciated again!
December 26, 2011
Best adventure game ever
This was the first adventure game I ever played, back in the 90's. I was very frustrated at first, because I kept being arrested as I didn't know what to do with the cadaver. At that time there were no walkthroughs or anything like that on the internet but I kept going and didn't regret it! I have been looking to buy it again for years and was very happy to see it on BFG. I love he way the animation is done with real actors, I love the art deco graphics, the music is marvelous and the level of challenge is perfect for me. I could play for hours and hours and never get bored. Also as I am French I enjoyed the fact of playing a really good game in my own language. There is action, there are slower moments that give you time to think of what to do next and I found it rewarding to succeed without any clues or hints. This is really the kind of game I love and I wish there would be more like this one. If you like to sit back, relax and enjoy a good adventure game that has nothing do to with ghosts, haunted mansions, music that drives you nut or unsolvable puzzles without a walkthrough, this one is for you. Keep going at it though, don't quit after half an hour! I highly recommend that game.
January 7, 2012
a CLASSIC of adventure, non casual gaming
This is one I've replayed again and again. It has a complex story, a fascinating setting and interesting characters. I do warn you that it is not easy, and you may have to consult a walkthrough, but it is a classic that has held up for many years. If you like international intrigue and the setting appeals to you, go ahead and get it. It's a good story.
January 24, 2012
Loved it!
If you're not afraid to roam around, make mistakes and really explore a world where the clues and tasks are completely relevant to the game and not just find hidden objects and solve abstract puzzles then this will make you very happy. The story, history, dialogue is amazing. Enjoy!
January 12, 2012
Absolute classic - Loved it.
I took a gamble at this game, being a bit turned off by how outdated it looked (by the screenshots). I had some credits spare so thought I'd try a game I wasn't familiar with. Let me just say the description for the game doesn't do the game nearly enough justice. This is one of the best adventure games I have played (and I've played quite a few) EVER. And I don't think I've ever played a game with a story so complete. I've just finished it and can't wait to play it again, there's things I haven't figured out yet that I'm going to go back and explore. If I had to describe it it's a bit like Broken Sword meets The 39 Steps meets Murder on the Orient Express. There's drama and intrigue, romance, history, tension (there was a few bits that got my heart pumping-that's NEVER happened to me during an adventure game!) and some stories affected me so much so that I actually cried at certain bits...yes, I CRIED. There is so many intriguing stories going on alongside the main adventure. The graphics ARE outdated although I truly love the idea of a remake, keeping the nouveau cartoon animations in those environments but cleaning it up and adding more variety. On the plus side the character animations were so simple and effective that it didn't cause any crashing or issues. Partly due to the story I became so integrated into the environment, I could hang around listening to people's conversations and snooping forever! Also the use of foreign languages is perfect for getting the secretive atmosphere and a sense of the time. I really loved the style of the characters, they look from the correct period and (due to the fact that they were drawn from live action) they feel SO real, even to the extent that some of the ladies look coyly at you as they walk past, or others look suspiciously at you (as if they know you've been snooping!) Sure, there are issues and problems I came across, (such as getting stuck and having to repeat the same cutscene over...and over...and over...) but overall I really can't hold that against it, this game is absolute gold. I wish there were more like it, and I wish there was more being created today, with the benefits of new technology. I've played historic games that just didn't feel real enough, and I've played adventure games that didn't have a compelling story but this game manages to encompass all of that and more, whilst being really really simple and having very little of the puzzles we're used to. I seriously can't sing the praises of this game enough. It has issues but I love it, just the way it is. :)
September 15, 2013
One of the original best.
I got this game back when it originally came out in 1997. Even today it looks amazing! What set this game apart from all the other PC adventure games is that no matter how many times you played through it, there was always something new. The way it was able to do that is that everything and everybody on the train went through their scripts in realtime. So even if you're not in the area, the characters are having their little chats or moving around the place. It can get a little frustrating if you need to be somewhere in order to get a certain piece of information or an item, but there is a way to rewind time back to a checkpoint (which can be doubly frustrating if you've progressed very far in that particular chapter). All in all, it's a very wonderful game that has an amazing storyline that will keep you coming back to see all the things you might have missed.
October 4, 2012
An Exciting 'Must Play'
during pauses in the game i found myself smiling and thinking!...I feel that i have been on the Orient Express...Play through a few stops and work with the rewind funtion...then start over...you are ready for an amazing game...i tried all of the endings, just rewind afterwards and play on..You will not regret it! and get a walthrough...it helps and you still have to do all of the work.
September 16, 2013
My Absolute Favorite Game
This is the best game I have ever played. If you enjoy games with dept, history,art, and foreign languages then I would recommend the Last Express.
January 2, 2012
5 well deserved stars!
I really loved playing 'the Last Express'. I found it challenging and fun. Also a very nice storyline!
September 30, 2012