Haunted Legends: The Bronze Horseman
A small town lies devastated after being ravaged by a terrible flood. The townsfolk hide away, whispering of the Bronze Horseman, who has come to pass judgment on the wicked! Summoned by the towns mayor, it is your duty to investigate the mystery and find his son, who has disappeared amidst the chaos. Help the small town using your Hidden Object talents in Haunted Legends: The Bronze Horseman!
Game System Requirements:
OS:

Windows XP/Vista/8

CPU:

1.4 GHz

RAM:

1024 MB

DirectX:

9.0

Hard Drive:

431 MB
Game Manager System Requirements:
Browser:

Internet Explorer 7 or later
Alcohol Reference
Mild Blood
Mild Violence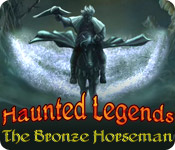 NEW299
The Big Fish Guarantee:
Quality tested and virus free.
No ads, no adware, no spyware.

Reviews at a Glance

Haunted Legends: The Bronze Horseman
0
out of
5 (
0
Reviews
Review
)
Customer Reviews
Haunted Legends: The Bronze Horseman
63
63
Why so mean with hints??
I must be a bit thick, or lazy, but I really dislike the fact that this game only has hints for the HO scenes. I'm fairly new to HO Adventures, but all the games I've tried and bought so far have unlimited hints which tell you which scenes you should move to as well as indicating what to do when you get there. (Is limited hints a way of forcing us to get the Strategy Guide?) I've bought more games from ERS than any other studio - Hidden Wonders of the Depths, Sarah Maribu, all three of the Spirits of Mystery series, but I won't be playing Bronze Horseman
August 5, 2013
Disapointing
Well for a start I would like if there were hints in the scenes or tell me that "This scene is Clear" instead of going back and forth all the time; I wouldent have finished the game without the Walkthrough I must agree with the others that the ending is too quick. And this game is like a 3-in-1 you get a new scene on each level Ria
July 30, 2012
gave it a shot
I gave this a shot despite warnings about the ending. My first impression is that the graphics and game play are very old-school. The first voice-over from the little girl and the grating little evil character were enough to dissuade me. I didn't make it far and will not be purchasing.
June 18, 2012
Haunted Legends: the Bronze Horseman
Well, nothing new to say here. As an ERS game, the sounds and visuals are all similar. This one is better than its previous game: the Queen of Spades, still I find nothing new to it and find it nothing haunting about this legend at all.
June 9, 2012
Good, apart from the ending!
Very good game, enjoyed it lots. Nice mixture of H0 scenes and inventory based puzzles. Graphics were ok, could have been a little less cartoony. Length was also good, think I played for about 3-4 hours. The ending was rubbish though......if you can even call it an ending. You finish a puzzle, get a 5 second cutscene and then the credits roll! No closure to the story or anything. Really irritates me. Its like the developers got bored and couldn't be bothered finishing the game. Would have given it 4 stars if it wasn't for this.
April 24, 2012
Not what I expected
Would have been better if it included a map.
September 9, 2012
Would Have Given Only 2-1/2 Stars if I Could
A very sudden ending and the repetitive music were annoying, but not critical. I subtracted a star for the very frequent need to use the hint button in HOS due to very small or dark objects, as well as object names that needed translation to English, and/or objects that looked like something other than what they were supposed to be. I subtracted another star for the lack of hints outside of the HOS which made it necessary to exit the game repeatedly in order to look at the walkthrough. It also would have been helpful to have a map. I would have liked to subtract half a star for the annoyance factor of too many HOS (I can't believe I'm saying that). The only way I can describe it is, it made the game sort of hobble along with too many unnecessary interruptions.
April 25, 2013
Odd Ending
For the most part, I enjoyed this game. It didn't have me on the edge of my seat or anything, but it was a good game. There is no hint button, except during HO scenes. BUT, there are skip buttons for the puzzles, although I never needed to use one, which was good. The ending was super weird...I mean...it just ended. Poof. No cut scene, no nothing. Just roll credits. Very weird.
February 26, 2012
Fun game
this was a fun game, good enough to pass some time. I've played alot of these games and I've played better and alot worst. The ending, however, was non-existant. After the last puzzle, it just ended. nothing to say what happened to the town and the people after.
February 23, 2012
Waste of Money
After finishing this game, I wanted to scream! You go through so much, only to get no conclusion. Nothing. You collect all this stuff, complete tons of puzzles and hidden object scenes only to get nothing for all your trouble. The graphics are pretty and the 3 songs that play over and over again are okay. The voice acting is not good, the little girls fake crying made me turn the sound off. The characters themselves were just odd, you found out things about them but what you find out doesn't help you play the game or help the story along at all. Why do I need to know the mayor is a thieving jerk? Why would I care? You collect objects throughout the game then have to use those objects to do certain things, unlock new areas or do puzzles. Half the time you have an object that can be used multiple ways, however the way you use it is the last thing you would think of or the way you use it is something you would never, ever think of doing. So, you click around and around trying to figure what to do with this random object you just picked up. Overall, the puzzles and hidden object areas were decent, they weren't too hard or too easy. I was mostly entertained by them, outside of the odd ways you had to use objects. The worst part of this game is the story, or lack thereof. You have this mystery of the bronze horsemen... but there isn't really anything happening with the bronze horsemen. The horsemen just moves around... and maybe is used to break into people's homes... or something. The horsemen has nothing to do with anything. At all. The people vanishing is part of something completely different. I have no idea what the random horse guy's purpose is. Maybe the games creators ended up using a bunch of horses in the scenery and thought they had to add a horse in the plot. That I all I can think of that the horseman's purpose was, to explain why there was a horse on everything. I am surprised they didn't add a snailman in to tie in all the snails all over the place. The ending was horrible. You finish this super easy puzzle and then it is just over. You don't know what happens to any of the characters or towns people. Or what happened to the little creepy guy who was making all this stuff happen. He says something about why he is doing all of this, but then you never find out what it meant. If you want to play a good HOG, go play MCF: Dire Grove, not this game.
January 1, 2014
The Apple logo is a trademark of Apple Computer, Inc.