The Dark Hills of Cherai: The Regal Scepter
Explore The Dark Hills of Cherai and find The Regal Scepter in this unique Hidden Object Puzzle Adventure game! Locked away behind a door that can be opened only by combining 12 amulets, protected by a guardian creature, lies a powerful piece of regalia etched in the history of the village of Cherai as the Regal Scepter. Follow Tara, Maya, and Rahul as they embark on an amazing journey to find the ancient artifact!
Spectacular story
Incredible adventure
Find The Regal Scepter!
Check out our Blog Walkthrough
Game System Requirements:
OS:

Windows XP/Vista/8

CPU:

1.4 GHz

RAM:

768 MB

DirectX:

9.0

Hard Drive:

335 MB
Game Manager System Requirements:
Browser:

Internet Explorer 7 or later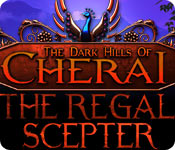 NEW299
The Big Fish Guarantee:
Quality tested and virus free.
No ads, no adware, no spyware.

Reviews at a Glance

The Dark Hills of Cherai: The Regal Scepter
0
out of
5 (
0
Reviews
Review
)
Customer Reviews
The Dark Hills of Cherai: The Regal Scepter
41
41
Very entertaining game.
Story begins with the nightmare of Tara ... You will help Tara, Mara and Rahul to search the Regal Scepter, at Cherai. Good storyline, excellent sound, great and crisp graphics, very good VO, particularly of children. Many many locations, AND... each child will explore a different area and will collecting things, but some will be used by another ... How? They can change things, although not in the same scene ...! Only playing you can see how much entertaining is. Several HOS, not challenging and hint (a peacock) fills fast. Many mini games - medium level of difficult, but they are very well done and really entertaining. Really pleasant and enjoyable game.
March 14, 2012
Very Interesting and Challenging Game
This game is extremely good, and will be enjoyed immensely by those who like a challenge, it is both a H0G and an adventure. The story line is good and interesting, there are two modes of play, Normal and Challenge Mode. The game is very long and involved. The voice over?s are good and appropriate As for the music, I have no idea, I was too involved in the game to hear anything. Spoiler: if you choose to play in Challenge Mod, I offer following advice: 1) keep abreast of the Grandha (journal on the lower left of the screen) 2) keep a manual list of inventory items 3) return regularly to the Exchange room to determine who has the inventory items you need to complete a task. 4) search every scene carefully, without sparkles it is easy to miss important objects and clues. End Spoiler Once you have accomplished the method of navigating between the characters, the map, and the Exchange room you will find this game all consuming. In challenge mode this was a 5 star game for me, I enjoyed the first game very much, but this game was by far the best.
December 16, 2011
who has what
This one took me longer than most to play. It is much heavier to adventure style play than HO although it does have several HO scenes. For sure the most challenging part is that you play as three different characters, each with their own area to explore. The fun comes when you realize that not every inventory object that you find is to be used in your area. So you must meet the other characters in an underground meeting place to swap objects. That's after you figure out who needs what and where. I found it quite challenging to remember who was doing what, what their area consisted of (which one had the well which one needs a shovel) and I often had to resort to making lists to keep things straight. But I did appreciate that quite a bit of thought and preparation went into this game. it was beautifuuly drawn with lots of color and an abundance of different locations. The mini games were fun. it had the one from the Drawn games with the lighting, blowing out and moving around of candles. All in all a fun game but with a bit more demand on concentration than I would have liked.
December 15, 2011
Most Challenging game I've played.
We need more like this one. We almost resorted to using a notebook to keep up with all the stuff we had to find and which character need what to complete the tasks. Having three characters certainly made it more challenging. Truly AWESOME game.
November 21, 2011
Unexpected Pleasure
I never saw this one coming. What a different game. You actually get to play 3 parts interacting with each other. Inventory is a blast to try and keep up with. Graphics are bright and clear with a few gotchas in there.
November 26, 2011
Challenging game to play
This is an Interactive Hidden Object that is a little more complex than usual as you play the part of 3 characters during the game. There are voiceovers which are very well done & the music is really suited to the story. The graphics are excellent & the artwork really lovely; some may find the scenes dark as the story is set at night, however I had no problem seeing items. The H0 scenes are pretty easy & the hint recharge is very quick, only 30 seconds on hard mode & faster on easy. Looks like the game developer took note of the complaints in the first game about this. If you drag an inventory item over to the hint (a peacock) you will be shown a picture of where it can be used. The hard mode only has sparkles for H0 areas only & in easy all active areas have them. You are given a journal & also a picture of the King of Cherai; if you click on it you will be told what the next task is. In addition you will be given a map that shows levels not yet opened, levels cleared & where you are; it is also interactive. The mini games during the demo were the usual sort, sliders, etc & were pretty easy. So back to the 3 characters; this is rather confusing at first & takes a while to get the hang of. You start with one, Tara & are shortly joined by Maya, another girl. You will see two ribbons at the top of the screen & the one that is brightest is the character you are currently playing. Later you will be joined by a young boy, Rahul. You will find objects as one character that need to be given to another & to do this you go to a meeting place that has a sort of roulette wheel. You put the item on the wheel, click an arrow to send it to the other person. To play as another character; for instance you may have given an inventory item to say, Maya, to be used then click on that character?s ribbon at the top of the screen. With so much going on in the game I rather lost track of the story; it took all my wits to remember which character I was & whom I should play; it was a delight to be challenged.
November 30, 2011
DISJOINTED
We found this game rather disjointed, you had to switch back in forth between players and unless you were able to use the blog walkthrough you would never know what to do or when, we found it very confusing.
November 15, 2011
Wow! Great Game!
Loved it! It's even better than it's predecessor.... Again, you play three characters and have to juggle items between them, but the map makes that very easy. Keeps it interesting! Tip: leave characters in the trading chamber when you switch between them - makes it easier to keep track. You can use the map to return that character to its former position if need be. The game is challenging without being frustrating. It's nice and long and gives hours of fun. This is one I'll be playing again for sure. I'm a fan of puzzles that make you think but don't take forever to solve or drive you crazy, so this game is right up my alley. I happen to like being able to get hints for what's next right within the game and this one does that well. If you're not a fan of hints, you can play the more difficult mode -- or just not use the tools provided. Can't wait for more in this series!
March 11, 2012
Keep your head together... you're going to need it
I played the first Dark Hills of Cherai and had some difficulty getting into the gameplay with the different characters and the swapping of objects. So I hesitated to purchase this one, luckily I did, because the gameplay is AWESOME! - You have this gorgeous map which lets you jump from one location to another in the blink of an eye... and, it indicates where you are, which locations you have finished off, which locations still have something left to do and which locations you haven't reached yet; - you have this button which lets you travel straight to the meeting point and you have these buttons which let you switch from one character to another: these two combined let you swap objects between the different characters very easily... and once swapping is finished, off you go again to where you want to be with the help of the map; - and if you are at a loss what to do with a certain object, just drop it on the imperial peacock (the hint button) and it will show you where to go to, without spoiling the fun. And what to stay about the graphics, except that they are OUTSTANDING. I love those crisp, neat, sharp graphics, full of colour saturation, with deep contrast and a lovely play of light tones and shadows. The puzzles are good, some of them are even quite challenging. You have lots of things to do, lots of scenes to explore, lots of objects to combine... yes, you will need to keep your head together to finish this one, I can assure you that. The only drawback to the whole game - and one which refrains me from awarding 5 stars - is the number of HOS... moreover the fact that the same HOS are being repeated... I really don't like that in a game. Anyway... I love this challenging and very lengthy game, which took me several days to finish. Please, let there be a sequel, please...
July 24, 2012
Not keen on this one
Well I have yet to finish this game, I keep putting it off to play others. While the graphics, and puzzles are excellent, I found this game to be a real pain to play, way too much jumping backwards and forwards between characters to retrieve items needed. I will finish this game one day. Would reccomend this game for its puzzles but only to people with lots of patience.
December 2, 2011
The Apple logo is a trademark of Apple Computer, Inc.