Voodoo Chronicles: The First Sign
Help out James Voodoo as he investigates a mysterious attack and goes on an incredible adventure in Voodoo Chronicles: The First Sign! Explore the forsaken hamlet of Ravenhill, then travel the world's wealthiest city, Richtown, and uncover the secret of a lost tribe in this challenging Hidden Object Puzzle Adventure game. Can you save the city from the terrifying monster? Find out in Voodoo Chronicles: The First Sign!
Fantastic gameplay
Incredible locations
For a more in depth experience, check out the Collector's Edition
Game System Requirements:
OS:

Windows XP/Vista/Win7/8

CPU:

1.4 GHz

RAM:

512 MB

DirectX:

9.0

Hard Drive:

668 MB
Game Manager System Requirements:
Browser:

Internet Explorer 7 or later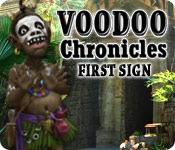 NEW299
The Big Fish Guarantee:
Quality tested and virus free.
No ads, no adware, no spyware.

Reviews at a Glance

Voodoo Chronicles: The First Sign
0
out of
5 (
0
Reviews
Review
)
Customer Reviews
Voodoo Chronicles: The First Sign
18
18
Steam-punk fun
This game has for some reason gotten mediocre reviews but I found it far more than average. Its not a small game, I'm on my third day and I play for hours sometimes. The graphics are brilliant and the story is enjoyable. The puzzles start out easy but vary in difficulty. The voice acting is great and music is fine. This is a really fun game! I don't say that lightly. Some aspects and art remind me of syberia...one of my faves. Its very steam-punk in nature and I love it. Sure..some things are not labeled/listed correctly, not what was drawn but who that plays games here at BF isn't used to this? I can easily forgive a circular saw blade being called a hacksaw and a bolt being called a screw when the rest is infinitely enjoyable. The hints are plentiful and don't take time to recharge (this makes me crazy when it takes 10 minutes for a hint button to recharge) Good grief, Ive lost interest by then! It isn't overly sparkly and I'm not a huge sparkle hater unless you aren't even given a chance to look first like many other offerings here. It was a bargain compared to many duds Ive purchased here. Its a really good game that doesn't deserve the negative comments.
December 1, 2011
Work of Genius - A Must for Collectors!
What fun to enter such creative gameplay. Like stepping into a "Who Framed Roger Rabbit" animated-type movie. An old Curse rendered by a Shaman for revenge against senseless greed is unfolding. The much-sought English (of course!) Detective James Voodoo is hired to solve and interacts with others! Gotta Love it! Puzzles, HO's, are fun--not mind bending. Played Hard Level. Waiting for 2nd credit to purchase CE. I consider other over-inflated entertainment costs and how much wiser and safer an investment to add another "gem" to my BFG forever collection. Looking forward to sequel. Thank you BFG!
January 22, 2012
RARELY HAD TO USE THE WALKTHROUGH
One of the issues that I find very annoying for myself is the many times that I have to refer to a walkthrough to play and finish a game. With this game, however, I RARELY had to look at the walkthrough and when I did it was because I'd not moved my cursor completely around/within a scene to pick up an item that I needed to use for a task in 1 or 2 scenes later and had become stuck. So, my point is this: MOVE THAT CURSOR AROUND and make sure that you've picked up everything necessary to progress in the game. You'll enjoy this game alot more and you'll find it much easier to follow.
March 6, 2012
And Now For Something Different..... :)
This one isn't going to fit nicely into the slot of "games like you're used to", unless you're proficient at putting square pegs in a round hole:) I'm calling this one a Winner, with humor & weird pulled together into a story/game that might test the imagination to follow & enjoy the ride. It begins as a whodunnit when Detective Voodoo begins an investigation into some bad results of a greedy expedition team. The beginning appears to be period detective stuff, complete with great music (that makes you expect to see Bogart sitting behind the detective's desk), "dames" in roaring 20's garb, and a trainride on something akin to the Orient Express. But there's magic afoot, folks, and as you follow the trail, things get, well, as Alice would say, "curiouser and curiouser". With this game's storyline, it was almost natural to move on to a navy ship in wild seas with no crew, steampunk junction (so to speak), a long lost jungle island, and a land where Salvador Dali would have felt at home. It sounds too odd to be comprehensive, but this game is a heck of a lot of fun to play with wonderful graphics, well done voice acting, interesting tho' not difficult adventure play, HOscenes that are clear & often weird in their own right, & a good big dose of humor, all from a dev who obviously unbridled their collective imaginations & put together a game that might leave you saying "huh?", but with a smile on your face. I'm gonna be presumptuous enough to say Voodoo Chronicles isn't about challenge, it's about fun. I'll play this again, & really hope for a follow up. I gotta go 5 stars & a recommendation based on fun & engaging gameplay, humor, graphics, & oddly cool concept. And especially for those of you who like something "different", well, here ya go. Have some fun with this one!
July 20, 2012
Enjoyable game!
Okay, it won't make my top 20 list, but it's a good game and I enjoyed it enough to play right through in one sitting. On the hard setting (there are only two settings) it took me about 4-1/2 hours. There are a fair amount of HOS's and each location is used twice, but there's a strong adventure element as well. That's what I look for! The hints only help in the HOS's, so you're on your own figuring out what to do. There is a journal with tasks listed, which sometimes helped point me in the right direction, but no map. Some key areas are small enough that you really have to hunt all over the screen carefully, but I never needed a walkthrough. The puzzles were interesting, and included a couple that were new to me. The music got repetitive, so I turned it off, but the voiceovers were mostly very good. The graphics are pretty good and the locations vary quite a bit. There are little guys that fade in and out, so keep your eyes open in each scene and click them to add hints. I only encountered one glitch at the very end, when I had a white box on part of the screen and couldn't see something I needed to interact with. I guessed I was back in a place I'd been before, so clicked where I remembered the thing being, and got it right away, so it wasn't a big problem. My only big complaint is that my sidekick joined me so late in the game. He was very funny and reminded me of Murry, the talking skull in the Monkey Island series of adventure games. His voice was similar to the snarky rotweiler puppet from Conan O'Brien. Oh, and one more tiny complaint... A few times I clicked the correct object multiple times and it wouldn't pick up, so I used a hint and it confirmed I had the right object. I had to clickety-clickety all over it to find the sweet spot. Any objects that have space, like the donut's hole, you must click the solid part. It wasn't a problem, and I collected way more hints than I needed so I had plenty to spend when I encountered a fusssy object. There were a couple of misnamed objects, but not many. A good solid game.
May 22, 2014
Interesting game
The artwork is a little unusual & the graphics clear & well coloured, watch the BFG logo at the top of the game as Felix looks like a film noir detective, brilliant. There are voiceovers but you can skip the dialogue if you wish, they are not the best but better than a lot I have heard & some of it is quite witty & added to my enjoyment. There are two modes; Casual with lots of sparkles & glints or Hard which has sparkles for hidden object scenes only. You have to earn hints by completing tasks or mini games & you get a diary which tells the story as you move along & gives a task list. The mini games are a little more involved than the usual & it makes this an interesting game to play, there is a skip button. The H0 scenes usually have an interactive object, most of the objects are easy to find but some can be well blended & some objects are a little oddly named. I did find it difficult occasionally to pick up an item as I could not quite find the correct spot so took a few clicks to get it into inventory. The game did have some translation errors & the ending was a let down but a good way to pass a few hours.
November 28, 2011
THE HIDDEN OBJECTS
A number of the hidden object were mis-named, it called for a crab and it turned out to be a lobster, a plate was a bowl, a hack saw was a circular saw blade to name a few, it causes you to use hint when you shouldn't have to, also a number of miss directions in the walkthrough such as go left when you should have gone right, go slow when you should have gone fast.
November 22, 2011
Somewhat sloppy gameplay
Although this game looked good initially, I found myself somewhat disappointed by the quality of it. There seemed to be a mishmash of styles as well as confusing accents. Why were James Voodoo and several of the other characters British (not that I mind as I am as well) when the game apparently takes place in America? And why did the flapper's accent change throughout the game? There were several errors like the name change from Holy to Howly and even Howlie and two opposing pages in a diary numbered 66 and 68. Small points but still, you would like to think that the developers would take the time to be accurate. In the hidden object scenes items did not always match their description, eg. watch for clock and plate for bowl and sometimes you had to click several places on the item for it to be cleared from your find list. The mini games are okay but as you only gain hints from them it takes the away a bit of the motivation to play them. I'm a big fan of mini games so played them all but they seemed sort of pointless and were pretty easy. Overall it is an okay game but I would certainly do the trial game first. I did the trial but made the decision a little to early to purchase. It wasn't a waste of money, per se, just something I would have only bought if I had nothing else to play.
December 4, 2011
Good game until the end....
This was a pretty cool game until the last part. The art and content really changed. It was like whomever was the artist left and someone else took over. The wierd shapes and colors were just not right and the plot seemed to get just as wierd. Good game, but disappointing ending. I would recommend it only for you to see for yourself and you decide......
November 11, 2011
Had Its Moments
I liked the graphics very much. Music and voices were decent. I am a big fan of detective stories, but this is very loosely in that category to be sure. The developers go in about 17 different directions in relation to plot. The ending is a bit of an odd cliffhanger as mentioned, though I suppose it might be addressed in the collector's edition. Also, the game is pretty easy. Hints can be collected at any time and all minigames can be bypassed quickly. Objects go into your inventory to be used about ten seconds later. Overall, I think it has promise as a series, but it's questionable whether I'd recommend this one.
November 19, 2011