Fairy Godmother Tycoon
Climb the ranks of the Fairy Godmothers operation in this unique, easy-to-play game featuring cheeky new takes on fairytale favorites. Set up shop in different villages across the land. Check the weather forecast each day to find out which curses will strike the peasant village. Buy supplies and upgrades to create magic potions, set your prices, manage your inventory and hire contractors to help move your product. Sell your potions at top dollars and put the competition out of business. Start building your empire in Fairy Godmother Tycoon today!
9 quirky villages.
2 gameplay modes.
Fun storyline.
Game System Requirements:
OS:

Windows 2000/XP/VISTA/7/8

CPU:

600MHz or faster Processor

RAM:

128 MB
Game Manager System Requirements:
Browser:

Internet Explorer 7 or later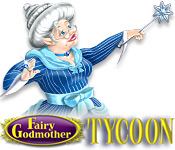 NEW299
The Big Fish Guarantee:
Quality tested and virus free.
No ads, no adware, no spyware.

Reviews at a Glance

Fairy Godmother Tycoon
0
out of
5 (
0
Reviews
Review
)
Customer Reviews
Fairy Godmother Tycoon
45
45
Best game on here!
This is by far my favorite game I've ever played on this site and I have been a member for years! This game is a lot of fun. You have funny little fairy tale characters that cross your path and ask for you to solve their problem with a list of choices you can choose, all with different results based upon your decision. This game requires you to basicly run a business. Decide what prices to set for your goods based on the need for the day and competition.
December 7, 2012
Enjoyable
As a fan of TM games, I gave this a try based on the fact there's been so few TM releases on BFG of late. I actually really enjoyed this, although I was a little dubious when I downloaded the trial version. You're running a potion shop for Fairy Godmother and you need to buy ingredients to make potions for each day. This also involves setting prices based on the forecast for how many people are likely to need said potion, upgrading your shop, hiring Goons to muscle punters into trying your shop instead of your competitors' shops and researching new potions. I only downloaded this about 4 days ago and I'm already on my second play-through (although this may be to do with the fact there's still no decent TM games being released at the moment!) A solid 4/5 for me. Hope the review helps. Just give the trial version a go if, like me, you're a TM fan!
February 2, 2012
Excellent game!
5 stars for Visual/Sound, but be warned it's an old ('07) game. Not good by today's standard but still good enough, surprisingly. I'm really not a tycoon/sim player, but I enjoyed this one! Extremely cute, many villages to visit. Unlike newer games, this one was developed with a lot of time to satisfy its players. Highly recommended.
March 9, 2012
Great Time Management Game
This is one of my favorites. We are all waiting for a second one. :)
January 10, 2012
Not just a game but a legend
FGT is my absolute favourite of all games with hours of fun in beautifully designed towns in which the town folks suffer from all sorts of bizarre ailments and your job is to sell them potions to cure them. You can chose your character and the beginning get some help from an impish looking character who shows you the ropes of your job. Fairy Godmother needs you to help her reclaiming her potion shops in different towns and you move on to a new one as soon as you meet the required targets. In this game you meet a variety of characters, some assist you in your quest and others try to hinder you. For every new day you need to buy ingredients to make different potions, adjust your pricing and sometimes upgrade your store, entertainment or potion maker to keep your customers happy. If they're not happy for some reason they will throw a wobbly outside of your shop. In every town you will be contacted by a character that needs your help with something and I really do advise to read the conversations in this game, they're so funny. The graphics are amazing and the game play is pretty easy to get a hang of. I find the music in this game extremely uplifting and for me FGT has the best replay value ever. I played it at least 20 times so far. I can recommend Fairy Godmother Tycoon whole-heartedly to anyone who is after a seriously quirky business strategy game.
April 21, 2012
Addictive and entertaining!
I absolutely love and adore this game. I value creativity and uniqueness in games and this one has it in spades. The twist on children's stories and characters just made me laugh and is geared more towards adults in my opinion. Looks simple at first blush, but there is a good amount of strategy involved in playing the game efficiently and successfully. So glad I found it.
April 2, 2012
very entertaining market simulation for all ages
The game "Fairy Godmother Tycoon" is a market simulation which puts you in the position of a magic potion store owner who is supposed to help the fairy godmother to rebuild her magic potion imperium. You have to sell potions, set money aside to research new potions, and spread the word to make sure the villagers come to your store. There are 9 different villages, all taken from a fairy tale context. The further you progress in the game, the more competition you will have. You have to buy ingredients, set the prices depending on the "weather"-forecast, and make sure you sell most for a good price. This is a exciting simulation with lots of humour - I enjoyed it immensly. In between your sales days, you also get "visitors" (such as Little Red Riding Hood, for example) who ask for advice. Depending on your answer(s), you can get extra things - or loose somethig. Very fun! You can also upgrade many aspects, such as get spells, upgrade the store front, the ware house, the potion maker and the store entertainment, all of which have an influence on the happiness of your customers. The level of challenge is good - especially when you start a new village within the first couple of "days". If you run out of money, there is always the loan shark - and your fairy godmother might bail you out once each village. This game has a lot of humour and is very well done! The only thing that might become annoying is the music which is repeated over and over... Great game, a definite buy!
March 24, 2012
Great Game - HIGHLY recommend!
Very amusing. Have played it twice already and only bought it a couple of weeks ago. Good graphics, great stategy and unlike most games the quips were actually rather cute instead of corny/annoying. Was challenging enough I had to go to the forum a couple of times for tips but I found everything I needed to be successful. Here's hoping they come out with a sequel (DEFINITE buy) or at the very least more games like this. P.S. The Big Baby goon's a hoot!
February 21, 2012
Its a rare one
The story line is a nice change of the normal pace. You will find several routes and choices to be made beating each level. If you enjoy the time management games, download the 1 hour trial and give it a shot.
February 12, 2012
Loved It
Every so often I go back and play it again. The characters are great and the hexes and ingredients are beyond cute.
February 10, 2012