Mystery of the Ancients: Lockwood Manor
Exclusive
There's a terrible secret hidden deep within Lockwood Manor. Uncover the truth in order to save your best friend, and yourself, in this thrilling hidden object adventure game!
Incredible puzzles to solve
Find your best friend
For a more in depth experience, check out the Collector's Edition
Game System Requirements:
OS:

10.5

CPU:

1.0 GHz (INTEL ONLY)

RAM:

512 MB

Hard Drive:

522 MB
Game Manager System Requirements:
Browser:

Safari 4.0 or later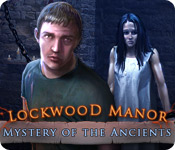 NEW299
The Big Fish Guarantee:
Quality tested and virus free.
No ads, no adware, no spyware.

Reviews at a Glance

Mystery of the Ancients: Lockwood Manor
0
out of
5 (
0
Reviews
Review
)
Customer Reviews
Mystery of the Ancients: Lockwood Manor
34
34
Great hidden object game,adventure game.
I really enjoyed this game. It had a great story line and the graphics were very good. As much as I enjoy the hidden object aspects of these sorts of games, sometimes they go a bit overboard and there are so many of them that they can become a bit annoying, and interupt the actual plot of the story too much. Not this game though, they were spread out over the game and had a real purpose. The puzzles were challenging but not impossible. Overall GREAT GAME.
November 17, 2011
Very atmospheric
This offering from Maria Glorum has a more than usual demonic theme with dark graphics to suit the storyline & a wonderful melodic piano score that is one of the best I have heard in a game. The cut scenes seem rather blurry but the artwork in the game itself is excellent & the atmosphere is very creepy & foreboding. There are very few voiceovers & the dialogue was not clickable; however there is not a lot of it. There are two modes of play; casual with a 30 second hint recharge & glints & sparkles, advanced with 60 second recharge & sparkles for the H0 scenes only. The misclick penalty only seemed to come into play during the advanced mode. It filled the widescreen on my monitor. I found the cursor to be a little clunky in places & there is no map but as there do not seem to be a great many areas this is not a problem. I loved playing this game, good hidden object scenes & challenging puzzles.
November 28, 2011
Love Triangle Wakens The Demon Within
GAME COMPLETED SEVERAL TIMES Story: Looking for your missing friend Jennifer, you go to Lockwood Manor ? home of the notorious Lockwood family, who have been accused of practising black magic and summoning demons for generations. You must uncover the ancient secrets of Lockwood Manor to save the lives of you and your friends. Developer: Mariaglorum Release Date: Dec 2011 Extras: None In the year since this game was released, we have seen an unbelievable blossoming of all aspects of the artistry of game development. Which leaves this one feeling a bit dated. (A year ago, this would have rated 4 stars from me). So though graphics are fine they are not thrilling, the scenes are largely inanimate, there?s no interactivity in the HOs, and little in the way of cutscenes. Also no voiceovers, and no map. The game is easy to play, with more than the average number of HOs, and generally easy puzzles. Not a stunning game, none of the bells and whistles, but I have played it several times and still enjoy it. I think part of its appeal is the logical progression of the gameplay, the clarity of the HOs, and the uncomplicated puzzles. It?s a game for a lazy afternoon. Good no frills entertainment.
February 22, 2013
Lockwood Manor
I have just finished this game and it was excellent, creepy yet compelling. It made me feel that I just could not stop and had to keep going on to see what would happen next. Hope there is more to come.
November 15, 2011
A lot for your money!
This game took a good long time to complete, which is great. It really flows well and is layed out very well. The plot is rather secondary, one feels that they are just out there solving puzzles on their own, but I actually prefer not to be laden down with the plot and it picked it back up in the end. The artistry was good imaginative and I didnt feel like I had played it before as I do in some games.
January 5, 2012
Good Entry-Level Hidden Object Adventure
If, like me, you enjoy hidden object games, it's a safe bet you won't mind Lockwood Manor, although it does suffer from a case of false advertising as you spend way more time wandering the expansive grounds than the manor itself. I don't think it does anything particularly well or in a novel way, but it's good enough to merit an enjoyable afternoon or two. The story is something that's been covered before. Head down to the nearest spooky manor and rescue the damsel in distress. A couple of big negatives in the production would be the lack of voice acting and the rather simplistic story line. This could have been a better story had they fleshed it out a bit more. The graphics are average. Cutscenes are well done, and there are a few "scary" moments, although you're basically dealing with the world's slowest demon. Hidden object scenes are plentiful and you likely won't need to spend too many hints on them. I did like that using a hint out of an HO scene would point you in the direction of where to go next, although to be honest it's very linear. Lots of "here's an axe, oh good, there's a tree in the next scene" type of scenarios that won't have you trying too hard. The puzzles are a primer on everything usually found in a game of this ilk. Piece together the puzzle, paint the picture, sliding puzzles: you get the drift. They were challenging enough, but none need to be skipped really. Length was okay with me but could have been better. I assume that's why someone would go for the CE instead, but I don't think the game looks or sounds good enough to merit that. I'm not often annoyed by background music, but I was with this game. The gameplay was fine and overall I'd say it's excellent for anyone looking to start out with hidden object games, but nothing to crow about if you've played a bunch. Hopefully they try a mite harder with the inevitable sequel. There are two difficulty settings, but expert is not that challenging.
December 31, 2011
Fun Game!
Loved the story line - it wasn't so hard that I couldn't figure it out but made me think - I liked the "having to do something" in order to find the object. It was just creepy enough to keep my attention!
November 18, 2011
Not even a good 'same old' HOPA - bit below average
*all my reviews are based on completion of the game* If you are looking for a typical HOPA heavy on the HOS, nothing new and love dark stories then you will like this. It does have quite a few puzzles as well, mostly on the easy side with just a couple of medium/ hard ones. Nothing about the game really interested me or excited me, everything seemed so mechanical from location of areas, to puzzles and HOS. Too much monochromatic scenery with obvious paths to follow even the story wasn?t that interesting but demon possession wouldn?t be my favourite plotline anyway! The plot is demon possession and a love triangle and the plot is semi-finished but doesn?t resolve one aspect of the plot which I guess the bonus in the CE will do. I finished it in 4hrs and the ending was a bit abrupt without explaining everything. I did find the beginning the most interesting part in the game but quickly realised it was ?same old.?I play so many HOPAs and this is the perfect example of how one game blends into another and you have to check what game you?re playing as you could be playing one of many as it?s so formulaic nothing is captivating, neither the graphics, different puzzles, HOS, setting or gameplay. The graphics are mostly dark but not crystal clear, if you do dark do sharper graphics. There were two settings on the hardest there are sparkles on HOS scenes. 26 HOS Most had to be played twice some nearly back to back. Some items were well defined others not. All were completely non interactive list, very cluttered type. There was a random click penalty on the hardest setting. I found many to be so blended or tiny, or so hard to find. And for my taste there were too many for even enjoyment of a ?same old? game. 22 PUZZLES Puzzles had auto tips on them none original most very well known, but a couple of nice ones. Mostly very quick or very easy with a couple of medium hardness. I know a lot of people like ?same old? like it?s a comfy pair of slippers and they know what they will be getting ? so if you are like that then do try it out especially if you like a lot of HOS.
October 24, 2012
Beautiful artwork! Challenging puzzles.
I loved the artwork in this game! The graphics in the hiddden object scenes were crisp and a good size, making it generally easy to find the objects without straining your eyes. Some of the puzzles were challenging and I ended up skipping them because I wanted to move along in the story. It would have been great if a player could go back and try the puzzles again after finishing the game.
December 23, 2011
Fairly good HO
This game had very good graphics, good sound effects. No voice overs which I actually missed. The music was unobtrusive, and when I did notice it , it seemed to fit the mood of the game. The storyline wasn't bad but did not really play a major role in the game, it seems to be secondary to the play. Not a lot of cutscenes but the ones it has are very well done. The HOs were good, clear and crisp. The puzzles were average and all doable. There was no map, but it was not really necessary as play was fairly linear. There are 2 modes, casual and advanced. The advanced does not show sparkles except for the HOs, but the hint button is always available. Overall this is a fairly good game. Was a good length. An enjoyable play.
January 15, 2012
The Apple logo is a trademark of Apple Computer, Inc.
The Windows logo is a trademark of Microsoft, Inc.