Committed: Mystery at Shady Pines
Committed: The Mystery at Shady Pines finds you strapped to a bed inside of an abandoned hospital! Escape from Shady Pines and save the other patients! Explore the mysterious hospital and stop the psychotic doctor before it's too late in this incredible Hidden Object Puzzle Adventure game. Navigate terrifying twists and survive special surprises as you solve challenging minigames and uncover the truth in Committed: The Mystery at Shady Pines!
Stop a psychotic doctor
Spooky hospital to explore
Escape from Shady Pines!
Check out our Blog Walkthrough
Game System Requirements:
OS:

Windows XP/Vista/Win7/8

CPU:

1.0 GHz

RAM:

1024 MB

DirectX:

9.0

Hard Drive:

271 MB
Game Manager System Requirements:
Browser:

Internet Explorer 7 or later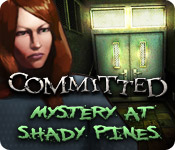 NEW299
The Big Fish Guarantee:
Quality tested and virus free.
No ads, no adware, no spyware.

Reviews at a Glance

Committed: Mystery at Shady Pines
0
out of
5 (
0
Reviews
Review
)
Customer Reviews
Committed: Mystery at Shady Pines
49
49
Great idea and creepy enough !
Well, it was redone in FACES in a more creepy way and modern way, but this is really good and very creepy. I wish we had more like this !
December 16, 2012
great HO game!!
i played the regular difficulty and i skipped most puzzles because i am not good at them and got done in 4 hrs 43 min. some of the HO scenes were crowded but the game was also kind of dark and dreary but not more so than others like this. skip charged really fast and the hint button recharge a little slower it seemed to me. you wake up in a hospital bed and don't remember how you got there or who you are. you get out of your room and see a little girl and you try to rescue her and chase her and a doctor over 3 levels. it has a map but it isn't interactive so there is back and forth. there is a journal that hold clues and if you use it you should always have the answer you need. i enjoyed the game. it does take some thinking to get through it. the hint does not tell you where to go and sometimes you have to guess. the "sparkly" area are hard to see sometimes. i passed over a few without realizing it. i had to go to the walkthrough a few times because of this.
November 20, 2012
Demo only but
That was enough for a buy especially at sale price. The puzzles were different and interesting and definitely challenging. The HOG were harder than usual and what I really kinda liked was that things were just buried so only a little part showed. I liked that I had to be alert to that aspect, so like real life when one is hunting for lost stuff. I also liked that things were not placed so they could not be seen, only that one had to be alert to seeing a part of a distinct shape like shoelace part of a boot. I did not get into it enough to tell whether the story was going to be a turn on, but I play more for the puzzles and the recall of where stuff was. I think it is a good mental exercise actually.
October 1, 2012
Committed to Just Finishing This Game
Wanted to like this as I like scary settings in general. Probably have 20 or so of the asylum/hospital type games in my collection. Afraid I just wasn't that keen on this one compared to others out there. The storyline was a very good premise, but i didn't feel a smooth flow. There is a great deal of back and forth. Although there is a map showing potential points of interest, you were moving from one end to the other or one floor to another too much. Puzzles were fairly easy, but at times tedious. Graphics rendering not that great, although perhaps that tied into the theme. Seems these darker themes are grainy much of the time. Some hidden objects were hidden a bit too well. I would rate this no better than a 3.0, especially compared to some of the outstanding peer 4 and 5 star games out there.
December 23, 2011
It was Ok I guess....
I didn't mind this game. It was bad to start with but got better. Good Parts: Pretty good graphics. Hidden Object Scenes were good. Really liked the challenge they presented. Hint and skip recharged quickly Loved the hint in the Hidden Object Scenes. You could use it on the item you wanted, which is something I've been waiting for in a game. OK Parts: The intro was average, but the rest of the storyline was pretty good. I didn't really have fun with the game. Bad Parts: The hint was only available in Hidden Object Scenes. WHY DO THEY DO THIS TO US????? The game really needed a strategy guide. The puzzles (with the exception of the manequin puzzle [excuse the spelling]) were way too gard. Didn't like them at all. It was really hard to tell what to do next Not enough Hidden Object Scenes. Played 20 minutes, only found one! Overall, the game is ok, try it for yourself and see how you like it.
August 1, 2012
I don't generally judge on graphics but . . .
I am a story person, all the way. I especially like escape/mental hospital themed stories. So long as a game has a good story, I generally don't mind cartoonish graphics. But this game was so grainy that despite my interest in the story, I could not bring myself to spend actual money on it. To call it "grainy" is generous. "Pixilated" would be more accurate.
May 16, 2012
Not for me
The story line is good and tingly. There's nothing like being stuck in an insane asylum to set the hair on end. There is a map which tells you where you are and indicates when there are goals to complete. The puzzles are fairly standard. But my main objective is to find games with good HOSs. The objects in this game tended to be distorted and blury, and unsatisfying. So, depending on your focus, HO, P or A, for this game, I would recommend only the P and A.
October 1, 2012
Good game but . . .
. . . soooo much running around - kind of drove me a little crazy. I've played this game before, all the way through, and it has a wonderful storyline with an unexpected twist at the end. Maybe I'm obtuse, lol, but my mouth dropped open in surprise at the twist-very fun! I enjoyed the way the story flowed. It held my interest enough to bear all the tedious running around. I didn't find the hint system to be much help but I didn't need it much anyway-only now and again however, I got through without it and never used a WT. As a DOTD I definitely recommend that you play the whole game. I give it 3.5 stars and I hope you enjoy the twist as much as I did :)
October 1, 2012
Interesting, but not my favorie
I, like RainyDayzGrrl, have a thing for HOGs that deal with asylums and have a dark, creepy theme. This wasn't as creepy as some I have played (Haunted Hills: Asylum Consp. for example). I did play it through, but, if I had never played it, I wouldn't have lost any sleep over it.
November 18, 2011
Not too much fun
I finished the game. A few points that may help you decide whether to buy it. Playing the demo will not help with most of these. The setting is grim, gritty and dirty. Creepy. I found that enhanced the story, but sometimes it creeped me out too much and I had to quit the game for a while. The story is OK. I had the sound turned off. The HOS are all trash piles, but mostly solvable. I couldn't solve a lot of the mini-games, but that's me, not the games. I think they were mostly easy unless you're me. There are NO HINTS for the game play itself and that is problem. Not much intuitive about what's next. The map has some (but not all) hints to what to do, but it's not interactive. I counted 19 clicks on one retrieval mission, and 14 EACH way to get one item on another. There are also 2 very slow elevators that get used a lot and cycle through their whole process on every use. UGH! The game said I played 6:46 when I finished, but I bet at least a third of that was traipsing around to get stuff and riding on elevators. No recommendation here, even though the story is good.
February 21, 2014
The Apple logo is a trademark of Apple Computer, Inc.