Heroes of Hellas 3: Athens
Rebuild Athens from the ashes of its destruction in Heroes of Hellas 3: Athens! Secure the help of the Heroes of Olympus as you battle an evil god in this incredible Match 3 game. Gather gold, meet the needs of a ravaged population, and search for legendary lockets that will allow you to summon the gods and appeal to them for help. Dive into this epic story and save the day in Heroes of Hellas 3: Athens!
Recruit powerful gods
Defeat an evil being
Rebuild Athens!
Game System Requirements:
OS:

Windows XP/Vista/8

CPU:

1.0 GHz

RAM:

1024 MB

DirectX:

8.0

Hard Drive:

261 MB
Game Manager System Requirements:
Browser:

Internet Explorer 7 or later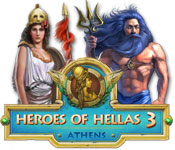 NEW299
The Big Fish Guarantee:
Quality tested and virus free.
No ads, no adware, no spyware.

Reviews at a Glance

Heroes of Hellas 3: Athens
0
out of
5 (
0
Reviews
Review
)
Customer Reviews
Heroes of Hellas 3: Athens
50
50
Great addtion to the "Hellas" series.
Most of the other reviewer have made excellent points about this wonderful game but I thought I'd add a couple different reasons that I love it a bit more than HoH2 1) I LOVE the fact that there is a "relaxed" option! I like to take my time and work out the best match and this game allows me to do that stress-free! 2) I LOVE that your game isn't interrupted by the awards. You are given any won awards at the END of each board. In HoH2, it drove me CRAZY when I was just setting up a great match and the stupid "award" screen would come on. I'd forget what I was doing in the game! 3) I really like that I have a choice of buildings. In HoH2, you just built. I'm a fan of the "blue roofs" myself! :D Great game! Thanks developers for listening to your fans!
November 22, 2011
Another Heroes of Hellas Winner!
Really liked this game. Like the other Heroes of Hellas games it was fun and challenging. It was also addicting! I kept playing thinking "okay, just 1 more game and I'll go to bed". Ha! I just love all of these games as I really, for some reason, like to "build" a city or design homes or whatever premise they use. Love it. And they give a lot of bang for your buck, this is a long game and it gives you a nice mythology lesson. Sort of.
November 17, 2011
Great game, but buggy
I love the Heroes of Hellas series and this one is no exception. It has everything you could ask for: gorgeous graphics, great story, and fantastic power ups in the form of heroes. The levels get progressively harder and it requires a little thinking and not just randomly matching to get past them. It has the bombs and hermes wings from HofH2, but has added "big bombs" which clear more area. The heroes are a bit different too - in who they are AND what they do. The mini-games are not really to my taste (hidden object scenes and treasure hunters - rapid matching), but I can overlook that for the great play. It has about 100 regular levels and 30 bonus levels. 15 of the bonus levels are puzzle levels like in HofH2 - which is my favorite part of the game. You earn laurel leaves for the bonus levels that you can use to build a palace at the end. The only reason I gave this 4 stars instead of 5 is because the graphics are so intense that sometimes the game will freeze and you have to restart. Other than that, another great game in the Heroes of Hellas series! I highly recommend it.
November 15, 2011
Fun match 3 game
I really enjoyed this game. I have the others in the series but enjoyed this one the most. Each level is a bit more challenging when you play in "timed" mode. The extra games to build your castle once done require some thinking. All in all, a great game.
November 19, 2011
Superp third instalment in the Match-3 series
chain-to-match only Restore the city of Athens to its former glory after being destroyed by an unknown enemy of the goddess Athena. Earn gold by solving M3 levels, use the gold to purchase buildings. M3 levels have the usual helping tiles (lightning bolts, bombs etc), and obstacle tiles (rope, ice, unmovable metal blocks), and the goals vary from collect all the "gold" tiles, collect at certain amount of one colour tile, drop keys, gems, feathers to the bottom. Earn trophies and achievements - this gives extra incentive and challenge. After finishing the city, you get "bonus" play - 15 levels normal (chain-to-match) levels, 15 levels of Puzzle - limited amount of moves so you must figure out the exact sequence of matching.
November 12, 2011
One flaw
I love the game but cannot play for last seal. It freezes up and gives an error- disappointing. I hope a fix is available soon.
November 18, 2011
Very enjoyable!
Am liking this game! My computer is a little slow on recovery from one screen to the next but other than that I like the challenge and additional features. I would receommend it!
November 26, 2011
Fun 3 matchs game
I loved this game. It's funny to see all the actions of the rock falling. Try it, you will like it.
November 15, 2011
Incredible M3 game
I am in awe of this game, probably the best M3 I have played. The graphics are beautiful, the game is very long and there is plenty of variety. Build a city by earning money in the M3 levels, save the city from various destructive events and gain the help of heroes through mini-games. You can even interact with the characters as your city grows. At the end of the game bonus levels are unlocked for building a castle. Some of these bonus levels contain unique and quite crafty puzzles. There is a timed mode and untimed mode. I would say this would be a hard game in timed mode.
December 8, 2011
More of the same - A guy's review
*review based on completing the full game in normal mode* The third one in the "Heroes of Hellas" series plays very much like the second one. You have to rebuild a city (this time Athens), figure out who of the gods are creating chaos and put a stop to it. But of course this time it looks a whole lot better. The graphics is noticeable better than what it was in "Olympia" and rebuilding the city becomes more visually pleasing. The way you go about it is pretty much the same as before, but you get your "orders" from the towns priest this time. You have more options to the looks of the buildings this time though, and can choose from 3 different types for each one. I missed the palace from the beginning as was in the previous two, but you do get to build one here as well. Only, you have to finish the main game first to open a bonus part with classic boards and puzzles to build your palace step by step. It was the least pleasing way to build a palace so far, but extended the game itself, so that in itself was pleasing. The boards you play on are quite creative as they were in the second game of the series, and at times you need to think about what you are doing. Sometimes you even get some surprises. They seemed more challenging than before, but are still within moderate difficulty. There is a couple of new power-ups as well. Not that they add much to the game, but it is always fun with something new. There is still some level of randomness plaguing some of these, but seem less so than before. You can choose to play timed or not, so it should suit any kind of player. I don't see how playing without the time constraint would offer any challenge in this particular game, but it is good to have an option. I got through with it being timed and did not run into any serious problems throughout the game. If you played the first two you might notice a difference in the "treasure chest" boards in this one. This causes them to be much more challenging than before. There are achievements to collect this time around too, but I found then far less enjoyable to collect than what they were before. Fewer too. At least they have a leveled system this time, so each one has three stages. There are no wallpapers this time around, neither mosaic puzzles. They do have more fragment puzzles though. The music seems to be very similar (maybe even the same) as before. But it is not as intrusive as some other games. It doesn't hurt to turn it down a notch though ;o) Due to how it looks and the way the boards were created I think this is the most entertaining one of the three Heroes of Hellas games, even though it plays very similar to the second one. I think it would be a perfect introductory game for the genre, and it also offers quite a bit for anyone who likes Match 3 games. If you are looking for something very, very challenging then you might want to look elsewhere, but you'd still might find it entertaining with everything that is going on. When in doubt, try it before buying it. TJ
November 24, 2012