Mystery P.I.: The Curious Case of Counterfeit Cove
Travel to New England to investigate a counterfeiting ring in Mystery P.I.: The Curious Case of Counterfeit Cove! Help the town elders save Whalers Cove as you explore picturesque locations and find important clues. Figure out where the fake bills are coming from before the local economy is ruined! Crack the case before tourist season in Whalers Cove is ruined in Mystery P.I.: The Curious Case of Counterfeit Cove!
Travel to New England
Save the local economy
Break up a counterfeiting ring
Game System Requirements:
OS:

Windows XP/Vista/8

CPU:

1.2 GHz

RAM:

512 MB

DirectX:

7.0

Hard Drive:

60 MB
Game Manager System Requirements:
Browser:

Internet Explorer 7 or later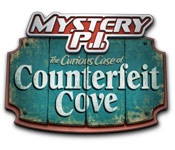 NEW299
The Big Fish Guarantee:
Quality tested and virus free.
No ads, no adware, no spyware.

Reviews at a Glance

Mystery P.I.: The Curious Case of Counterfeit Cove
0
out of
5 (
0
Reviews
Review
)
Customer Reviews
Mystery P.I.: The Curious Case of Counterfeit Cove
57
57
Another Great Unlimited Object game
Love this series. This is a standard hidden object game with a minimal amount of interaction. The game is great for playing in between some of the new IHOG's. The layout of this game is similiar to that of the previous games in the series. I did find this one harder in some scenes and the developers did have "hint words" to find/describe an object. The one thing that I really love aboiuyt the MysteryPI series is the unlimited bonus. I love challenging myself to see how fast I can beat a room.
November 11, 2011
Always good to kill time!
I normally purchase adventure games, but I just LOVE the Mystery P.I. series!! The great thing about these games is that while I am 'in between' finding a good, in depth, adventure game, I can play these. There's no storyline to follow, so if you stop playing for a little while, you can just pick up where you left off. My husband loves them too, when he's had a hard day and just wants to relax. The graphics are beautiful, and they do 'take you away' for a little while. I especially liked this one, as I used to vacation in New England as a child. GREAT SERIES!!
December 13, 2011
Good waste of time
Enjoyable if you don't want to spend time thinking about anything. Good "waste of time" when you just want to think about something else and stay busy.
November 22, 2011
Like An Old Shoe
If you've been around awhile, you've probably played P.I Mystery Hidden Object games, and if you like them, here's a new one with new screens for you to slip comfortably into. Many of us still like a plain hidden object game without having to solve puzzles to get to the correct next screen before we can find another HO game. If you are new to gaming, this series is likely to be your favorite for a time, at the very least. There are no characters to talk to, no minigames to assemble pieces for, and no travelling from one screen to another, trying to remember where you saw a marble or a frying pan. Every screen has all the things you are looking for, its own riddles to solve, with perhaps a play on words or a visual direction, such as, "Fish in Barrel." There are repeating objects, such as the key and lobster in each screen, that you must find to open secret areas. In this game there is a third repeating object that grants you yet more honors. Once you have mastered the basics, you can try to better your time, and it's a great game to play with your kids. If they are old enough to read, they can play alone or practice sounding out words. The objects to be found will change at random each time you play. While you may outgrow this series and move on, it's hard to find a gamer who doesn't feel he got his money's worth or who didn't go back and play them again at some point.
December 13, 2011
These games...
This game was pretty fun as well as pretty challenging. I just only wish they had more of a storyline to it. I loved that they added a rank as well as puzzles to do at the end of each full level. Also to add to the challenge they had extra things you can find only without hints. If you find all 25 of each you get extra things. However, I didn't like that each hint took your points instead of taking awhile to load. Also with the extra items you have to find they don't tell you till you find the first one which could be in the middle of the game making you have to go to the very start and find them all over again. That was a bit aggravating. Overall I don't have much more to add to the cons. The graphics were nice and the music was nothing special but nothing to complain about. Nice game.
August 12, 2012
Really long but great HOG!
This is an unusually long HOG but it will keep you busy for a while. The puzzles are easy and the ending is great.
February 15, 2012
Love this series
I personally love getting to the point of being able to do the unlimited seek and find. This game seems a bit smaller than it's counter parts but it's still a good one to have in your collection.
December 13, 2011
Another great Mystery P. I. game!
This is a wonderful hidden object game. There are 25 levels, so it's a game you can really spend time on and is well worth the cost. The objects in each scene of New England are skillfully hidden, but the art work is very clear and easy to see. To play the game, you find hidden objects in an average of four to five scenes at each level. At the end of the level there is a mini-game such as Match 3, Jigsaw puzzles, Find the Differences, Mahjongg, Word find, etc. When you solve the mini game you receive a clue, and when you finish all 25 levels, you need to use all the clues you've collected to solve a final puzzle. You get extra points for quickly clicking on more than one object. There are also "bonus" hidden objects in each new scene. If you find all 25 cameras you get an extra million points. Every new scene also has a key and a lobster. The object is to find all 25 of each of these in order to play the "Unlimited" hidden object part of the game and Match 3 Bonus Game. After you finish all 25 levels, you can click on each scene and find every one of the hidden objects in that scene. I'm a real hidden object game fan, so this game is perfect for me!
August 4, 2013
A Curious Case Indeed
I found this game to be very enjoyable. I like how you get to collect lobsters and keys in every level as long as hidden cameras. It gives something extra to the game. Some items are interactive and the mini games inbetween are a nice change of pace. This developers games are all the same and so I like to play them before bed. They are calming and I find myself getting sleepy as I play them. They are not boring by any means but relaxing and Im able to focus and let go the day. My only pet peeve with this game is that you collect all the extra items within the first half of the game so the rest of the game although you are still finding items, you get no new scenes and no more special objects to find. In the Australian one, you find some but then find more later and even when you get to the bonus section of the vacation you get to collect more. It just made me look forward to playing all of it but with this one, I did have a little bit of trouble finishing it up because it all became the same. Same locations, same objects etc. But overall I really liked it and Id recommend it!
May 9, 2013
Good but overlong
The graphics are great and objects not too challenging to find - relaxing, enjoyable game overall. (I'm not interested in storylines.) My complaint with all of the Mystery P.I, games is their length. It takes forever to work through all the levels and it gets boring to go back to the same scene over and over again. I do like that you can play the Match 3 games over again.
January 14, 2013
The Apple logo is a trademark of Apple Computer, Inc.