Dark Dimensions: City of Fog
Exclusive
Silvertown was swallowed by fog and disappeared from the face of the earth 100 years ago. Search for a town consumed by fog! Unlock forbidden doors and uncover mysterious items in this thrilling Hidden Object Puzzle Adventure game!
Game System Requirements:
OS:

10.5

CPU:

1.6 GHz (INTEL ONLY)

RAM:

1024 MB

Hard Drive:

464 MB
Game Manager System Requirements:
Browser:

Safari 4.0 or later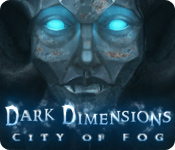 NEW299
The Big Fish Guarantee:
Quality tested and virus free.
No ads, no adware, no spyware.

Reviews at a Glance

Dark Dimensions: City of Fog
0
out of
5 (
0
Reviews
Review
)
Customer Reviews
Dark Dimensions: City of Fog
82
82
Good game, lousy hint system
Overall, I liked this game. However, the hint system was terrible! If you really don't know what to do, your best option is to go to the blog walkthrough. The hint either told you that you were done in that area for now, or it circled something you still have to do, but do not necessarily have the items to do it with! The game also could have used a map, preferably an interactive one, since there was a lot of back and forth, especially in search of angels for a mini game. If the developers decide to make a new version of this game with an appropriate hint system and a map, I would give it 5 stars. The game was interesting with a good plot and a surprise climax. Many things were reasonably logical, and the mini games were mostly challenging. The HO scenes had an interesting twist, in that you used items you pick up to find other items in the scene. Many were difficult to guess, but most were at least possible! I don't play with sound, so I cannot comment on that. The graphics were good, though a gorgeous 6'2" blond in a small town in Maine in the late 1800's was a bit odd. However, it didn't detract from the story, so it was unimportant. This has an occult theme and spooky settings in an abandoned town from over a century ago. There were a few incongruities, such as rotting meat in a butcher shop. After 100 years, I think that would have finished decomposing. But aside from these minor points, it was a very good game.
June 3, 2013
Excellent game!
The only reason I did not give this game 5 stars is because it did not contain anything really unique. That being said, it is a very good, very solid game: diverse scenes (although on the macabre side), great story, great graphics, diverse puzzles, good length. There is not a hard core option, which I prefer, but the game is good enough that I did not mind the sparkles, and I did end up using the Hint button a few times. I prefer a map that indicates an action can be taken, so I can figure it out what it is on my own, but I would highly recommend this game to any level of player.
February 3, 2013
Nicely done game but tedious HOS
So far I'm enjoying the game but some of the HOS are tedious. I'm not fond of those that make you find one object in order to create another to find but this game is so *un*intuitive with some of the HOS items that I'm frequently having to use hints, something I rarely do. I also wish there were a way to turn off, or turn down, the ambient sounds. Hearing crows calling for several minutes while I navigate a scene is annoying. I like to have game sounds so I know if I've hit the right spot (or missed it!) but creaking noises, bird calls, wind whistling and the like can wear on the senses after awhile. That said and followed with these are personal preferences/peeves, I find the game is quite satisfying. The artwork is detailed and the storyline is intriguing.
June 4, 2012
This is a good game
This does not rank up with my favorites but it was an enjoyable experience. I had some minor technical problems (I got about half way through the game and one of the rooms I had already opened closed and I couldn't get back in so I had to start over). The story line was not as interesting as some of the other games available on BFG. I played on the lowest level as I am a casual player and I found the game to be just right for me. (I like to skip puzzles!) The hint button is there if you get stuck which is another bonus that I like.
January 5, 2012
That only works in the movies
This game is a ton of fun. However, everytime you do something wrong, it tells you, "That only works in the movies." That's the only thing it ever tells you. It's maddening. especially when you're trying to do something that is actually right, you just didn't click it in the exact place, and then, "That only works in the movies." It drove me nuts and I'm not sure why the developers didn't program in a few more lines. Because you find yourself wanting to shout things like, "Oh yeah, City of Fog? A crowbar only works on a boarded door in the movies? A match only works on a candle in the movies?" So go in expecting this and it won't drive you up a wall the way it did me.
June 29, 2012
Another Great game
I really enjoyed this game, I though the graphics were good and the story line was interesting, The Hidden object scenes were for the most part different and not boring. The music was suitably eerie. The puzzles were very good. The hint button was not needed very much which was just as well as it does not really help at all. Overall this is a very good game and I would recommend it to my friends.
June 17, 2012
Pretty Decent Game
I enjoyed this game quite a bit but for me I think it could have been even better. I suppose I would have liked a little more to do at times, seems a lot of times you would go through a lot of trouble to gain access somewhere and then when you finally get there, there might be 1 or 2 things to do in that area, although a lot of the stuff was just informative to keep the story moving along it just seemed to me like it would have been better to have more things to do. In the end I enjoyed the game and give it 4 out of 5 stars.
May 21, 2012
Loved the Game, but had some glitches!
Well, the game itself was great with a lot of different venues I thought it was a fun game, but the major thing that I did not like was that when you were doing the HOS's...the kind where you match two items to make the one listed...I had to click the second part at least 20 times before it stuck. The game was saying you need a tool or that just happens in the movies (which was very annoying}. Let's face it, a fish tail is the only thing you could attach to half a woman that would fit the item listed as a mermaid..ha! This happened on quite a few HOS. Now for the positives. It was a good length story wise, the art was great and very detailed...the characters (all being ghosts) were done extremely well) they did not look like robots like you see in some games). The puzzles were great, but I'm not much of a puzzle person. I did have to use the walkthrough a few times, but I'm not an expert yet. I enjoyed the game as much as a CE. The ending was kind of weird. You had to go quite a distance to get to the train station,,. but to get back to town you only had to step through a window?? Oh well, except for a few glitches the game was still enjoyable and I probably will play it again. I think you would like the game overall.
May 7, 2012
Another great Hidden Object ADVENTURE Game
I just finished this game, and found it fun and challenging. The Hidden Object puzzles were a little difficult, but the hint system was good, and allowed repeated use. I also liked the two-step objects. (My only complaint was that sometimes the clicking had to be too precise. I KNEW I found the object, but had to click several times for it to register. The same was true of some of the keys, etc. Sometimes you had be so precise in using it, that I wondered it I even had the right tool! But those are my only mild complaints.) The story line was good, I enjoyed that the game required going back and forth between scenes, revisting some scenes repeatedly. Those who prefer a straightforward game will find this annoying, but I loved it. I also enjoyed the puzzles within the game, and was able to solve most of them - though I was glad that we were permitted to skip games, and I had to do this once or twice. (I wish I could go back and play some of those games by themselves. ) I was also a little annoyed by the cliffhanger suggested at the end of the game, but was so glad to have completed it that I rerally didn't care! All in all it was a very good game, and a lengthy game which provides your money's worth and hours of entertainment. (If you're like me, just be sure to find a good walkthrough when you get stuck!)
December 2, 2011
Sometimes frustrating, sometimes clever
A lot of my comments have been made by others already. It was frustrating to not find the exact place for an item and have it jump back to your inventory. A couple of frustrating areas were just my not realizing you can use something twice. Overall, I was impressed with the length of the game. Not my favorite game, but definitely worth a sale price.
August 25, 2012
The Apple logo is a trademark of Apple Computer, Inc.
The Windows logo is a trademark of Microsoft, Inc.