Red Crow Mysteries: Legion
You have been chosen to defend all of mankind in Red Crow Mysteries: Legion! Stand up to a terrible evil and save humanity! Your extraordinary gift is also your biggest curse. The ability to see things others cannot is an unbelievable challenge and responsibility that you must now embrace in this incredible Hidden Object Puzzle Adventure game. Can you past the test and prove you are the one who will defend mankind when judgment day comes?
Use your incredible gift
Stand up to evil
Defend all of mankind!
Game System Requirements:
OS:

Windows XP/Vista/8

CPU:

1.0 GHz

RAM:

512 MB

DirectX:

9.0

Hard Drive:

267 MB
Game Manager System Requirements:
Browser:

Internet Explorer 7 or later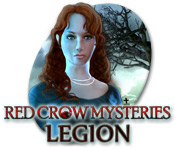 NEW299
The Big Fish Guarantee:
Quality tested and virus free.
No ads, no adware, no spyware.

Reviews at a Glance

Red Crow Mysteries: Legion
0
out of
5 (
0
Reviews
Review
)
Customer Reviews
Red Crow Mysteries: Legion
48
48
Rebirth of the adventure game
Well thought out presentation and difficulty choices. Plot stirred my interest and I would like to know what happens. The first major puzzle was quite "out of the box" and as such quite difficult. After that I started to get the idea as to the thought process of the developers. Excellent game play. Some of the puzzles quite difficult. You have the ability to pick up anything useful and then figure out where or what to use it as. I didn't like the puzzle directions much and could have used a bit of help to understand what I had to do. The hint button was not helpful at all. there is a task list which is excellent. A diary or journal would help as there is no place (but a pen and paper by the computer) that will remind of what you are looking for. Graphics were fine by me. I don't need the eye candy and had no trouble finding the objects I was looking for. All in all, I heartily recommend this game to people who enjoy adventure gaming.
November 11, 2011
Frustrating Game
DISCLAIMER: I only played the free trial. I don't know what to make of this game; I think it had the potential to be a great game, but was ruined by confusing gameplay and a less than helpful hint system. I don't know the name of the main character because I don't think it was ever mentioned. But you play as a young woman whose awakens to the ghost of her mother telling her that her special talent (apparently she can see other ghosts, not just her mother's) has garnered to attention of Legion and she must defeat him if she is to save humanity. While this is not exactly an original plot, but was good enough to get me to try the game. The graphics are so-so, not the worst I've see, but certainly not the best I've seen, either. The most glaring problem in the was the fact that there was NO journal in which to keep you with important information, like the clues to puzzles. For example, you need a code key in order to enter the symbols in a puzzle next to the gazebo, but the key is on the other side of the garden!! Do they expect you to walk back and forth? Another problem was the navigation; there was no map, so I sent most of the trial wandering back and forth aimlessly trying to complete tasks. If the hint system was supposed to help, I don't see how. It would simply point to the object that needed to be acted on in the scene. I ALREADY knew that the door needed to be unlocked, I wanted to where the thing was! Needless to say I wasn't enamored of this game. I STRONGLY suggest you try before you buy.
November 12, 2011
More of an 'Adventure' game than 'Hidden Object'
This game is developed by Cateira (new/indie?). It's more adventure than hidden object, somewhat different than what most are used to, yet VERY engrossing. You are the main character being put through a test (locating objects, using them where necessary, etc.#, by the spirits of your [deceased] mother and grandfather, as you're next in line to defeat the world's invisible enemy, Legion #unfortunately your mother and grandfather were defeated by him#. The graphics had somewhat of a grainy effect, but not overwhelmingly so #very colorful and not dark). There are voice overs and quite a bit of reading. But also know that there are achievements and the 'reading' is one of them. There also are quite a few new and challenging puzzles in addition to the standard fare. This game could probably qualify as a Collector's Edition, and I could see there being a second/followup game. All in all, many of you should enjoy this one. It has its challenging moments, but is definately worth it.
November 15, 2011
Adventure lite style game
Altho this game is listed as a "Hidden Object" it is more of an adventure lite/puzzle game. there are no junkpile h.o. scenes to deal with, you find objects in the various scenes as needed - some of which are pretty obvious. Controls - quite a few options in there, including different difficulty levels, volume controls (including a master, music, voice and effects) sparkles on or off, full screen, & custom cursor The story line is intriguing - at least it was to me, and kept me fairly interested. However, I would have liked to have seen a "next" button for the dialogue (i read pretty fast) as i felt it was dragging a bit. your only options during these scenes is to skip completely (which causes you to miss out on more of the story) or sit thru it - however long it takes. a bit of going to an fro to complete various tasks (there is a task list) and at times it is not real clear what it is you are supposed to be doing or you have an idea of what you need to do, but you dont have a specific item needed, and no earthly idea of where to go to get the item... the hint system is not all that helpful - in fact, it can be down right misleading at times giving a "sparkle" in an area you have already cleared the ending of this game is a bit of a letdown as well - I felt like there should have been more to the story the game does have acheivements, but in all honesty - those dont do anything for me unless they actually unlock a bonus of some kind - such as being able to replay various puzzles or something similar. overall, I feel the game was ok - but not a prize winner.
November 22, 2011
Awful purchase
At the beginning it seems interesting, so I bought! But it gets confused and I felt lost. I love challenging puzzles, adventure and HOG games, but this is discouraging... hints are not helpful, the inventory gets full and I don't know where or how to use. I regretted purchasing.
January 2, 2012
Lots to do in this game
I loved The Strix & Kaptain Brawe but in this new game from Cateia Games, the storyline is very confusing. Initially you wake up in your bedroom, which you mention doesn?t look like yours & have to find your way to the garden to talk to your mother who seems to be a ghost. After speaking to her I am none the wiser; if there was a journal giving a little more explanation that would help, it could also show you any clues you find for use later. You are given an inventory & a find item list (which as it says shows things to find) & a task list. There are three modes of play; casual with sparkles & a 60 second hint recharge, easy with no sparkles & what seemed to be a 3 minute hint recharge or adventure with no sparkles & no ?find item? list. The hint was not very useful as it just highlighted areas that I already knew needed something, a key for a lock for instance. This is not a conventional hidden object, instead you find objects scattered around the scenes as you play so it is more of a light adventure. In fact I found so many items that my inventory filled up very quickly before I had an idea of what to do with most of the things I found. A bit of a clue on the mini games would be useful as I had to skip a couple simply because I did not know how to solve them. There are lots of achievements to get & also 21 roses to find, I am always a sucker for this type of thing. In addition I loved the artwork, I got used their style in earlier games, the background sounds & the music, they really suited the game. This is a game that is not too easy & will require some brainwork, excellent.
November 27, 2011
Fun Adventure Game
Red Crow Mysteries: Legion is precisely my kind of game. Because adventure games are my first love, I was thrilled that Cateia Games offered an adventure mode along with Easy and Casual options. As with many adventure games, in the beginning the main character finds herself in a confusing and frightening situation. I was immediately drawn in and the story line held my interest throughout. Puzzles vary from those on the easy side to those that take some real brain power. True to the adventure game genre, the game provides little hand-holding. Figuring out what to do next is part of the fun. Graphics are in keeping with the game's theme. There are voice overs and they are very nicely done. Music was quite nice in places and generally unobtrusive. Just a couple of things would have made the game even more immersive. A journal would have helped to both develop the character and keep track of information. I also would have enjoyed the opportunity to view close-ups of photos the character came across and learn more about her background during the course of the game. For example, when in her aunt's house, we see several photos laying on a desk. It would have been nice to view a close-up of one or two and read or hear a description, such as "This is a picture of me and Aunt Mildred." Small touches like this help to flesh out a character, particularly when it looks like she will be having another adventure in the future. I hope she does, because I am very much looking forward to the next Red Crow Mystery.
November 16, 2011
Introduction to a new series?
This was a fun game to spend a few hours with. It is more adventure than hidden object. Yes, objects are hidden, but within the scenes you are exploring, not some junk pile that you have to clear out in order to receive an item. I thought the game play was fairly straight forward; there were a few times I got stuck, but what was so great was that you could adjust the difficulty of the game while in the game, so in those cases, I just changed my settings and used the hint button a few times until I put the peices together. I loved the music, it was mysterious and changed with each chapter, so it didn't get redundant. The settings were fairly well done, nothing special, but the plot moved forward quickly enough to keep my attention. I also enjoyed the mini games. The only things I found BEYOND ANNOYING were the voiceovers (no wonder they give an "achievement" at the end if you listen without skipping - these were full minutes of yadda yadda yadda) and, to a lesser extent, the fact that it was often hard to navigate between set peices because the "walk" icon was so generic. However, that was nothing to keep me from not enjoying my time. If you have a few hours, are a little tired of your same ol' same ol' HOG, then I'd recommend. Plus, while this is a fully realized, if somewhat vague, adventure, it looks like it may be intended to be beginning of a new series, which I am always on board with. Happy playing!
January 19, 2012
AH!! Intriguing Game for Adventure Lovers!!
Thank you CATEIA Developers and BFG for bringing this awesome, mysterious and intriguing Adventure Game experience which immediately draws the Gamer into play. This, in my opinon, is unparalleled Gaming GREATNESS! Unlike HOG's that usually take us by the hand and lead us throughout, Adventure-style gaming such as "Red Crow Mysteries: Legion" requires more thought and brings with it a feeling of satisfaction in overcoming a bit more complicated challenges. There are Achievements to collect which is always an added Bonus for me and no mis-click penalties since Adventure Games are meant to fully explore. I absolutely love taking my time and enjoy the artwork, story line and creativity poured into such a work of "heart". Enjoy! -Mama Mia-
August 5, 2012
Enjoyable Adventure Game
I enjoyed playing this game after the second time I opened the game to play. The detail was not the best for finding items but after 'getting into the game' I was able to figure out what was needed. This game is the only one I purchased of the Adventure - Hidden Object Games that have come out this past week or so. The graphics are OK, it reminded me a little of the old Adventure Games. I liked the plot, with a little work this could have been a great game.
November 25, 2011
The Apple logo is a trademark of Apple Computer, Inc.