Relics: Dark Hours
Help Matthew Hunter break a curse in Relics: Dark Hours! The terrifying curse has already taken his family and he's next… unless he's able to track down the ancient artifacts. Help him explore a haunted High School and find the Relics that are now scattered, after his father sold them. Interact with the dead to get helpful hints and clues in this incredible Adventure game. Save Matthew Hunter's life in Relics: Dark Hours!
Get clues from ghosts
Break the family curse
Find the Relics!
Game System Requirements:
OS:

Windows XP/Vista/8

CPU:

600 Mhz

RAM:

256 MB

DirectX:

9.0

Hard Drive:

1266 MB
Game Manager System Requirements:
Browser:

Internet Explorer 7 or later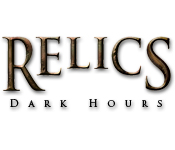 NEW299
The Big Fish Guarantee:
Quality tested and virus free.
No ads, no adware, no spyware.

Reviews at a Glance

Relics: Dark Hours
0
out of
5 (
0
Reviews
Review
)
Customer Reviews
Challenging but fun...
I found the FMV a good break from traditional generated art. Navigation was hard at times but the acting was good. I enjoyed the story and hoping to see more FMV games in the future. I liked the movie cut scenes but could have used a little more action. Overall I think Relics is a fun game and worth the price of admission. If you like exploring, it's worth checking out.
November 20, 2011
I really wanted to like this game, but couldn't
One of my favorite features in a video game is live action, and when I saw that this game had not only live action characters, but also real scenery, I was super excited. However, I found myself forcing myself just to finish the first trial hour. The concept is amazing, and I sure hope someone else takes a stab at making another full live action game, but they need to make some big improvements in order to keep people interested. First, the way the pictures were taken of the surroundings, it was not easy at all to know where you are at- the map did little to improve this. One some of the screen transitions from one place to another i did notice some "fading" to give the impression of movement. I wished this was used for all the screen transitions to heighten the feel of moving, especially from left to right or visa-versa. It would have also been hugely beneficial if the map showed which direction your character was facing in order to know how to navigate in game. The acting seemed a little lackluster (sorry). It almost seemed like this game was made independently and the actors were acquaintances of the developer(s), In fact, the game had an overall "homemade" feel to it. The ghosts that appeared didn't seem like ghosts, and despite the Halloween decorations, the game wasn't scary in any stretch of the imagination. This game is a superb concept that perhaps just needed a bigger budget for better actors, better ghost effects, and improved mechanics like the map.
November 17, 2011
RELICS: Dark Hours
I was looking forward to playing this game. However I spent 30 mins. just trying to get past the Maths room! I loved the graphics & unique format, but found myself wanting in direction (via clues or the map). It was a pity as it seemed so promising. But it could just have been my own ineptness in this particular format of a hidden object game which is my favourite genre. Thanks for the experience though!
November 14, 2011
Dark Hours, Indeed!
This game is not, in the least, user-friendly. Even the tutorial does not help with anything a gamer would not learn on his or her own. It is incredibly easy to get lost and the map is so general that it does not really help with navigation. The graphics (movie-like) are very well done and the acting is entertaining, but both are it's only saving graces, in this reviewer's opinion. Nevertheless, if you have no qualms about going around in circles for "dark hours" on end, or, if a review like this gets your competitive juices flowing, it will definitely be your cuppa.
November 14, 2011
yet to be determined
The sound kept fading in and out, and the movements of the characters is delayed.
November 15, 2011
ok
it was all right but a little too hard
January 25, 2012
A different kind of Dark Game
I loved the story line and movie like game format. The uniquness of the format was a good change of pace. However it is half the game of a full fledged adventure game like Siberia. The game is short in length but the scary sound track and enviroment kept my interest until I completed the game.
November 25, 2011
Spoiled by poor navigation
I gave this game an "Excellent" level of challenge because of its near-impossibility, not its gameplay. For instance, I walked down a corridor but cannot walk back; instead, I get turned around and - as other reviewers have commented - end up turning in circles. I am very thankful I used a Game Club Coupon to purchase this and not my own money. The game itself might be interesting, if only there were a simpler or easier way to move around. Ultimately, I have to say I'm disappointed and am not likely to try anything else from this developer.
November 14, 2011
Lost and wandering around school halls
I think I've had this nightmare before. You're late for a test, but for some reason can't find your classroom. You walk around in circles, taking left and right turns, but always ending up back where you started. This isn't a good game, it's a bad dream! Actually, I think it would have been good, if they'd backed off the first person perspective just a bit - as it is, you'll end up nose-to-nose with a bunch of empty walls. Navigation isn't just confusing, it's downright frustrating. Add to it a map that is less than enlightening (so, a red dot showing where I am - but no room identifiers, or any way to know which way I'm facing? Thanks). Stuck it out for the full hour because the graphics and the storyline are good, but not good enough to overcome the crummy controls and poor gameplay.
November 16, 2011
This just moved waaaay too slowly....
I love a challenge and I love long, adventure games, and I would have liked to continue with this game, but I cannot deal with the long, slow dialogue. I didn't even finish the trial game because I kept saying, "Ok, already... moving along, now... keep going... pick up the pace..." Just not my style, I guess, although the acting was really pretty good.
November 15, 2011