Nancy Drew - Danger on Deception Island
A vacation to a remote island in the Pacific Northwest abruptly runs aground when you, as Nancy Drew, discover that an unseen assailant has vandalized the whale-watching boat owned by your host, Katie Firestone. But thats just the first in a string of nasty "accidents." Is the plot in Snake Horse Harbor related to the orphaned orca whale roaming the nearby channel, or is there a deeper threat shrouded in the approaching fog? Plunge into danger to bring a mysterious islands secrets to the surface! Dare to Play. ( TM )
Build sandcastles and kayak!
Save an orca whale.
Dig for clams on the beach.
Game System Requirements:
OS:

Windows 2000/XP/Vista/7

CPU:

600 Mhz

RAM:

128 MB

DirectX:

6.0

Hard Drive:

588 MB
Game Manager System Requirements:
Browser:

Internet Explorer 7 or later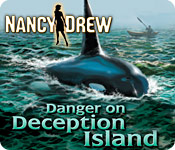 NEW299
The Big Fish Guarantee:
Quality tested and virus free.
No ads, no adware, no spyware.

Reviews at a Glance

Nancy Drew - Danger on Deception Island
0
out of
5 (
0
Reviews
Review
)
Customer Reviews
Nancy Drew - Danger on Deception Island
16
16
Deception Island Review
Awesomely fun, played a lot. Love it. Characters and story will keep your interest. Not so hard that you will get discouraged, worth your time playing.
October 4, 2013
Loved this game too
The only part I didn't enjoy very much was all the kayaking. It wasn't as bad as constantly driving around the island like Ransom of the Seven Ships though. It did give the game an eerie spook factor, being out there all by yourself and never knowing if the next turn you made was going to send you out to sea forever. I had a lot of fun with the quiz part you had to do to get the seaman in the cafe to talk to you, and figuring out how to work the card things on the wall. I almost forgot to add, one thing I also liked about it is it didn't end the way I expect. When I figured out the card thing, I thought certain other things would happen, but they didn't. I liked that unpredictability. I also wished for a little more for the cafe lady to do. She seemed like a fun character that could have been expanded some.
January 28, 2012
Sweet game, not too challenging
This was surprisingly easy for a Nancy Drew game, and shorter than the ones I've played before. It took me 4 days to finish Phantom of Venice, playing on and off, and only 2 days to finish this one. I hardly needed the walkthrough at all, which is unheard of as I'm not a very experienced ND player! The storyline is good, there is a killer whale causing confusion just off the coast of a small fishing town, and we are not quite sure what to do about her. This causes friction between members of the community. Nancy Drew games often have to do with the supernatural, this game not so much. There is some reference to the sea monster "Caddy", but the focus is on the whale and an old smuggling mystery. Which brings me to one of my disappointments, namely that the whale really doesn't make an appearance until the very end of the game! I thought maybe, all of those (numerous) times I was required to go kayaking, I would catch sight of her, but no. Also, contact with Katie, the reason I went to Deception Island in the first place, and on whose boat I was staying, was really minimal. MINOR SPOILER AHEAD! Even when the ice box in the cabin melted and there was clearly reason to notify Katie, I had no lines to tell her about it at all, I was just sent on my way cycling and kayaking some more... I did enjoy this game very much. It was fun visiting the whale museum and trying out all of the minigames. The events unfurled in a logical sequence and I pretty much knew what I was supposed to do most of the time. The culprit wasn't all that easy to figure out, and the ending was exciting!
July 12, 2013
Deception Isle
Classic Nancy Drew game. Boring at first but gets better. Not at all scary. Uses the classic ND formula that delivers good plot, hidden areas, and interesting characters. Not my favorite setting.
October 15, 2013
Run-around Nancy game
I love Nancy Drew games and have played quite a few. This is one that has you running back and forth between 5 places to find things. You have to hop on your bike or kayak to these five points. I hate when these games do this....it wastes so much of my time! It is like the one where Nancy had to drive her car everywhere....slowly. Why can't there just be an icon to push to get from here to there! The puzzles were very boring...nothing to them at all! No challenge and no uniqueness. Thornton Hall is 100 times better than this game. Also, the storyline was BORING! It had little to do with her running all over the place. This one is a pass.
November 30, 2014
Hated It.
I've been playing all the ND games in order of release. I tried to like it. But I just couldn't. I found it boring, tedious, and even obnoxious. I played in senior detective mode as usual. I am absolutely perplexed by how many good reviews this game received. Fun Factor: absolutely NOT FUN. I don't even know where to begin. The e-mails from home and the conversations with Bess and the Hardy boys were more entertaining than the mystery! (and that's saying a lot b/c I typically loathe calling them and going thru the mundane half hour waste of time conversations with them-no I don't ask for hints) Let's see... no.. riding a bike back and forth over and over and over again.. is NOT FUN. Kyaking with hidden view so you can't ever really tell where you are going - is NOT FUN. Once again we are back to taking pages of notes which are NOT FUN. The rotating block puzzles for the cards was NOT FUN (I absolutely HATE those types of puzzles). Collecting the clams was NOT FUN. The list of NOT FUN just goes on and I don't feel like typing it all down. Visual/ Sound Quality: Very little to see. Sound was... well.. with so little to see, there wasn't much to hear either. The character voice overs were alright. Seemed a bit cheesy with the Jason guy and Jenna while hot blooded, her face never showed it really. Level of Challenge: If you removed all the running back and forth from the game, and ignored the rotating blocks, it wasn't too difficult to figure out what needed to be done. As you approached the ending, all clues were spoon fed from person "X" (I won't say the name so as not to create spoilers) Storyline: Awful. Shallow. Boring. It would have made more sense for "X" to just send a message to the Sheriff with all the info. Case solved. "X" already knew everything that was going on and basically sent Nancy on an Easter Egg hunt for no other reason than "X's" own amusement. I found the Katie character utterly unlikeable and wished I could have push her over the side of the boat (just once!). In fact, the only character that was well done was Holt Scotto. The rest were... boring or unlikeable. I hope there aren't any more ND games as bad as this one. After playing this game, I have half a mind to go back and bump all previous ratings up a star b/c they were all so much better in comparison. I apologize to everyone here who raved about the game and apparently loved it. I cannot for the life of me understand why. I do NOT recommend this game and if you skipped it while playing the ND series - count yourself fortunate.
August 28, 2013