Cradle of Egypt
Explore the lands of the Pharaohs and the Cradle of Egypt! Enjoy the miraculous constructions in this awesome Match 3 game! Journey through five ancient epochs and build your own Egypt. Starting from a small village, develop your settlement into the most powerful civilization, the cradle of all civilizations! Collect resources, construct various buildings, and finish with the Pyramids of Giza, the Sphinx, and other magnificent temples!
Construct the Pyramids
Develop your settlement
Explore the lands of the Pharaohs!
Game System Requirements:
OS:

Windows XP/Vista/8

CPU:

1.6 GHz

RAM:

1024 MB

DirectX:

9.0

Hard Drive:

151 MB
Game Manager System Requirements:
Browser:

Internet Explorer 7 or later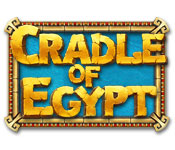 NEW299
The Big Fish Guarantee:
Quality tested and virus free.
No ads, no adware, no spyware.

Reviews at a Glance

Cradle of Egypt
0
out of
5 (
0
Reviews
Review
)
Customer Reviews
best game in a long time.
i had try out a lot of mack 3 games, and theres a lot of boring games to choose from, but finally i found this great game!
February 13, 2012
More than a match game
Great fun and addicting!!! For anyone who's never played a match game, this would be the one to try. If you're already a fan of match games, you are going to love this one.
January 17, 2012
amazing match 3 game
This is really a very addictive game, I really could not stop playing, level after level. Extremely fun and challenging!
January 16, 2012
Cradle of Egypt
Excellent, well worth the money, but extremely challenging at the end (almost impossible...)
December 22, 2011
Great game
I loved all of the cradle games! Great graphics and very challenging. Love it!
December 10, 2011
A Cradle game without a timer
Pros: timed/untimed options, improved powerups, smooth gameplay, challenging minigames Cons: big case of deja vu, extremely difficult in timed mode The developers must love their Cradle of Rome games. So much, in fact, that they came out with another one. Yes, you're now in Egypt and trying to establish a civilization there along with fulfilling a prophecy of Ra, but if you've played Cradle of Rome 2, you'll quickly notice that Cradle of Egypt is pretty much the same game with a slightly different color scheme and different playing tiles. The animations when a powerup is triggered are improved--watching the action of the "liquidizer" (formerly known as the mixer in predecessors) is a treat. The powerups have also been improved in that it's now possible to aim them around board edges and through walls in boards with holes in the middle. The details of the city you build have been well thought out so there aren't any unintentionally funny bits to chuckle over here. The minigames have gotten a heavy boost to the challenge level compared to COR2 and although they start out relatively easy, none are truly simplistic and a few are quite hard. If you get stuck there's a Solve button, but be warned that you'll sacrifice two achievement trophies for skipping a minigame. The trophies and citizens in general are harder to earn than in predecessors, most requiring careful planning. The game instructions are improved over COR2 and I found myself checking them often (what do those new super arrows do compared to the original one, and how do I get the treasure chests?) to check the values of the resources while planning out my city building strategy. A hidden tip not in the instructions is that pressing the Ctrl key shows you the game board without the playing tiles, so you can quickly spot what you have left to do. The popup game hints seem a little strange in their timing, however. In more than one instance I had created a super arrow but it took the game a long time and several super arrows used before it gave me the popup tutorial on them. If you complete adventure mode, Blitz Mode unlocks and not only are you playing to see how long you can last now, but your city will get additional upgrades when you play in Blitz. The Tourney mode from COR2 is also back and unlocks at 200,000 points scored in adventure instead of 500,000. Adventure mode can be played either timed or untimed, but it cannot be toggled back and forth. Here is my main issue with the game: Now that there's an untimed option, they seem to have deliberately made it much harder for everyone as an exchange. The learning curve is steeper and the upper levels of the game may well make even hardcore M3ers cringe if playing in timed mode. I did finish in timed, but at the end found myself thinking that the previous game would be a better one to play for those who like a tricky, timed M3. The Romans had a better water supply too.
November 24, 2011
BE CAREFUL W/RESOURCES
This game is much harder to play (in timed mode) than Cradle of Rome2. It's harder to keep the earned "lives" because in higher levels of the game (in the 90s) DESPITE having resources, the game will sooner or later (after buying resources for awhile) fold up the board and take a "life" causing you to to replay that level. Also what was even more disappointing is that IF you use too much of your resources causing you to be unable to buy ALL the city buildings, you do NOT finish the game at Level 100 and become pharaoh. You'll be told that you have to play the "epoch" (Main Menu, click "Play Adventure") and it'll take you back into the game. One member was taken back to Level 73 allowing said member to achieve the extra resources and gold to buy said needed buildings while I was only taken back to Level 99 making it IMPOSSIBLE to earn those extra resources and gold to complete the city. It was fun while it lasted but for me who RARELY gets that far in a TIMED game (do have option to play UNtimed), I was very disappointed to have completed all the levels but yet unable to finish the game.
January 10, 2012
worth a trial
only got 1hr. Cant wait to try full game. Takes a bit to finish each level. Patience is a must.
November 25, 2011
Cradle of Egypt
A classic game. It is relaxing to play. The graphics are not the best but good. The music is annoying in the long run. It's fun when playing.
June 6, 2013
Good 3-Match
Another winner with the Cradle series. However, be aware that from 75 on when you play in the "timed" mode it becomes hard. Fortunately there is a relaxed mode that lets you make it to 100. If you are in the timed mode and use too many assets (gold, etc.) it will kick you back to level 73 to start this part over, and you never make it too 100. Can be frustrating.
May 9, 2013
The Apple logo is a trademark of Apple Computer, Inc.