Weird Park: Broken Tune
Explore a haunted amusement park in Weird Park: Broken Tune! Take the role of a private detective hired to investigate a rash of "accidental" deaths that befell those who worked at the park before city officials shut it down. Investigate amazing locations carefully in this incredible Hidden Object Puzzle Adventure game! Tread carefully to make it out of this Weird Park alive and discover the murderer!
Bizarre locations to explore
Gruesome murders to solve
A twisted tale of terror!
Game System Requirements:
OS:

Windows XP/Vista/8

CPU:

1.0 GHz

RAM:

512 MB

DirectX:

9.0

Hard Drive:

470 MB
Game Manager System Requirements:
Browser:

Internet Explorer 7 or later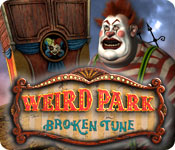 NEW299
The Big Fish Guarantee:
Quality tested and virus free.
No ads, no adware, no spyware.

Reviews at a Glance

Weird Park: Broken Tune
0
out of
5 (
0
Reviews
Review
)
Customer Reviews
Weird Park: Broken Tune
149
149
Another Amusement Park...
Lets see. I bought this game during the sale and thank goodness because its a very short game. It had the potential to be quite scary since it had clowns and weird little characters running around an abandoned amusement park but the developers didn't put enough effort into making this theme as scary as they could have. I liked the graphics and the story line and the plot twist well maybe not a twist but when I thought the game was over it had more to go so thats a plus. However, the cons outweighed the pros for me. There was no choice of difficulty so the sparkles were there. The sparkles only indicated hidden object scenes and directions like if you moved the cursor to go to the left the sparkles would appear but there none to alert you to other things in the game like things to pick up so that was nice. The music was recycled from Pandora's Box: The 2nd one (forget the name) but its the same developer and I feel this developers quality is kind of going down the drain. ALSO, you revisit the SAME hidden object scenes at least 3-4 times and sometimes you are looking for the same things you found before. Doing that is like busy work like when you have filing or paperwork to do but becomes boring after awhile. I kept dreading going back to the same place to find the sparkles lit up on the same place again since the scenes have no interactive element and like I said, repeat. All the mini games were rotating puzzles of some kind. At first it didn't bother me but further on it became the ones that really were hard to solve but luckily I was able to complete them randomly without skipping. My biggest pet peeve though was the ending. I don't understand why developers put out CEs and make the bonus play the ending and leave a chopped off miserable ending for the people who can't afford the CE and have to buy the SE. Once again, it wasn't really clear who the clown was or how he got in the record or what was really going on just that it was clear there would be a sequel yet I know some valuable story line was in the bonus play. BONUS play should be a BONUS not having anything to do with the ending of a game or the story line of a game that is important to having a satisfactory ending. Doing a prologue or epilogue is fine but it should not tie in to the actual story line enough to make the people who buy the SE wondering what the heck happened. I wasnt going to purchase this game originally but due to the sale, I needed two more games and decided this one seemed okay. And it was just okay but I wouldn't recommend paying full price for it.
February 29, 2012
Ho-Hum...
I play enough of these types of HOGs to know the great ones from the "just okay" ones. And Weird Park, although it had moments of being a very good game, was just okay. Graphics were fine and the story & music were good but the rest left something to be desired. And the rest included the hidden object scenes (HOS) and the puzzles. All of the HOS were as simple as they come. All of the objects right out there in the open... definitely not junk piles, but not cleverly hidden either. And none of the scenes had any interaction within them. But my biggest gripe had to be the puzzles. They either required no thinking whatsoever or they were of the "slider / rotating" variety, which I despise!! And the majority were slider/rotating kind, so I did what I almost NEVER do... skip a lot of them. I didn't play the CE but it still logged in quite a few hours of play. This was a plus, but when you dread the next puzzle, because you know it'll be a rotating/shifting/sliding puzzle, I was just ready for it to end. More thought input in the hidden object scenes and the puzzles and this would have been a very good game.
February 20, 2012
This Game Was Just Okay For Me
This game had great graphics, good music and sound effects. The length of the game was good. The HOGs were very easy, no challenge there (probably very good for a beginner). The storyline was good, spooky and funny together. The thing that brought my rating down was that there were too many HOGs, searching the same places more then once and going back and forth from one place to another, over and over again, that got a little tedious for me. I became a little bored with this game. Sorry, but that's just my opinion...might not be yours!
December 9, 2011
A good game, but nothing extraordinary
I only played the demo, so my review is only based on what i saw in the hour or so. First of all, the game is pretty fun. It's the basic pick up item, use it someplace to find another item, with the occasional hidden object scene (basic stuff, no surprises here). The story was meh - i think i played through dozens of similar plot-lines. The graphics and sounds are well done, no problem there. Challenge level is very low, as it's pretty obvious where you're supposed to use an item and puzzles are quite simple. This makes it a good game for beginners.
November 28, 2011
it is too short
the game is ok, just too short
November 11, 2012
a fun ride
Lots of fun, but definitely not challenging. For either beginners or people who don't want to put a lot of thought into a game. Graphics are great.
March 19, 2012
Boring, but nice graphics.
For some reason, it took me a month or so to finish the last half hour of this game. I just go so bored by the end! Can't really put my finger on it, but maybe I am just burned out on the same old same old!
February 18, 2012
Trial Was Fun
First hour of play was fun. Then, like the game's own title, it became a "broken record." I had to constantly go back to a place that I had already searched, and it became tedious -- no fun at all. Play Redrum instead.
December 26, 2011
Game is OK, but not very original
I finished the demo and I don't think I'll buy the game. The game is good enough but quite traditional so far: during the game more ares become accessible to explore... you find something in area X that must be used in area Y... and so on. Having played really many HOGs I realize that for me, it has to be more than that. The HOS's are a bit too easy for me, there are no objects in them that are harder to find or that require an extra action. The story itself did'nt trigger me enough either (yes, mysterious, strange clown figure.... been there, seen that). So yes, the game is OK, but not very special so far.
December 2, 2011
Broken Tune
It started out kind of easy but as it progresses it gets to hard and impossible to find the items you need.
November 27, 2011
The Apple logo is a trademark of Apple Computer, Inc.