Cardboard Castle
Become a fearless knight in Cardboard Castle, an incredible Arcade game with a unique cardboard art style! Go out in search of frightened orphans, damsels in distress, and the occasional Princess to save. On your path lurk unspeakable dangers, hideous monsters, horrendous hellfire, and dark bottomless pits. Strap on your favorite suit of armor and embark on a fantastic adventure. Overcome the obstacles and save the day in Cardboard Castle!
Save damsels in distress
Take on horrifying monsters
Become a fearless knight!
Game System Requirements:
OS:

Windows XP/Vista/8

CPU:

1.4 GHz

RAM:

1024 MB

DirectX:

9.0

Hard Drive:

77 MB
Game Manager System Requirements:
Browser:

Internet Explorer 7 or later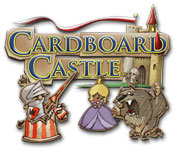 NEW299
The Big Fish Guarantee:
Quality tested and virus free.
No ads, no adware, no spyware.

Reviews at a Glance

Cardboard Castle
0
out of
5 (
0
Reviews
Review
)
Customer Reviews
Brain food for logic-lover adventurers
Definitely NOT a children's game. Folks thinking so either didn't play much past tutorial or are geniuses. Game is logic-based, seriously creative & requires outside-the-box thinking to achieve success at the tasks. It's a heck of a lot of fun for anyone who enjoys brain twisters/puzzles. Game's design/concept is like what we'd expect to find in terms of word/logic puzzles in a high-end CE. Graphics are attractive for what they represent: cardboard cutouts. I've been at it 4 hours already, absolutely loving it. Likewise any old school adventure gamers, puzzler lovers or players wanting a fun yet brain-challenging (thinky) game, should give this a try. *Play the whole demo.* Game difficulty definitely ramps up past tutorial as player progresses through the chapters.
November 25, 2011
Wonderful Logic Puzzle Game!
Cardboard Castle is a logic puzzle game wherein you must correctly perform sequences of events on each level that allow the knight to complete his quest. There are 3 chapters with 5 levels each, then a 4th chapter where you race against the clock. Each Chapter and level gets progressively more difficult. There are hints available for purchase with coins you must find, plus trophies you can earn. This game is not at all a child's game. The graphics are cardboard cutouts, but the logic and keen observation required to get through the levels can be very perplexing. The total game time for me, using no hints, was 5.5 hours and I really enjoyed it. It was a whimsical and fun experience that left me sad when it ended. Hoping to see more from this developer. Great job, Bulkypix!
November 27, 2011
Lots of Fun
This game is a fun experience! The "cardboard" art work is cute. It's a logic puzzle game and we all had great fun playing it with no problems. A good break from hidden object and other adventure games.
December 4, 2011
Cardboard Castle
Loved it. Takes away some of the monotony of the serious games.You can be a kid again.
November 26, 2011
Do play WHOLE demo, this is a challenging game!
I love puzzles - this kind. I love weird, quirky, different, adventure, puzzle games that give me a change from all the meatier games. It definitely will only appeal to a very narrow set of people. At the beginning it's so easy but it gets progressively harder. When, at the 2nd or 3rd level I didn't do things in the right order the first time, I then knew it wasn't just a kids game. And when you get into the latter levels you know it's not a kids game at all! I don't know if I would say it was a logic game as some things you have to do you would never guess the 1st time. I thought it would be short as I was getting through it fairly quickly and there are only 15 levels. But at level 12 it is timed (and also thankfully doesn't have the click and pull of scenes to get to the next scene which I agree is annoying) and I was at level 12 for ages. It's hard to say how long it took as it is a game you can pick up and play for a level or 15 mins at at time which is great! I know it took me over 5hrs and could easily be 6hrs. If you like hapland (way before tiny bang) then this game is definitely worth a look. I like how the game is laughing at itself with the graphics, it's supposed to be that way. I guess it's how you look at it, you either get it or you don't. And you realise for some of the puzzles to work it had to have the look of cardboard cut outs/pop up childrens' book. You can earn hints by collecting coins. This game is the perfect example of why it's good to have the whole hour demo, as if you spend the whole hour on it, you may end up getting it. Don't give up after a short time. I stopped and got it at 25 mins into it (when I had been at that 'male chicken' as well for ages, I knew I had to get it, if it could stump me). If you only try it for 10 mins then you won't get it, you will be confused at how the graphics look and how simple it is for the first couple of levels. For a very unusual game I would rate it a B
January 14, 2012
Complexity within its simplicity
This is an objective review of my completely subjective experience with Cardboard Castle. I truly have a soft spot for this charming little game as it is so deliciously simplistic looking yet deceptively challenging at the same time. It's labelled in its description as an arcade game yet it's categorized in the adventure genre but it's really more of a puzzle/logic game played against the backdrop of the knight's adventures. Many people wrote this game off as a child's game judging by the way it looks but I assure you that it is not. Although I don't consider myself an expert gamer by my own definition, I'm very experienced in the adventure game genre and go back to its inception when there were no graphics and games were entirely text based. So with that being said, I came upon this game because the title aroused my curiosity and I just had to try it. I have fond memories of my childhood and am very nostalgic when I come across anything that reminds me of it. This game has very cute visuals in the way that the characters and props are drawn and colored, and the many animations and sounds throughout are very creatively rendered. Obviously, you can't take this game too seriously. I mean just read the description of its "unspeakable dangers, hideous monsters and horrendous hellfire". It's nothing but cardboard cutouts drawn with crayons so just how seriously should one take this game anyway? It's totally tongue-in-cheek charm all the way and I just climbed on board and rode away with it. What kicks the game up a notch for me is not what you're supposed to do within each scene but more HOW to do it. The gameplay is linear but you're only allowed to see a portion of the entire scene at a time because you have to scroll your mouse from side to side to "see" the entire picture. I think this is a genius technique on the dev's part because you tend to forget what you've just seen and the scrolling back and forth gets you thinking about where you're supposed to use any particular item you have in view before you. And some of the items to pick up are ridiculously oversized. Why should there be a huge pair of scissors or a glass of water hanging in the sky instead of on the ground like in other games? Why indeed? That's what's brilliant about this game. You're thrown off by what you're seeing because sometimes it visually doesn't make sense. And because it's a fairy tale, the logic involved in completing the tasks may not always make sense either. Yes, the earlier levels are easy but it gets progessively harder quite quickly and I'm stumped right now because I haven't figured out the sequence correctly yet after having tried many different ways many times now. Luckily, you can replay each level until you get it so I'm still working on it and enjoy the fact that it's got me so stymied. The hint system is helpful to a point. You can collect coins for them but sometimes it'll give hints to tasks you've already accomplished so it's wasted. There's a walkthrough available elsewhere that's somewhat helpful but it's all in pictures and specific steps that are normally written out in other walkthroughs would be very helpful here but are absent. So it's more of just depending on your own smarts to figure it out. This is not a bad thing as too many of us (me included) have become too spoiled with the available help given within games nowadays so having to rely on your intuition is actually a good thing. This game forces you to think outside the box. The scenes here aren't cluttered so the sequence of tasks can eventually be discovered but it can just take a little time. The last level is timed so that's an added challenge but I'm nowhere near getting to that part yet. I'm just having fun where I am right now and come to this game when I want to take a break from playing the more complicated games that I normally play. I know it's not a game that most people will like but I thought it was very brave of the devs to attempt it with its distinctive style. And it's very unique in that there's no other game like it anywhere that I've seen. Expert puzzlers may not find replayability in Cardboard Castle so it's a good game to put aside for a long time after mastering it before you play it through again, but please don't write this one off too quickly before trying the demo hour. I was surprised when the time ran out but knew I had to buy it. In all honesty, I don't think it's worth the full price (I always wait for sales) so I bought it on a half off sale and think it was a good deal.
January 31, 2013
Lateral thinkers only!
This game is challenging. You have to try to combine different things with other things to successfully get your knight to the end of the level. Some of the later levels are definite head-scratchers that not even the hints helped with. I just had to keep trying different combinations of things until something worked. Whoo! This is not for your every day casual game player; these puzzles will tax your lateral thinking ability. Try items in lots of different places to succeed at a level, and save your coins for later levels. You will need them! :-)
January 14, 2013
A simplisticly challenging original concept
I loved the idea of being able to manipulate the cardboard! Never seen anything quite like this before. Thoroughly enjoyed just seeing how many different things I could get everything to do as well as figuring out the solutions. Movement issues alittle annoying but, not enough to make me want to stop playing.
March 26, 2012
Clean fun cheerful game!
Love the idea of a cardboard world and being the goodie-two-shoes hero! Great to play at a short break as the levels are very short.
November 24, 2011
new graphic style
i liked this game just because of the new concept-cartboard style,its a bit challenging (i played only the time-race section)' i liked that its not one of those games that only your wrist moves''you also have to work your brain a little (not too much dont worry) .
November 26, 2011