Big City Adventure - San Francisco
Join the Big City Adventure treasure hunt and search for thousands of cleverly hidden items. Travel to all the most famous (and not so famous) locations around the cosmopolitan city of San Francisco. Discover 60 fascinating and obscure facts about San Francisco and it's history, plus, earn 60 cool mementos from the 20 amazing locations you'll visit. Big City Adventure is a great beginning to a new series of hidden object games.
Game System Requirements:
OS:

Windows 2000/XP/Vista/7/8

CPU:

600 Mhz

RAM:

128 MB

DirectX:

6.0

Hard Drive:

28 MB
Game Manager System Requirements:
Browser:

Internet Explorer 7 or later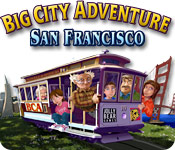 NEW299
The Big Fish Guarantee:
Quality tested and virus free.
No ads, no adware, no spyware.

Reviews at a Glance

Big City Adventure - San Francisco
0
out of
5 (
0
Reviews
Review
)
Customer Reviews
Big City Adventure - San Francisco
22
22
Great HO game
I love all of the BCA games. Not only do you play the game, you get to learn things about the city. You have a variety of HO, M3 and other things to keep you interested. I'd recommend any and/or all of the BCA games.
July 6, 2014
Great Game
This is another great game in this series, especially if you like a relaxing hidden object game. Not really a "storyline" to follow but I do learn a lot about the different cities. For me there was only one thing I could have done without, and that would be the spider, (I even hate to type the word), in the first scene. And that is just me, I have hated and been afraid of them most of my life. So. I just wanted to warn anyone else that hates these critters, there is at least one. I always appreciate when a reviewer points it out in a game, so I thought I would return the favor. It is a great game though, so enjoy, you can always do what I do, and just use a scrap of paper and cover the critter until you are done.
June 22, 2014
Lets go to San Fancisco.
This was my fist Big City Adventure. it took me 12 hours to finish it know thats what i call getting your money out of a game.Big City is like a Big board on your pc you start where it says start and you finish at the end of the game. know for the game every place you land on you have to find thinks from that place you also get cones to help you get points atfer that it add up what you got then you go to the next place on the map theres also facts about where you been and some mini games.pretty good stuff.
March 23, 2012
mini games impossible
i really enjoy playing the "Big Adventure" games. But this one some of the mini games are impossible to solve and there is no "skip" button.
September 4, 2012
San Francisco Adventure
This is a really fun (and educational) hidden object seek and find game. You get to choose which family member you want to be such as mom, dad, grandma, grandpa, sister and brother. Each scene has several list hidden objects to find and coins that aren't on the list that give you extra hints, 2 extra minutes on the timer, and coins that give you extra points when used. Some of the items are really well hidden! After the HOS, you play a mini game to find out your next travel destination such as, a matching 2 or more tiles in a group, jigsaw puzzles and clicking on the exact matching picture tile as shown at the bottom of the board. Before visiting your next destination your avatar will send out a post card telling you some information about that particular destination, enjoy!
March 29, 2014
HOG and Travelog at the Same Time
Straight HOG with some type of match game (pictures, match 3, etc.,) at the end of each round. Sixty levels. Scenes do repeat, but the list of objects differs. It does tend to become more difficult as you progress, especially on the match games. While graphics were extremely bright and colorful, this was done to obscure some of the objects and make the game more difficult. I really like the postcards on each level as they provided very interesting facts about the city. Best played on a long train ride to San Francisco. My overall rating is a 3.25.
December 23, 2011
Good hidden object--very sneaky!
Graphics were good for the most part but some of the objects are so well hidden only a tiny piece of them shows. Some of the objects are very tiny. Overall not bad. What I HATED about this game is the one puzzle that would show up where you had to click on 2 or more same objects to clear the board. As the game progressed this became very difficult to do and you'll find yourself having to play the puzzle over and over again for days or weeks at a time! VERY frustrating. This game should be updated with a version where puzzles can be skipped. I'm going to be very wary of buying any more of these vacation games because of this. I am only recommending this game grudgingly because I did like the hidden object part...just hated that puzzle! So beware.
December 5, 2013
lousy graphics impossible matching puzzle
this Big City Adventure is not as good as the others - London, New York, Australia, Canada - the graphics are fuzzy (It is difficult to make out some of the objects) and alot of the items are mostly hidden behind other objects which is a good challenge, but this is one of the games I've used most helps on (I never use any in the other games). Also the BeJeweled like puzzle is impossible to solve without restarting over and over due to lack of plays left. Also there is no "Skip" option so I cannot proceed. I've played alot of these games so I'm not a novice, just don't like this one.
April 29, 2012
Skip San Francisco...frustrating
This must have been the developers first game in the series. The HO scenes are so cluttered that I find myself with my glasses off, nose inches from the screen pouring over the scene to find something that is 95% buried behind other items. Often you have to take one item before another item is visible at all. At least a half dozen items are completely mislabeled...My favorite was minutes spent searching for CUE BALL - the item was actually a green pool ball. The mini-games revealing the next location aren't hard, but the ones that play like match 3 (only it's match 2) have too many holes in the grid and get increasingly difficult to complete in order to move on because of the holes and the way the icons fall. There is also no way to 'hurry up' to the next scene - you have to wait while it counts up your extra time and adds up your unused coins every time... All of these issues seem to have been addressed in future Big City Adventure installments...so skip San Francisco and travel elsewhere!
March 9, 2013
Impossible game
At first I thought this game was similar to the other Big City Adventure games. But I was wrong. Most of the other games are long, as is this one. You're basically trying to find objects in very crowded, kind of blurry scenes. Some of the hidden objects are very hard to see, so much so that I really consider it unfair. There is also no speed-up button after you finish a scene, so you have to sit through every single one of the 60 different point totalings, 60 different times slowly moving to the next activity, etc. In the other games there's a button so you can skip all of that. The mini-games in between the HO scenes are very repetitious, same things over and over. But the worst part of the game, the one that kept me from finishing the game, was the Match 2 mini-game. It gets harder as the game progresses, and the way it's designed the objects to match rarely fall in pairs. If there are spaces in the design, you frequently can't make any more matches. So then a message comes on that asks if you want to start over. No skip button. I finally quit the game in total frustration after trying about a dozen times to finish one of those games. It's so strange in such a relatively easy game to have a part that is so difficult, with no way to skip it. I'd say this game is poorly designed and definitely not worth the money. I do not recommend it.
October 29, 2013