Revenge of the Spirit: Rite of Resurrection
The day famed mystery writer Adora Graves died the lights went out in the city of Beacon as the Revenge of the Spirit! It's up to you, a passerby, to cast light on this mystery or be stuck in this shadowy town forever. Explore gorgeous Hidden Object scenes and save the city of Beacon from the terrible curse. Calm the restless spirit to cast away the darkness and save the day in Revenge of the Spirit!
Confront a nasty spirit
Save an entire town
Cast light on Beacon!
Game System Requirements:
OS:

Windows XP/Vista/Win7/8

CPU:

2.0 GHz

RAM:

2048 MB

DirectX:

9.0

Hard Drive:

487 MB
Game Manager System Requirements:
Browser:

Internet Explorer 7 or later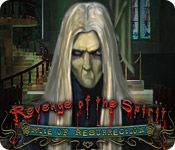 NEW299
The Big Fish Guarantee:
Quality tested and virus free.
No ads, no adware, no spyware.

Reviews at a Glance

Revenge of the Spirit: Rite of Resurrection
0
out of
5 (
0
Reviews
Review
)
Customer Reviews
Revenge of the Spirit: Rite of Resurrection
84
84
Catched my attention!
I only played the demo for about 5 minutes then bought it. I see no need to go any further if it catches my attention quickly. Nice and clear hos's and objects well blended but to not hard to find. Back and forth item searching just like I like it. Since I don't like it when items needed are to close to the task.Only 2 things that could have been inproved on. It is slow switching from notes to task page and I didn't care for the unwanted hints. Items that I was looking for sparkled. Other than that, good game!
December 17, 2011
Great Game!
Made the purchase as soon as we were done playing the demo. The story is interesting. The graphics and voice overs are good. The hidden object scenes that we have played have some interaction that is always a fun extra. Definitely some humor in the scenes. Disco Toad.. too funny! Cannot comment on the length of the game since we have not finished, although it does have us hooked and we can't wait for the purchase to finish loading so we can get back to it!
December 17, 2011
Good Filler Until The Next Game
I'm currently playing the trial; will use my game credit to 'buy'. The graphics are ok, music, sound ok# The voices are really the only thing about this game I can't stand# I muted them# The wraith is spooky and the story is unique# This is a H/O adventure with a lot to do, but not too much challenge# The puzzles are medium challenge# I would recommend it as a 'filler' until the next big game# =-)
December 7, 2011
Revenge of the Spirit
At first glance I thought it was going to be too dark, but the graphics are good, so I didn't have any trouble seeing things. As for the gameplay, same ole, same ole. How do I get out of this jail cell, can't reach the item in the drain. You get the gist. The mini games so far, same story. Codes and teeth locks. The music is okay, just not conducive to a dark theme. It's more appropriate for a doctors office. Then there are the voice overs. They are so bad!!! If I were to buy this game I would definitaly have to mute. Very bad accents and obvious script reading. All- in- all a very good game for beginners. (although it's a bit challenging, the hint system is very helpful, and doesn't take too long to recharge.) I've played and bought well over 200 games so I'm a bit jaded. I'm looking for new and unusual, something fresh and exciting, and this just isn't it. But as I said, good for new fish in the genre.
December 7, 2011
Good try, but really a miss
This game has a lot of potential, just need the devs to do a bit more work on it. I don't use sound, so no comments there. It starts out dark and out of focus right away and you can tell by the scenes that things are going to be small. You don't need to get a whole room in one shot, when they do that, of course all the things clear across the room are going to be miniscule and those are some of the things you need. They have the right idea here, and it looked like it could be a great game. I found the hidden objects were mostly easy with a few cleverly hidden. I would like a bit more difficulty there. Now figuring out where to go next and what you need to find and how to use it, now that was on the difficult side. I liked it, the only problem was how dark it was and I even found areas that I had missed because of how bad the graphics were. I really do wish they would take this back and rework it. Cause I think it could be one of the best, if only I could see. I also had trouble with the movement, wasn't smooth and it did hang up towards the end of the trial. Since I found this game to be more aggrevating than enjoyable, I will not recommend it. But hey you devs, fix it and I'll buy it!
December 8, 2011
Nothing New
This was an average game with many of the same scenes, themes and tasks as we've seen in lots of other games. It's a good rainy day game. The graphics are very good, but I've come to expect that these days with the improvements in technology. There was one really terrific moving graphic that I hadn't seen before, though. The problem for me was that, as I got closer to the end, huge numbers of HOS were put in, often one right after the other. There were very few inventive ways of finding necessary objects in Chapter 6 and the Epilogue; almost everything that was needed was located in an HOS. This is laziness on the part of the developers and annoying for the player and I've seen this in so many games. The Epilogue was fun, though. Just the fact that there was an extra "chapter" (no spoiler here, the chapter was right there for anyone checking out the walkthrough) was nice and wrapped the story up nicely. All in all, I'd recommend this game.
May 18, 2012
Another Town Cursed by Fog Game
DISCLAIMER: I just played the free demo. Here is yet another game with the curse of fog (Strange Cases: Secrets of Gray Mist Lake, Dark Dimensions: City of Fog, etc.). You're driving down the road when suddenly, you see a ghost-like figure. The next thing you know, a policeman has pulled you over for driving while impaired and decides to take you to jail. If that wasn't bad enough, you're put in a cell with a skeleton and a hangman's noose. While not perfect, this game has some great qualities. The graphics are suitable to the forbidding atmosphere. I didn't like the hidden object scenes; they were just the standard junk piles and were ugly. They might have been trying to make them look grim, but they just looked dirty. The sound track was nice, but unobtrusive. It also had nice mix of adventure and HOG elements. The game also has two modes, which extends the gameplay. However, there were problems. The plot is unoriginal, very similar to games listed above. I didn't like the cursor because it was small and hard to see against the dark background. The mini-games were rather easy and wouldn't offer much of a challenge to an experienced gamer. The game was fun to play, though, so it wouldn't be a waste of money to buy.
December 10, 2011
Needs A Strategy Guide
Good Parts: Pretty good graphics. Very modern, well-designed, detailed. Interesting storyline. The ghost theme may be getting old, but this game puts a good spin on it. The Hidden Object Scenes had objects that were easy to find, which I liked. Also included interactive objects. OK Parts: The game wasnt' that much fun to play There seemed to be a lot of things that went in to your inventory. I wish the developers had focused more on the gameplay. Bad Parts: The hint took ages to recharge The skip took ages to recharge, and you couldn't exit the puzzle while you waited, or else the skip would have to fill again. The game is in desperate need of a strategy guide. Most of the time I had absolutely no idea what to do. The puzzles, were hard, and the game gave no idea if you had it in the right place. Overall, the game was a little disappointing. Had there been a strategy guide, things might've been different
July 14, 2012
No Resurrection Needed
Initially, during the first two chapters of "Revenge of the Spirit", I believed this: Wow! I think I am going to a have good time playing this game,. Then came the issue w/ the push buttons. I had gotten ahead of the line of the game play, and I could not get my cursor to open the screen where it was located. Uh Oh! Imagine my surprise when it turned up in my inventory after clicking everywhere to no avail. This production is littered with similar frustrations. It is also dark. I cannot count the times I had to stand up be able to see in the HO scenes, even though I had adjusted my computer to compensate. I hate that! Then there is the inappropriate background voices of children laughing. This story has nothing to do with children, unless one counts the doctor's daughter. The voice overs do not match the moving mouths of the characters. I don't care for that either. This long playing game belongs in the "Could Have Been" a contender category. It has a strong beginning, which involves breaking out of jail. Which is a nice change, It has some ingenious to-do tricks in the HO scenes. The puzzles are nothing unusual or difficult, such as teasing a mouse through a maze though having to do so 3 times was tiresome. Over all, "Revenge of the Spirit" has a jerky trajectory. It fumbles around and seems to lurch from long stretches to things to do, between anything actually happening. At the end of the final chapter, I almost groaned with irritation at finding myself confronting the epilogue. I can recommend this game if you enjoy reading, as there are clues in Your Log. I can recommend this game if you have lots of patience for tasking, while accomplishing nothing. I can also recommend this game if you have time to while away and don't mind being rather bored. This IS a good game for intermediate players as an excellent tutoring experience when played in Advanced Mode.
February 26, 2012
Uninspiring.
I don't know what it is about this game, but I just couldn't get into it. It's a bummer really, because I only need 2 more punches for my free game and only 2 days to get them before my punch card expires. I was hoping the daily deals would help me with that. Maybe it'll get better farther into it, but I doubt it. Well actually I do know what it is that I don't like about it, The graphics aren't very good, they're kinda fuzzy. And everything is gray and dull. I like crisp, colorful graphics. The puzzles aren't anything original. HO scenes are typical and fuzzy as well, barely interactive. The story seems like its just thrown in there occasionally to have a reason for all the puzzles and HO scenes. But a lot of people seem to like games like this. I don't, but that's just me. I'v gotten tired of HO and have gotten spoiled by a few great games. So maybe you'll like it. It isn't terrible, it's just not that special.
January 29, 2013