Mountain Crime: Requital
Someone is killing the guests at a mountain resort, and you could be next if you don't figure out the mystery and solve a Mountain Crime! Take the role of a doctor who's summoned to a remote hotel to tend to a patient, and hold on to your sanity as you discover the first victim moments upon arriving at the retreat. Search for clues, crack brain-bending puzzles, and read newspaper clippings that reveal the hotel's horrific past in this incredible Hidden Object game!
Stop a murderer
Explore a mountain resort
Solve a Mountain Crime!
Check out our Blog Walkthrough
Game System Requirements:
OS:

Windows XP/Vista/Win7/8

CPU:

1.4 GHz

RAM:

1024 MB

DirectX:

9.0

Hard Drive:

1041 MB
Game Manager System Requirements:
Browser:

Internet Explorer 7 or later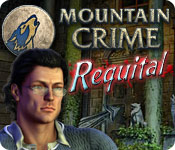 NEW299
The Big Fish Guarantee:
Quality tested and virus free.
No ads, no adware, no spyware.

Reviews at a Glance

Mountain Crime: Requital
0
out of
5 (
0
Reviews
Review
)
Customer Reviews
Mountain Crime: Requital
168
168
Lots of Variety
I liked the Fragment Circles rather than the HOS. It was a nice change. Lots of things to do. Great puzzles. It has a map but I rarely used it. Great hint system. Used it more than I should. The story was very confusing so at the end I was left with huh? Some of the items were very small. Hard to see. I had fun with this one.
January 25, 2012
Good Murder/Detective Game
Great visual effects and the puzzles were challenging. A little confusing at times, but a definite recommend to play!
January 15, 2012
It's A Game - It Doesn't Have To Make Sense
While "Mountain Crime" has great visuals and an interesting concept, the holes in the story line were distracting even to my 9 year old. He likes to help with the Hidden Object screens. Both of us were disappointed in these when they turned out to be the kind where you find the fragments of objects by their shapes instead of searching for objects by names. This might be good for players who are tired of looking for the same objects in junk piles in every game, but if you don't like finding broken bits, it's a bore. The main character, a doctor, begins by forgetting to take his medical bag when he hears a cry of pain. The victim is then left lying on the floor. Everything, from minigames to locks, is missing parts, and apparently they must be solved in order. I like being able to leave one path or area to solve others, and to find pieces in different areas and then later to come back, but this game seems to be mostly linear. All in all, this might present a welcome challenge to a super expert game player, but I found the story mistakes annoying, the Hidden Bits, instead of hidden objects, disappointing, and the inability to play minigames when found, instead of in a certain order, frustrating.
December 12, 2011
What a lousy ending...
...for such a good game. My main complaint was the confusion of the story writers. I felt many things were just left hanging or lacked any sort of logical thought. Plus the game play is extremely linear; you see a clue you know you will need but cannot pick it up until you read some document or visit another locale, etc. The game play is wonderful. All items are clear in hidden object portions. A bit of running to and fro but the puzzles and mini-games are very entertaining. Graphics are very good and add a lot of enjoyment to the game. Sound and voice effects were quite good until the end of the game when the voices quit synching with the action and characters. It wasn't a technical problem but a programming problem. This had the basis of a great game. But I don't think the plot writers did justice to the sound/graphics/gaming editors. I bought the game with a free coupon so I am not really out any money. I might be rather biffed if I had paid full price.
December 23, 2011
Bad, Bad Ending
I really enjoyed this game. Pretty good games a neat plot, things were going great then.....BAM! It was over! It's almost like the people who made the game either ran out of ideas, money, or time. The ending comes out of the blue, fizzles and you are left with the credits. Great premise, very poor ending...which is sad, because the ending had GREAT potential.
December 16, 2011
Something A Little Different
BASED ON DEMO/COMPLETED GAME FIRST IMPRESSIONS It was only on my third attempt that I was able to get into this game. It is slow to start, and I found the early adventure gameplay not at all obvious and generally confusing. Well, there is a little bit of that throughout, but eventually it doesn?t seem to matter much. SIGHTS & SOUNDS The cut scenes, of which there are many, use the 3D technique of adventure games, which I personally don?t like. They did a better job with this game than with most, but you have to laugh. The main character?s chest and waist have been exaggerated so much, he looks more feminine than manly. The game locations themselves are all clear and well done. The soundtrack is good. You may find your character?s voice acting a little over the top, but again, it is well done. The music is very good in that it offers lots of variety and is very exciting at times. WHAT?S HAPPENING? You are a doctor who receives an emergency call from the White Wolf Hotel. Rushing to get to the hotel, you barely escape a car wreck. Your patient has disappeared, the hotel staff are AWOL, and another guest is dead. Other guests behave suspiciously, there is an escaped lunatic out there, and now the weather has washed away the roads and you are stranded. The more you explore the hotel, the more bodies you find. How are they all connected? That question is never sufficiently answered for my taste. GAMEPLAY This is more an adventure lite game, with HOPs and puzzles that punctuate the struggle to find out what?s going on. The HOPs are a little different, in a scene, you will trigger a ring that depicts 6-8 items in greyscale. These make up the necessary components of whatever is needed. For example, a vacuum cleaner, or the items needed to clean an area. They are an interesting variant, but I don?t think I?d want too much of it. The HOPs get harder as the game progresses, with objects in the circle being less obviously a specific thing, so it starts to be more like a fragmented object puzzle. One weird thing I noticed in this game. If you need, say, a screwdriver, there will be several identical screwdrivers within the scene. And it doesn?t matter which one you click on, it will be accepted. I can think of no reason other than to make the puzzle a little easier, for why the developers did this. There are quite a few puzzles, not heaps but some, and they are interesting and quite different from the norm. Hint is directional and you have an interactive map that tells you where you have active tasks. It doesn?t let you jump, though, so there is a fair amount of back and forth in a moderately complex geography. COMBINED IMPACT Not a bad game. I did finally enjoy it. I dislike the fact that I am still not entirely sure of the back story and how everything ties together. Still, as a DD or for a punchcard coupon, I think it is okay.
January 22, 2014
Not for me totally confused.
I found this game totally confusing. Backwards and forwards continuously needing the hint as to where I should be going next. Story disjointed. Puzzles OK. Hidden objects disappointing.
January 17, 2012
Interesting
First off, I would like to state that while I don't regret buying the game I am glad I only spent the $6.99 and not the CE price. While the game is not bad, it is not great, either. The puzzles were a little too easy, the hardest part was finding the missing piece that would allow you to solve the puzzle in the first place. There were a few instances where I literally had no idea where I was supposed to go or what I was supposed to do but this was easily solved by referring to the map. It's a different type of HOG where you don't search for items in a pile but you have to find each individual piece to make up an object that you need. In my opinion, this was the best part of the game and more challenging than the "puzzles".And I have to agree with other reviews, in that the ending was disappointing and in a word -- cheesy! All in all, I would suggest trying the demo before purchasing the game.
December 28, 2011
Funniest Hour I Spent - Demo Completed
Okay - okay. I get it. Murder - mayhem, storms, crashes, snakes, wolves, not funny. But it was and more on that later. Storyline: You are Dr. Philip Something and you have received an emergency call to the Something Wolf Hotel (Resort/Day Spa/Whatever) to assist a new patient whom you had planned to see the next day. So, off you rush to the Hotel/Resort/Day Spa/Whatever because you are, after all, a doctor sworn to protect and serve (sorry, wrong profession). Visual/Sound Quality - Amazing - both. The graphics were obviously HD and everyone moved, like really moved like you or I move. Colors crisp, bright, all the decor (except the 2 parrots on the 2nd floor in separate cages) looked exactly like what you'd expect in a Hotel (ok it's not a Day Spa). And when anyone spoke - you listened.....because it was so darn funny. Sorry, more on that later. The voiceovers were amazing. Clear, crisp. It's just when some people spoke, this is what you got: "oh no, I'm going to crash" - spoken, by you, as if "oh, no, I think I'll get a banana split" "oh no, I almost went into that ravine" - spoken, by you, as if "I think I'll get cherries with that split." You just can't seem to get the tonal quality right with the incident happening. And...it comes across ha ha funny. Gameplay: There are 2 quite original modes of play - regular and advanced. The HOGs are not a list of itemized words but a circle of pictures you need to locate. And it's not always easy. Mini Games are not challenging but also not a breeze. Hint Button - is a howling wolf that got on my nerves but it recharged very quickly. You also get a diary (there is a TON of reading to do and not just in your diary - TONS), a compass that shows you which of several directions you can go in but the hint button can do that as well. A task list located in your diary. A map of the hotel, also located in your diary, that shows where you are and where something needs to be done. It is NOT a jumpable map which I hated because just during the demo I/you walked from one side of the hotel to the other and up and down the stairs 50 million gazillion times - ok maybe not that many - but really too many times not to have an easier way to get around. And, of course, the elevator is out of order. A lot went on in just that little hour of game play. You have yourself, Dr. Philip White, a murder that starts out to look like an accident, a girl (sorry - woman/female journalist - or that's what she says she is), Officer Jack - a cop (sorry - police officer) who we'll talk about in a minute because he is part of the humor. Wolves, a ferocious storm, washed out bridge so civilization is cut off, an escaped convict (did I just throw that in there? Or did I?). So, Officer Jack - here's why he's hysterically funny. He runs, everywhere. I don't mean he's in a hurry, I mean he literally runs everywhere - down the hall, out the door, into a room. Yeah - that was the funniest. This happened at very nearly the first 15 minutes of the demo. You have found Mr. Almost Dead Guy on the hallway floor, eventually making your way in female journalist's room. She appears to be doing a serious no-no. You stop what's happening, question her vehemently (as vehemently as you, Dr. Philip, can get which isn't much). In runs Officer Jack and immediately "takes position" - legs spread, knees bent, elbows bent, both hands cupping the revolver, shades on and yells (he's always yelling too) - "Okay, what's going on here". Ladies, just for you he is big, beefy, and handsome. Ok - as I reread this it isn't coming across funny - guess you have to be there. And a conversation took place that had me thinking he was not a police officer but a rent-a-cop. Pay attention and see if you catch it. So, that's the gist of the game and what-nots. I apologize for my lengthy reviews but I figure everyone else is better than me talking about mechanics and graphics and using big words. I want you to get a real feel for the game. I want you to be interested enough to play the demo because it might be a game you never thought you'd be interested in. So, sorry. This Glam-ma just knew she couldn't get as serious enough about this game as she should so it's a definite no-buy for me. But, I think there's so much intrigue and mystery going on (and let's not forget 8 more dead bodies) that you will truly sink your teeth into it. Ha! Sink your teeth, snake bites - yeah, I went there. This is a great game for beginners but I think Intermediates (me) and Experts (not me yet) will enjoy the detective work and mystery.
May 13, 2014
Not for me
The story was hard to follow and too much searching around for items. The puzzles okay, but not enough Hidden Object sections for me.
January 6, 2012
The Apple logo is a trademark of Apple Computer, Inc.