Atlantis Sky Patrol™
This frenetic marble-popping adventure puts you in charge of how fast each level will end. Knock out doomsday devices on each of the 100 levels in the game by matching marble colors in sets of three. To finish off the device and move on to the next round, simply destroy the cleverly-placed static orbs that continually allow additional chains to fill the track. Easy to learn, but difficult to master, this puzzler is nearly impossible to put down!
More than 100 challenging levels.
Earn coins for unique upgrades.
Features 2-player option.
Fun mini-game between levels.
Stunning art deco visuals.
Game System Requirements:
OS:

10.4, 10.5 (recommended)

CPU:

1.83GHz

RAM:

512 MB
Game Manager System Requirements:
Browser:

Safari 4.0 or later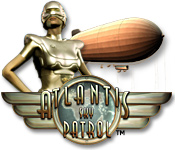 NEW299
The Big Fish Guarantee:
Quality tested and virus free.
No ads, no adware, no spyware.

Reviews at a Glance

Atlantis Sky Patrol™
0
out of
5 (
0
Reviews
Review
)
Customer Reviews
Atlantis Sky Patrol?
17
17
Best game ever
My fiance had the demo on his tablet, and I played and wanted more. So many challenges that it has you wanting to beat your previous score. Thumbs up for sure.
November 14, 2011
A Marble Popper I Can Finish!
I love marble poppers, especially ones that I have a hope of finishing!I have the first Atlantis, and I admit it, I cannot finish the last game. My husband has finished this game 5 times; me, zero. So, when Sky Patrol game out with special bombs and helpers you can use, I knew I had a chance. Love the music with the game, and the graphics are beautiful. Yippee! Besides having a blast with this game, I actually finished it. Would I play it again? YES!
July 23, 2013
Fantastic Marble Popper Fun
This game provides me the most fun in front of the computer I have had in ages. I have played dozens of rounds and never tire of it. It is my very favorite Big Fish game by far.
November 14, 2011
IF I CAN COMPLETE GAME, SO CAN YOU
Yes, there were some "head-banging" levels BUT had I concentrated on the correct game plays that I'd done on THEM and on the later levels INSTEAD of my game play on PRIOR levels, I would've had less of the "head-banging" scenarios. Tips&Tricks: 4 power-ups -- buy them in this order PARTICULARLY when you've reached the $700 levels -- 4th, 1st, 3rd, and 2nd; I bought them 4th, 3rd, 1st, and 2nd and I actually needed the 1st one (speed) more than I needed the 3rd power-up Starting with the upper 80's levels: *concentrate MORE on placing the same colored balls in those moving balls where you've got only 1 colored ball *while the balls are coming out of the "bull pen" you'll have up to 4 balls that you can ONLY use on the stabled balls first; use them to make those 1st strikes *after making those 1st strikes on the stable balls, CONCENTRATE on knocking out as many moving balls as early as possible as you can *make sure that when you've only got matching balls for the stable balls, SAFELY use them on those stable balls as you can. I say SAFELY because you'll have more moving balls coming out of the "bull pen" and you DON'T want to ADD colors to those moving balls than what's already there IF, however, you can't hit any of the stable balls due to the fact that the moving balls are in the way and/or you can't add to those moving balls matching balls, SHOOT out those UNMATCHED colored balls (either to the sides or up the middle) as quickly as you can to find MATCHING colored balls to those moving balls closest to the exit tunnel. FANTASTIC NEWS, there are NO 2 exit tunnels to worry about!!!!! Hence, the reason why I was actually able to complete this game -- all 111 levels.
July 29, 2012
Really a slick, enjoyable game!
Beautiful marble shooter with nice, subtle music and sound effects. There are no villages to rebuild or silly minigames, just marble shooting done right. Very polished, smooth running little game. What I really love about this game over Zuma, Stoneloops, Sparkle, and Birds' Town--all of which I own and play--this one I can actually WIN!! It isn't that easy, but it isn't stressful-hard either. It's a nice challenge that keeps you wanting to play right to the end. I can get right up to the very last screen in Zuma, but have never, ever, won the darn thing. I really feel like I accomplished something by finishing this one. My one complaint, which is very minor, is that I wish you could replay as the same player profile to try to improve your best score. Indeed, you can't even view your previous scores at all. I highly recommend this as one of the very best of the genre.
August 26, 2012
My Favorite of all Marble Poppers
This game is my one and only go-to when I feel like playing a Marble Popper game. I have many others, but this is the one that I love the best...Graphics are good, even so many years out from release (though I would LOVE to see an update or a newer version of this game come out). It's just plain fun :)
May 21, 2012
Addictive game!
When I used my free hour up on my second computer, I knew it was time to pony up the dough! What can I say, addictive gameplay: one of the few games that hooked me as well as Zuma. Great graphics! Awesome East Indian flavored music! Now for the downside: as a decent game player who has won the original Zuma many times, it could be more challenging, perhaps having more than one difficulty setting like Luxor. Then again, Luxor isn't quite as addictive (to me).
November 26, 2013
Excellent time user !!!
Good non-stop action with enough eye variables to keep you pointin' n' clickin' LOVED this game
September 2, 2014
When you get my account fixed, I probavly will buy it, but not before...
I love this game genera. It is exciting fast pace , entertaining. Technically great.
March 14, 2014
AWESOME Marble Popper Game !!!
I purchased my game, on 5-14-2008 and am STILL playing!!! I love playing this game. While, the boards will remain the same at each level, throughout the game ... The dynamics change at each level, every time you start a new game. It is very simple, the color of the balls, are constantly changing. Plus, there are 111 Levels to complete and each level is different, than the previous one. Also, the levels get harder, as you do more levels. One of my favorite parts of playing, is trying to get the cluster of standing still marbles, where a "door" opens and closes. Plus, at the same time, you are trying to "kill" all of the moving balls!!! Extremely challenging, in my book and that is why, I still play this game, to this day ... For over 6 1/2 years!!! Trial or Demo it ... This is NOT your typical Marble Popper game.
December 24, 2014
The Apple logo is a trademark of Apple Computer, Inc.
The Windows logo is a trademark of Microsoft, Inc.