The Island: Castaway 2
Discover The Island's past as you travel back in time! Explore the familiar paths and take on new quests in The Island: Castaway 2! Find out why the tribe left the old village, discover what the Sanctuary looked like, and learn how the ship appeared right in the Heart of the Island in this incredible Strategy game. Become one of the tribesmen and learn all of the tribe's secrets as you overcome obstacles and save the day in The Island: Castaway 2!
Travel back in time
Become a tribesman
Discover The Island's past!
Game System Requirements:
OS:

Windows XP/Vista/Win7/8

CPU:

1.0 GHz

RAM:

1024 MB

DirectX:

8.0

Hard Drive:

512 MB
Game Manager System Requirements:
Browser:

Internet Explorer 7 or later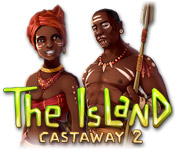 NEW299
The Big Fish Guarantee:
Quality tested and virus free.
No ads, no adware, no spyware.

Reviews at a Glance

The Island: Castaway 2
0
out of
5 (
0
Reviews
Review
)
Customer Reviews
The Island: Castaway 2
53
53
Great!
You don't need to be a rocket scientist, but you will have to think just a little. Lots to do...hunting, fishing, gathering, cooking, gardening, arrow making, trading... Different skills and different tasks appear at different levels of the game. Never boring and hours and hours of entertainment. Well worth the money.
December 18, 2011
Pale comparison to the original
The original "The Island: Castaway" game was relatively unique. The game play was different from a lot of the other games out there and it was a mix of "find things" and "go on this adventure", along with a solid story line. Clearly a lot of work and imagination went into it. The sequel, however, is pretty much the original game with a few changes made and a new story line. The map is almost completely identical to to the original. A lot of the game play is similar, too, and that can be both good and bad. If you already know how to work the tools and do the cooking from the first game you'll have an easy time adapting to this game, and if you don't you'll learn quickly. There is some new stuff [like making potions, new shops and new ways to make some things], but most of the game is a rehash of the original. Another big complaint for this game is how the forwarding of the plot is far more contrived and forced. There are places in the plot that imply you have a choice about how things will go and then it turns out the game forces the choice for you. That, and the fact that most of the endgame is all pre-made recorded clips, took a lot out of the game for me. They need a new map, some new, original additions, and the next one could be a winner. This game is fun, but I would get it with a coupon-code or a punch-card freebee. This is one of the times I wish the 'Recommend This Game?" had an option for "maybe". I don't disrecommend it, but it is just not as good as the original.
December 31, 2011
Enjoyable Adventure
I enjoyed the first game and this one is even better. Over eight hours of adventure gameing with loads of quests. I learnt fishing, hunting and cooking and traded for new tools. Encounter different animals, pick fruit, mushrooms and herbs,grow vegetables and create really handy potions. There's rare insects and shells to collect and trophies to earn too.
December 14, 2011
Really Great Game!
This is such a good game, I played it before the first one and the whole family enjoyed it. Great story, great graphics, truly a lot of fun. Have replayed several times, really hoping for another in the series.
February 4, 2012
great quest game
it was a fun game that keeps you wanting to play till the end, only wish you could continue playing and getting collectables after the main quest is complete
January 29, 2012
Wonderfully layered, fun and challenging
This is a hard game to classify, as it mixes time management, action, role-play and adventure, with a gripping story. *** If you are left-handed, be warned. This game is hard-wired for right-hand mouse, and if you have a left-hand mouse setup it will just ignore it. *** This is why I didn't give it 5 stars, as being forced to play with my fingers in an awkward position was straining, that affected player comfort and fun factor for me as a lefty. Right hand players will of course have no such problems. It is a 'prequel' to Island: Castaway, and you are Yati, a young orphaned boy who must solve the riddle of his dreams; of what happened to his parents; save his island paradise and tribe from the white strangers; and on top of all -- become a Man. The game is divided into 6 separate chapters. As Yati you receive little 'quests' from various members of the tribe to drive the story, all in the process of learning to survive -- feed himself, trade, learn magic. Some of the quests seem trivial, but this is after all the story of little deeds that change the world! Keep exploring the island, and go back to locations because new things crop up and some items are time-specific. If you missed an item in a chapter it will most likely be gone the next chapter. This is one major drawback in my opinion; that one cannot go back to a previous save, as game progress is saved continously -- there are no multiple save spots. You can advance through the story quickly, or take your own sweet time -- even though it is a sort of time management game, nothing happens unless you want it to. Spend hours fishing, hunting boars, picking fruit, plant and harvest, make food from the recipes you learn, sell your produce. When you are ready, just finish a quest to go to the next chapter. You can immerse yourself completely in this game, and replay value is excellent, as one is bound to have missed something the first time around. A wonderfully, *relaxing* TM/action/adventure/RPG hybrid of a game. There is no game like it. Except for Island Castaway 1, lol.
December 14, 2011
Finally arrived!
I have been looking forward to this game for a while so I do wish it had continued with the original storyline, I guess we will have to wait for a third game. Other than that the game plays much like the original and is definitely worth a try.
December 14, 2011
FUN FUN FUN
Gameplay quality far better than its predecessor. Story line very good, yet ends abrupt. Will Yati ever find his Father and how is tribe going to cope in new smaller area?? Hope some sequel with interact with them again. Yati became quite a main character now. May I suggest a storyline: The Island: Yati's adventures - finding a new island, meeting his Father again.
June 1, 2012
Grrrrrrreat!
I played this one and bought it straight off, smooth graphics and a nice story of a young native's journey, lots of tasks but never so that you get bored witless it just runs and runs from one thing to the other from one character to the other all the while building on the stories of each native, their role and i was lost when i finished but will play again and again i'm sure and hope number 3 is on it's way, just fantastic and i echo that BF need more games like this one, very well thought out and congrats to the developers
May 31, 2012
Culturally refreshing adventure game!
Although there are several of these island adventure games, this one is particularly good because of the storyline, selection of voice actors, and it's culturally refreshing. It's slow-going at first, but doesn't matter, because you get to know the primary characters, information about the land and islands, as well as their culture. It's a very interesting and enjoyable game!
December 18, 2011