The Island: Castaway 2
Discover The Island's past as you travel back in time! Explore the familiar paths and take on new quests in The Island: Castaway 2! Find out why the tribe left the old village, discover what the Sanctuary looked like, and learn how the ship appeared right in the Heart of the Island in this incredible Strategy game. Become one of the tribesmen and learn all of the tribe's secrets as you overcome obstacles and save the day in The Island: Castaway 2!
Travel back in time
Become a tribesman
Discover The Island's past!
Game System Requirements:
OS:

Windows XP/Vista/Win7/8

CPU:

1.0 GHz

RAM:

1024 MB

DirectX:

8.0

Hard Drive:

512 MB
Game Manager System Requirements:
Browser:

Internet Explorer 7 or later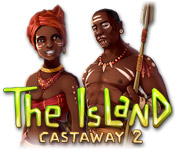 NEW299
The Big Fish Guarantee:
Quality tested and virus free.
No ads, no adware, no spyware.

Reviews at a Glance

The Island: Castaway 2
0
out of
5 (
0
Reviews
Review
)
Customer Reviews
The Island: Castaway 2
67
67
awesome
it was amazing but it auto saved a little to much
November 11, 2013
fun!!
I enjoyed it. You can take your time, but it is a task minded game. It's not a hard game so you aren't scratching your head trying to figure out what to do next. The story is good and makes sense with the game play. I had a hard time logging off of it. Wish there were more like this one!
September 27, 2013
Island Castaway 2
I loved the first game and enjoyed the 2nd one as much! Thank you for lots of fun and laughter. Wait for no. 3!!!!! Money well spent.
August 30, 2013
Prequel better than first game
This is a story line that takes place before castaway one. This time you play a native boy, who discover his past and his future. If you like the first one, you'll love part 2. This one is better The Island Castaways. Part 2 is the same game, different perspective and way more fun. Pt 2 great storyline for this game. You get to use magic potions later in the game. You still have to feed yourself and sell items to get better tools.Trophies to be earned. Game does not always gives you credit for completing tasks, very frustrating. New aspect is you collect rarities, a couple very hard to find. I had lots of fun playing the game and earning everything. Semi- spoiler Alert I spent more time doing things ( like going back and shooting arrows at boars(killing) that injured me, dozens of time.) I also use magic for fun. I had a pearl account over 3,500 after all tools were at max and I had 10 each of most useable potion and extra 3 of the other. I did rush through the game to finish it. I had fun with the character and tasks. I'm looking forward to part 3.
August 20, 2013
The Adventure Continues
The sound seems so much better than TIC. The graphics are beautiful and crisp. It plays the same way as the 1st one only finding all the collections are a little more tricky since they are both place & time sensative. Also as in the 1st 1 be sure to collect as much as possible to sell. & to UPGRADE, UPGRADE, UPGRADE. The down side for me is that this sequel, which is really a prequel, is even less kid friendly & there is still no randomization. All in all a big thumbs up ... I am now looking forward to TIC3.
December 14, 2011
Enjoyable Adventure
I enjoyed the first game and this one is even better. Over eight hours of adventure gameing with loads of quests. I learnt fishing, hunting and cooking and traded for new tools. Encounter different animals, pick fruit, mushrooms and herbs,grow vegetables and create really handy potions. There's rare insects and shells to collect and trophies to earn too.
December 14, 2011
Wonderfully layered, fun and challenging
This is a hard game to classify, as it mixes time management, action, role-play and adventure, with a gripping story. *** If you are left-handed, be warned. This game is hard-wired for right-hand mouse, and if you have a left-hand mouse setup it will just ignore it. *** This is why I didn't give it 5 stars, as being forced to play with my fingers in an awkward position was straining, that affected player comfort and fun factor for me as a lefty. Right hand players will of course have no such problems. It is a 'prequel' to Island: Castaway, and you are Yati, a young orphaned boy who must solve the riddle of his dreams; of what happened to his parents; save his island paradise and tribe from the white strangers; and on top of all -- become a Man. The game is divided into 6 separate chapters. As Yati you receive little 'quests' from various members of the tribe to drive the story, all in the process of learning to survive -- feed himself, trade, learn magic. Some of the quests seem trivial, but this is after all the story of little deeds that change the world! Keep exploring the island, and go back to locations because new things crop up and some items are time-specific. If you missed an item in a chapter it will most likely be gone the next chapter. This is one major drawback in my opinion; that one cannot go back to a previous save, as game progress is saved continously -- there are no multiple save spots. You can advance through the story quickly, or take your own sweet time -- even though it is a sort of time management game, nothing happens unless you want it to. Spend hours fishing, hunting boars, picking fruit, plant and harvest, make food from the recipes you learn, sell your produce. When you are ready, just finish a quest to go to the next chapter. You can immerse yourself completely in this game, and replay value is excellent, as one is bound to have missed something the first time around. A wonderfully, *relaxing* TM/action/adventure/RPG hybrid of a game. There is no game like it. Except for Island Castaway 1, lol.
December 14, 2011
Finally arrived!
I have been looking forward to this game for a while so I do wish it had continued with the original storyline, I guess we will have to wait for a third game. Other than that the game plays much like the original and is definitely worth a try.
December 14, 2011
Prequel to The Island: Castaway
Review based upon completion of the game with all but one achievements. You are playing Yati, a little orphaned boy who is living on a tropical island with his tribe. Incoming are some white sailors. Let the trouble begin. This is a prequel to the first game. The Good: + long game + lots to do + great voiceovers + achievements + always clear what to do + ties in with the sequel / prequel The Neutral: o graphics are clear and bright, but people are very low res The Bad: - chapter achievements can only be collected during the relevant chapter (I missed the C3 one) - potions for Ancestor's woods and Swamp - Yati's digestive system is overactive Bottom Line: Despite the Bad category this is a very good adventure game, and I heartily recommend it.
April 20, 2012
The Island of mystery and adventure - loved it
You are a young tribesman, ready for the Island tests to gain right of passage into adulthood. All against the backdrop of strange flashes into your background indicating you have a mission or a destiny, whilst on the other side of the Island a group of white people have landed and are edging closer. What will happen? In this game you learn skills in hunting, fishing, planting, cooking and potion making. You can sell things and get better equipment. You don't have to go 'mission, mission, mission', but can run around the Island making things and exploring and get round to the quests when you want to. The Island is not too big, and it easy to remember where you need to go, with mission reminders at the bottom the screen. the story line is great, and the voice acting and characterisations are amazing. Minor niggles: - Needing potions to go through certain areas was a bit tiresome, but not a deal breaker in terms of game play fun. - I initially had problems with the game constantly crashing/freezing every 10 minutes and having to restart the game (Yes I enjoyed the game so much I was happy to go through this pain). Quick fix is to update your graphics driver. The only other similar type of game I'd played to this is Wandering Willows which I enjoyed greatly, and had wondered what other games like that were out there. And finding this one was lovely. You don't need to have played the first game to enjoy this one. So if you want an absorbing adventure game, this will fit the bill quite nicely.
April 6, 2013