The Keepers: Lost Progeny
Track down your real parents in The Keepers: Lost Progeny! After growing up an orphan, a mysterious photo showing your parents arrives! On the back side of the photo is a note with the name of a town, which is where your journey begins. Explore the mysterious town and discover a shocking tale. Are your parents still alive? Why were you separated from them as a child? Find out in The Keepers: Lost Progeny!
Explore a mysterious town
Track down your parents!
For a more in depth experience, check out the Collector's Edition
Game System Requirements:
OS:

Windows XP/Windows Vista/Windows 7/Windows 8

CPU:

600 Mhz

RAM:

128 MB

DirectX:

6.0

Hard Drive:

958 MB
Game Manager System Requirements:
Browser:

Internet Explorer 7 or later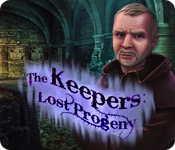 NEW299
The Big Fish Guarantee:
Quality tested and virus free.
No ads, no adware, no spyware.

Reviews at a Glance

The Keepers: Lost Progeny
0
out of
5 (
0
Reviews
Review
)
Customer Reviews
The Keepers: Lost Progeny
38
38
Could have been great......
This game had the potential to be great...but fell short. Lovely graphics, voice-overs and cut-scenes. But the game didn't cater for wide screen, which ruined it for me. Also there was a lot of running around, which normally doesn't bother me, but with this game there was long waits between scenes, which became very frustrating. The storyline sort of made sense, although the ending I felt was missing something. I knew who was good, who was bad etc, and wasn't captivated by it or wondering what happens next. The puzzles were generally standard, and some provided a challenge. The hidden objects were easy. There was click penalties, but not unreasonable. There was no hidden bonus items, or achievements to earn. The length was passable. I think if this game was wide screen then I could have ignored its other failings. Whilst I definitely recommend it, I wouldn't rave about it.
March 10, 2012
Should Appeal To Fans of Tim Burton
I adored this game. I was engaged throughout, the HOS were spaced apart and the adventure aspect and pace of the game are perfect. All of the voice-overs are very well done and the storyline adds a unique twist to many of the games being released over the past couple of years. What really drew me into this game is the art-style. Fans of Tim Burton's work (Caroline; The Nightmare Before Christmas, etc) should appreciate the artistic way in which this game was developed, as do I. The graphics are beautiful and crisp and displayed beautifully on my wide-screen, which is a pet-peeve of mine. The puzzles are not overly difficult or overly abundant and I found myself enjoying the few that are there without skipping any. Additionally, I consider myself an expert player, having played these types of games for several years. With that said, I found the game length to be between 3-4 hours. I did not play straight through as I usually jump around between a few games at a time, but overall, that's about the amount of time I spent with this gem. If you take your time, admire the artwork, click on everything, read the journal and immerse yourself in the story, this game should last more than a couple hours. I cannot wait to see what this developer brings us next. And please development team, keep the art-style! It's refreshing and beautiful and a nice change of pace from the cookie-cutter games out there. Happy Gaming!
April 10, 2012
I liked it alot
After playing the new keepers I looked and found this one. Like them both even though they are pretty much the same in game play. Good fund game.
April 29, 2013
This is a winner!
Without going into the usual blah, blah blah about graphics/sound, etc...I'm just going to cut to the chase and say THIS is what HOG/adventure games should be all about! Congrats to the developers...this one's a keeper!!!
December 15, 2011
Not Sure What To Think....
This game was not one of my favs.. the story line was creepy and I just didn't understand at first what was going on. I am a little disappointed I paid for the game. Guess I should have played free trial first but the video made the game seem so much more than it really was...I just still am in shock and not quite sure what to think. There was not alot of the hidden object puzzles in the game. Alot of back and forth, to me it was more trouble than it was worth.
December 17, 2011
Great graphics, sound and storyline - a must try!
Just finished the demo and was very impressed. I am just about to purchase, as a standard game. Yes, even if purchased as a C.E., it would be worth the money. The main character, the little boy, is genuinely creepy. Can't wait to play! Happy Holidays!
December 15, 2011
Fun Hidden Object Adventure Game
The game begins with an interesting, compelling storyline that turns dark and eerie in a hurry and then gets complicated. The graphics are beautiful, the soundtrack is a masterpiece and the voiceovers enhance the characters and the gameplay. The Hidden Object scenes were fun and the mini puzzles were challenging, some of them pretty unique.This game has it all.
February 5, 2012
Great story
Decent length, creepy as the dickens. The only thing lousy about the game is the HOS. Rather grainy and hard to see, but that could be good in a way because a few of them were so ..well..CREEPY..that you really didn't want to look around in them much. LOL. The hint button refilled quickly. The puzzles were mostly difficult for me, but they skipped well. There are a lot of things to find to continue the story, which was really good, but spooky. I enjoyed this game but it surely is not for kids nor for someone faint of heart, Lots of murders and skeletons and basically scary stuff. For me it was just a lot of fun and I could not stop playing until done. It also had a satisfying and scary ending. :)
November 29, 2012
OMINOUS WARNINGS FROM A MYSTERIOUS BOY
STORYLINE: Member of the Sword and Rose have been disappearing and need a hero to defeat the evil penetrating earth. You?re the hero on your way to Rutland, which a photo appearing on your doorstep compels you to visit. Once you get there, you?re warned repeatedly by a mysterious boy that the town is dangerous and to leave. You find old newspapers with articles about birds falling from the air, streets littered with corpses, fissures cracking the ground and swallowing people and an exodus from the town. BASICS: Adventure-HOS. You can play casual, advanced and hardcore. You have a journal. Music is okay. Graphics are very detailed. Well executed gameplay. Appropriate ending, with another surprise. About 5 hours relaxed game play. GAMEPLAY: To find out what?s happened, you explore the town and end up having to find all the artifacts of the Sword and Rose fraternity to put a stop to the evil. Unexpected personal surprises plus a couple mysteries (like why would a hotel in an apparently deserted town have a concierge and close for the evening, who?s feeding the watchdog, who?s the strange boy that keeps appearing with his ominous warnings). Good balance between HOS, puzzles and adventure. HOS are not crowded and objects are easy to find. Puzzles vary by degree of complexity. Well thought-out story.
November 19, 2012
Terrible....
I'm shocked at the great reviews this game has gotten. I'm playing it right now, and if I wasn't close to finishing I'd simply quit and uninstall. I can't speak on the volume because I had mine turned off, but I can give my two cents on the visual. I really don't like HOS that are junkpiles, but if the items at least look like what they're supposed to I cut the game some slack. As an example, in one scene the devs idea of a door handle was to look like a clove of garlic. It was awful. The items are usually so small that if you aren't an experienced player you will get frustrated really quick. I"m already there. Of the 3 modes of play I'm chose the middle, and I'm quite thankful I did. I couldn't imagine playing this without the hint or skip button, which I have used frequently. This irks me the most because I usually don't have to use either of these buttons or at least not to the extent that I have here. There are quite a few puzzles, and I didn't think they were all that easy. I have skipped about 3 so far, and I'm not even done yet. What the majority of these puzzles have going for them is their originality. Overall, I really liked the story, but that alone hasn't been enough to draw me in. I'm aggravated that I have had to skip as many puzzles as I have. That's usually what I look for in a game, but today is just different I guess. I'm unsure how to rate the level of challenge because it has been hard just not in a good way. I haven't enjoyed the junkpile HOS or the puzzles, but as I stated today has been an off day for me. Perhaps if I had played this two days from now I'd feel different. In any case, I'm refraining from either recommending or not recommending and just advising to test it before you buy it.
October 21, 2012
The Apple logo is a trademark of Apple Computer, Inc.