The Keepers: Lost Progeny
Track down your real parents in The Keepers: Lost Progeny! After growing up an orphan, a mysterious photo showing your parents arrives! On the back side of the photo is a note with the name of a town, which is where your journey begins. Explore the mysterious town and discover a shocking tale. Are your parents still alive? Why were you separated from them as a child? Find out in The Keepers: Lost Progeny!
Explore a mysterious town
Track down your parents!
For a more in depth experience, check out the Collector's Edition
Game System Requirements:
OS:

Windows XP/Windows Vista/Windows 7/Windows 8

CPU:

600 Mhz

RAM:

128 MB

DirectX:

6.0

Hard Drive:

958 MB
Game Manager System Requirements:
Browser:

Internet Explorer 7 or later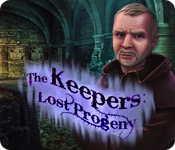 NEW299
The Big Fish Guarantee:
Quality tested and virus free.
No ads, no adware, no spyware.

Reviews at a Glance

The Keepers: Lost Progeny
0
out of
5 (
0
Reviews
Review
)
Customer Reviews
The Keepers: Lost Progeny
38
38
gorgeous graphics rescue this nightmare
imagine growing up as an orphan and then being given a photograph of your family taken when you were a baby -- when your parents were still alive. that?s how this hidden object thriller starts out. on the reverse of this photograph is the name of the town where your family lived, so that?s were you go, to learn more about what happened to your parents. when you reach your home town, you realise what a strange place it is: loud demonic-looking ghost-dogs threatening you, demonic-looking children telling you to ?go away!?, a demonic-looking concierge at the hotel telling you to ?go away!? ... notice a theme here? but none of this deters you: you begin exploring the town, which is mostly an abandoned ruin at this time, and you begin to unearth a tale of murder and mayhem and secret societies with secret (bloody) rituals. you begin to suspect ... no, it?s not possible, is it? is it possible that your parents still alive? if so, why were you separated from them as a child? (although the reason seems rather obvious to me.) graphics: superb graphics and stunning, detailed artwork. the style of the artwork reminds me of tim burton?s ?nightmare before christmas?, which made me WANT to love this game. the hidden objects scenes are generally well drawn, most hidden objects were reasonably easy to find (there were a few that kept me busy looking) and some items required extra interactions (opening a drawer, for example). i was a bit annoyed with the nit-picky hidden objects that required you to click on *precisely* the correct spot, especially since there is an overclick penalty. other important objects are scattered through town. beautifully drawn puzzles and mini-games are familiar fare for puzzlers, although a few of them are novel and required some extra thought to solve (and the hints were useful for this.) the cutscenes are quite cinematic in their feel and appearance. music and sound effects: the music is fortunately not overstated, and the sound effects are ... effective. storyline: compelling, creepy and well-plotted although some events were a bit melodramatic. oddly, all the action in this game happens at night -- does the sun EVER rise on this town? gameplay: three modes of play, casual (35 second hint recharge, skip button and sparkles), advanced (2 minute hint recharge and skip button but no sparkles) and hardcore (no hints, no skip, no sparkles). there is no map but the game has a journal that keeps track of the story and also provides helpful hints. there?s a lot of back-and-forth, which became quite annoying because the game consistently gives a black screen when shifting scenes, which lasted as long as 15-20 seconds (yes, my computer is fully updated.) my interaction: one hour demo. the game appears to be quite short since i ran out of game during chapter two (there?s four chapters) before i ran out of demo time. gameplay stutter is incredibly annoying and the graphic murder scenes are, in my opinion, gratuitously graphic, and may bother children (and even some adults). for these reasons, i gave this game 3 stars.
June 21, 2012
Could have been great......
This game had the potential to be great...but fell short. Lovely graphics, voice-overs and cut-scenes. But the game didn't cater for wide screen, which ruined it for me. Also there was a lot of running around, which normally doesn't bother me, but with this game there was long waits between scenes, which became very frustrating. The storyline sort of made sense, although the ending I felt was missing something. I knew who was good, who was bad etc, and wasn't captivated by it or wondering what happens next. The puzzles were generally standard, and some provided a challenge. The hidden objects were easy. There was click penalties, but not unreasonable. There was no hidden bonus items, or achievements to earn. The length was passable. I think if this game was wide screen then I could have ignored its other failings. Whilst I definitely recommend it, I wouldn't rave about it.
March 10, 2012
Not Sure What To Think....
This game was not one of my favs.. the story line was creepy and I just didn't understand at first what was going on. I am a little disappointed I paid for the game. Guess I should have played free trial first but the video made the game seem so much more than it really was...I just still am in shock and not quite sure what to think. There was not alot of the hidden object puzzles in the game. Alot of back and forth, to me it was more trouble than it was worth.
December 17, 2011
It Had Promise
HOs were dark and objects small. Cursor breaks apart with too much random clicking. Storyline was the usual good versus evil. Hint button does guide you from scene to scene which is a big help. Judging by the ending, perhaps a sequel is planned. Not a game I would care to play a second time.
July 11, 2012
Kind of a bore
Very predictable game, nothing very interesting about it. Certainly not enough HOGs. Too much stuff to read as you go along - that took longer than anything else!
December 15, 2011
Great game ... too bad
This was an excellent game with good graphics, music, some hard mini games, a twist with HO and for me about 6 hours play (as some games make you work for solution). I gave it a grudgingly two stars and debated about one star. I find mild insanity reigns when i click on an object i know to be right and after 8 clicks go to hint only to have it show the item...eg. ring and coat hook 2 examples but were many more. This is really unacceptable in a game - particularly a game this good. How much trouble can it be for an item to have a greater 'click factor'? Blam is off to a good start but hope they fix this problem. Recommend if this does not bother you. Matouk
April 13, 2012
Terrible....
I'm shocked at the great reviews this game has gotten. I'm playing it right now, and if I wasn't close to finishing I'd simply quit and uninstall. I can't speak on the volume because I had mine turned off, but I can give my two cents on the visual. I really don't like HOS that are junkpiles, but if the items at least look like what they're supposed to I cut the game some slack. As an example, in one scene the devs idea of a door handle was to look like a clove of garlic. It was awful. The items are usually so small that if you aren't an experienced player you will get frustrated really quick. I"m already there. Of the 3 modes of play I'm chose the middle, and I'm quite thankful I did. I couldn't imagine playing this without the hint or skip button, which I have used frequently. This irks me the most because I usually don't have to use either of these buttons or at least not to the extent that I have here. There are quite a few puzzles, and I didn't think they were all that easy. I have skipped about 3 so far, and I'm not even done yet. What the majority of these puzzles have going for them is their originality. Overall, I really liked the story, but that alone hasn't been enough to draw me in. I'm aggravated that I have had to skip as many puzzles as I have. That's usually what I look for in a game, but today is just different I guess. I'm unsure how to rate the level of challenge because it has been hard just not in a good way. I haven't enjoyed the junkpile HOS or the puzzles, but as I stated today has been an off day for me. Perhaps if I had played this two days from now I'd feel different. In any case, I'm refraining from either recommending or not recommending and just advising to test it before you buy it.
October 21, 2012
Not my style AT ALL
I'm not into fairies and nebulous creatures. I prefer each scene to have a number of interactive areas, objects, etc. This was just dull. I did read the other reviews, and knew what i was getting myself into, but wanted to give it a try. Not to my liking, but it doesn't mean you won't feel differently!
May 2, 2012
The Apple logo is a trademark of Apple Computer, Inc.