Azada: In Libro
Save the three worlds contained inside of a magical book in Azada: In Libro! After being approached by a notary and being informed of an inheritance, you travel off to Prague and find the magical book. One of Azadas guardians, Titus, informs you that you have been chosen to save the different worlds, so youre off on an incredible adventure! Stop an evil magician from conquering Azada and protect the guardians in this incredible Hidden Object Puzzle Adventure game!
Explore three worlds
Stop the dark magician
For a more in depth experience, check out the Collector's Edition
Game System Requirements:
OS:

Windows XP/Vista/Win7/8

CPU:

1.4 GHz

RAM:

1280 MB

DirectX:

9.0

Hard Drive:

582 MB
Game Manager System Requirements:
Browser:

Internet Explorer 7 or later
Fantasy Violence
Tobacco Reference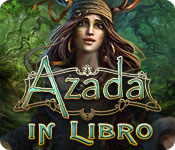 NEW299
The Big Fish Guarantee:
Quality tested and virus free.
No ads, no adware, no spyware.

Reviews at a Glance

Azada: In Libro
0
out of
5 (
0
Reviews
Review
)
Customer Reviews
Ending is terrible in SE!!
I loved playing this game but the SE ended abruptly with no real ending to the story. Very disappointed!!
January 18, 2014
I'm Libro-ated:)
Well, this is a tough one because I see everyone's reviews are so glowing and I just don't feel the same. a. As one reviewer said in a different way: There are three parts to this game and while the first and second presented a bit of a challenge, the third seemed like an afterthought AND as though the developers were late for a very important date. b. There is CONSTANT back and forth and for no purpose. The majority of "challenge" in this game is trying to remember which path to take. c. A very annoying programming error: if you come near the bottom of the screen you're going to go to the Main Menu and have to press "continue" continuously. d. I'm a fairly bright guy and I just didn't understand this game at all. The progression was not evident and some of the tasks were present because, well, there had to be tasks or there wouldn't be any game. e. The visuals were OK but nothing to write home about. They were not a disappointment. They were ho hum. f. There were no HOS. I typically complain because there are too many but now I'm complaining because there are ZERO. As for the puzzles: they became increasingly interesting, fun and challenging. At the beginning they were crazy easy. I suspect those complaining about the easy puzzles didn't get much beyond the trial stage. The last few puzzles were great IMO. g. Storyline: Again, I have no idea why I did what I did. The end of the story was so abrupt I'm not sure how I completed the game. Wait...maybe I didn't. Maybe you get the whole story if you buy the CE. Based on what I experienced, I'm glad I didn't. Often I recommend a game even if it's not my style of game because it's technically well-made and I know others will like it. Despite the plethora of positive reviews, I can't recommend it
June 2, 2013
i didn't care for this game
i played on casual. no sound. hints/skips took 60 seconds to recharge. the graphics were really good, but i like HO games better. if you like adventure games you should like this one. it has a diary but no map and that would have helped a lot!!!!!
May 19, 2013
Good but once again SE players are 'caught short'
This was a good game, with a game length of around 4 hours. This is pure adventure and no hidden object scenes. Considering this was a SE there was good VO and the graphics, sound etc churned the game along. The puzzles were good, some easy, some I skipped because I got bored (I admit I did skip the very last puzzle as it was a sudoku style and after about 20 minutes my eyes 'went'. I enjoyed the game but once again there was no real ending for the SE version. The game finished with a 'guilded message' and then it cut back to the front screen, no sense of completion. I know it ain't going to happen as developers will always want people to spend more, so that the punters feel they are getting a more 'rounded' experience. I think though it maybe a time when there were two different endings one for the CE and one for the SE, so that at least you feel some sense of achievement when you have finished the game and not just a cut to the front screen (I mean this one didn't even do the whole 'credit' thing, so felt short-changed even more. The game though was good and satisfying with a good story, just felt a tad short-changed at the end.
November 23, 2012
Azada : In Libro
As a run of the mill Puzzle Adventure it was okay. Not brilliant. As an "Azada" it was awful. Why call it Azada? Very disappointing. We waited and waited for Azada III and this is what we got. Going off the wink we got off Titus at the end, I can only assume there is going to be an Azada IV. Mmm. Not looking forward to that unless it reverts to the brilliantness of Azada I & II. Ruined a good series.
June 5, 2012
the guppy died
Loved the first two AZADAs. This one not up to par. Puzzles were all too easy, storyline not at all engaging, graphics just so-so compared to the previous games, and an irritating ending. And hey, I'm a granny! This should be difficult for me, yeah? I'd only recommend this to someone who doesn't play games often and isn't very good at puzzle games. [Please ... the last one was a simply sudoku!] Overall ... a disappointment.
April 28, 2012
Azada: In Libro
This game is too easy and too short. I liked the original Azada and thought that was a little too short so I was hoping this would be longer. Not so.
March 4, 2012
Leaves me sad and frustrated
I loved the first two Azada titles, the puzzles were fun and some you really had to think through. I was thrilled when In Libro was released, and quickly jumped on the demo of the Collector's Edition. After playing my one allotted hour, I was surprised to find I that although I found the game interesting, I was willing to wait for the regular version. Even when the regular version was released, I re-played the first hour before finally buying the game. 2 1/2 hours later, I'm done with the game, and very disappointed. All those gorgeous graphics and beautiful music wasted on a game that gives absolutely no payout for capturing that evil uncle. Azada creates these creatures who help you along the way, only to encase them in copper, or turn them to skeletons before your eyes. The entire time I was playing I expected to be able to re-animate these characters eventually, but no, the game simply ends. The puzzles themselves are simple, with a few twists, but mainly they're jigsaw or swap-pieces varieties. The final game is a horribly designed mess of a Sudoku variant that requires you to pick up the individual components from the edge of the board, making what should be a fun brain teaser into a tedious drag and drop. If this game had been released under a different title, I don't think I would be as frustrated, but to think that the wonderfully imaginative Azada has been reduced to this is frustrating.
January 6, 2012
Way too Short
Seems to have nothing to do with the last two Azada games, which was very disappointing. Also, the game is very short, it took me 2 1/2 hours to finish it. Extremely easy.
December 19, 2011
Not so much!
Very beautiful but I don't like going back and forth and back and forth for one object which is 3 locations away and I don't like mini-games where the instructions aren't there, or are cryptic...
December 17, 2011
The Apple logo is a trademark of Apple Computer, Inc.