Haunted Legends: The Bronze Horseman
Exclusive
A small town lies devastated after being ravaged by a terrible flood. The townsfolk hide away, whispering of the Bronze Horseman, who has come to pass judgment on the wicked! Summoned by the towns mayor, it is your duty to investigate the mystery and find his son, who has disappeared amidst the chaos. Help the small town using your Hidden Object talents in Haunted Legends: The Bronze Horseman!
Game System Requirements:
OS:

10.4

CPU:

800 Mhz (INTEL ONLY)

RAM:

512 MB

Hard Drive:

437 MB
Game Manager System Requirements:
Browser:

Safari 4.0 or later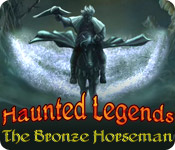 NEW299
The Big Fish Guarantee:
Quality tested and virus free.
No ads, no adware, no spyware.

Reviews at a Glance

Haunted Legends: The Bronze Horseman
0
out of
5 (
0
Reviews
Review
)
Customer Reviews
Haunted Legends: The Bronze Horseman
62
62
gave it a shot
I gave this a shot despite warnings about the ending. My first impression is that the graphics and game play are very old-school. The first voice-over from the little girl and the grating little evil character were enough to dissuade me. I didn't make it far and will not be purchasing.
June 18, 2012
Why so mean with hints??
I must be a bit thick, or lazy, but I really dislike the fact that this game only has hints for the HO scenes. I'm fairly new to HO Adventures, but all the games I've tried and bought so far have unlimited hints which tell you which scenes you should move to as well as indicating what to do when you get there. (Is limited hints a way of forcing us to get the Strategy Guide?) I've bought more games from ERS than any other studio - Hidden Wonders of the Depths, Sarah Maribu, all three of the Spirits of Mystery series, but I won't be playing Bronze Horseman
August 5, 2013
That Evil Dwarf SG Is Back!
BASED ON COMPLETED GAME .I don?t consider this to be one of the best ERS games, and the series is not my favourite either, but this is still an ENJOYABLE & ENTERTAINING game. VISUALLY, it is still APPEALING. Even though the AGE of the GRAPHICS makes them a bit FUZZY on my LARGE MONITOR, they look great, and the hand drawn effect creates a magical atmosphere. Being a HO GAME almost exclusively, the art is CLEAR & DETAILED. HOs are INTERACTIVE LISTS, PUZZLES are LESS FREQUENT & FAIRLY EASY and, these days, they are quite WELL KNOWN. However, there is NO HINT at all outside HOS, and the JOURNAL keeps minimal information only. There is also NO MAP. So some challenge is provided. There are COLLECTIBLE SOUL CRYSTALS scattered throughout the game. The STORY is NOTHING SPECIAL, the mayor has called you in to investigate strange disappearances, including that of his nephew Michael. It doesn?t take us long to find out that that nasty dwarf SG, is behind the problems. However, things are not always what they seem, and exactly what he is up to takes a long time to come to light. I did enjoy this game, although it is not a STAND OUT. My only real criticism is the one I seem always to be making about ERS games. The MUSIC is REPETITIOUS, and the VOICEOVER for the child is very GRATING. There are better games out there, but this is still a great SUNDAY AFTERNOON game.
July 13, 2013
Not what I expected
Would have been better if it included a map.
September 9, 2012
Would Have Given Only 2-1/2 Stars if I Could
A very sudden ending and the repetitive music were annoying, but not critical. I subtracted a star for the very frequent need to use the hint button in HOS due to very small or dark objects, as well as object names that needed translation to English, and/or objects that looked like something other than what they were supposed to be. I subtracted another star for the lack of hints outside of the HOS which made it necessary to exit the game repeatedly in order to look at the walkthrough. It also would have been helpful to have a map. I would have liked to subtract half a star for the annoyance factor of too many HOS (I can't believe I'm saying that). The only way I can describe it is, it made the game sort of hobble along with too many unnecessary interruptions.
April 25, 2013
Haunted Legends: the Bronze Horseman
Well, nothing new to say here. As an ERS game, the sounds and visuals are all similar. This one is better than its previous game: the Queen of Spades, still I find nothing new to it and find it nothing haunting about this legend at all.
June 9, 2012
Good, apart from the ending!
Very good game, enjoyed it lots. Nice mixture of H0 scenes and inventory based puzzles. Graphics were ok, could have been a little less cartoony. Length was also good, think I played for about 3-4 hours. The ending was rubbish though......if you can even call it an ending. You finish a puzzle, get a 5 second cutscene and then the credits roll! No closure to the story or anything. Really irritates me. Its like the developers got bored and couldn't be bothered finishing the game. Would have given it 4 stars if it wasn't for this.
April 24, 2012
Odd Ending
For the most part, I enjoyed this game. It didn't have me on the edge of my seat or anything, but it was a good game. There is no hint button, except during HO scenes. BUT, there are skip buttons for the puzzles, although I never needed to use one, which was good. The ending was super weird...I mean...it just ended. Poof. No cut scene, no nothing. Just roll credits. Very weird.
February 26, 2012
Fun game
this was a fun game, good enough to pass some time. I've played alot of these games and I've played better and alot worst. The ending, however, was non-existant. After the last puzzle, it just ended. nothing to say what happened to the town and the people after.
February 23, 2012
This is not a HOG, but still would be vastly improved with a hint system.
This seems at first glance like a standard puzzle/HO adventure game in which you take the role of someone solving a dire mystery--in this case, that of disappearing villagers and a possibly-metallic bad guy who rides around on a horse being mean. I got through only three paces into the village before I totally ran out of ideas for how to handle the puzzles, and along with running out of ideas I ran out of patience. There's no hint button, no clues whatsoever where someone should go, what to do, nothing. Apparently, according to the smug-sounding help screen, hints are only available on the hidden-object screens, but I didn't run into any of those for the half hour I tried my best to play this game so I couldn't tell you if the hints they do provide are worthwhile. This game was just not for me. I don't play puzzle/adventure games because I like being frustrated; I play them purely to get to the hidden-object screens because I've already worked through the HOGs that don't involve frustrating brainteasers and puzzles. If this game won't do me the courtesy of moving me through the puzzles with as little torment as possible, then I'm definitely not buying it. Nice artwork, decent music, nice storyline, but I don't recommend this game at all to people who need a little assistance with their games, or to those who like HOGs, because out of every other thing one could say about this game, it is not a HOG.
October 14, 2012
The Apple logo is a trademark of Apple Computer, Inc.
The Windows logo is a trademark of Microsoft, Inc.