Exorcist 2
Take up the cross and slip into the role of a young exorcist on his first solo battle with the forces of evil in The Exorcist 2! Can you save the soul of a possessed girl and lay bare the secret behind the evil curse? The Ghostfighter estate seems to be the center of a cloud of diabolical deeds... Could your former mentor really have fallen victim to demonic seductions? Unravel the mysteries of the mansion, but be careful not to stray too far from the light in this incredible Adventure game!
Save a possessed girl
Stop an evil curse
Take on the forces of evil!
Game System Requirements:
OS:

Windows XP/Windows Vista/Windows 7/8

CPU:

1.0 GHz

RAM:

256 MB

DirectX:

9.0

Hard Drive:

320 MB
Game Manager System Requirements:
Browser:

Internet Explorer 7 or later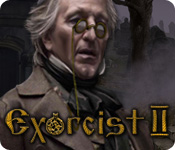 NEW299
The Big Fish Guarantee:
Quality tested and virus free.
No ads, no adware, no spyware.

Reviews at a Glance

Exorcist 2
0
out of
5 (
0
Reviews
Review
)
Customer Reviews
A Pretty Good Sequel
This review is based on the whole game and playing in Expert mode. The story: You take on the role of a young exorcist on his first sole battle with the forces of evil where you also have to save your mentor. There are 5 chapters to this game and I was at chapter 2 when the demo time was up. 3 play modes: Casual - Hints/skip recharge quickly and active zones are indicated by sparkles. Expert - Hints/skip recharge slowly (about 2 minutes) and active zones are not indicated. Just shows sparkles for the hidden object scenes. Professional - No hints, puzzles cannot be skipped, active zones are not indicated. Voice overs along with text on the screen that you can read if you wish and there is also a journal however no map. This game may or may not fill your screen. Instead of the usual "black bars" on the side there is a "rose border" but I changed my settings so the game would fill the screen. My overall impression of this game: The story I found to be pretty well done for the most part and a nice sequel to the first Exorcist game along with the characters and voice overs however the dialogue was a bit much at times and I found the demons downright annoying as I couldn't understand what they were saying so I found myself clicking through the dialogue to get past those parts as I didn't even want to read it. The graphics I also thought pretty good for the most part. Nice, crisp, and clear. Just a couple of areas were a bit grainy to me. The journal I found to be very helpful especially solving some of the puzzles. Speaking of the puzzles I enjoyed most of them as for me they weren't too easy or difficult having just the right amount of challenge but I did skip a couple. The hidden object scenes: This seemed to be more "adventure" for me which was just fine as there are quite a few different locations with the traveling back/forth however the hidden object scenes despite the grainy graphics in a couple of areas I found the items pretty easy to locate as I only used a few hints which the hint was helpful and was also helpful if you can't figure out where to go next as I lost my way a few times. As for the game length, I found it to be long enough as 5 hours was definitely long enough for me. I did not find this short at all. You may or may not. Overall I give this a 4 star rating as it was pretty enjoyable "dark side" game for the most part but I had to knock this down a star mostly for the drawn out dialogue at times along with the annoying demons voice overs. So if you enjoy the "dark side" type of games I definitely recommend you at least play the demo to see what you think of it. Thank you Big Fish for a pretty good sequel here. : )
December 30, 2011
Historical Horror
Excellent combination of religious rituals, horrific evil forces and paradoxical puzzles...tests the talents of the would be Exorcist' Sound and graphics were great along with superb voice overs. Puzzles are not super easy but not impossible either. There is just the right balance of substance.
December 20, 2011
Better
Well i must say that Exorcist 2 is a much better game play than the first Exorcist. I wished it could have been just a little longer and that the ending wasn't so abrupt, all in all it was a good game and i enjoyed it. The music suits the theme.
December 19, 2011
Spooky Good
Yes unusual for the Holiday Season but still a good one in my mind. Solid creative delivery of a demonic theme; great voice overs, beautiful and vivid graphics, spooky scenes with floating possessed bodies and demon figures around you. Also beautiful drawings for the HOS and not difficult. I wish it would have been a full screen the side panels help compensate though but still would be better in my mind. A definite for the new year after the celebrating is over.
December 26, 2011
Not Bad
This was pretty much an average game. I didn't like that they hid inventory objects so close together. They were easy to miss. The mini-games were fairly fun. They look complicated at first, but are not. Didn't like the abruptness of the ending. Game could have been a little longer. Storyline was average, with a little too much dialog. Overall, I didn't hate it, but it didn't excite me much, either.
December 23, 2011
Whew good over evil. Did good prevail? Perhaps for now.
I am a little late with my review. I have been playing several games skipping one to another. I was never able to play the first Exorcist so this game was welcome. The games challenge was at least to me welcome and plenty of it. The sound quality was very good with only the voice of the devil in a tone most suitable for a beast. When B speaks read. The scenes were beautifully presented. Object scenes were well done and at times challenging to me. Puzzles ran from less challenging to more challenging. I loved the find the 4 clovers. I enjoyed the game if you choose to play I believe you will too. Thanks to all for bringing us the most creative production. I really liked the wierdness.
December 27, 2011
Lots of fun, but not very difficult
The graphics are great. The puzzles are moderately challenging. The voices are annoying as anything and the demon takes FOREVER to speak his lines, but that really doesn't affect game play. I enjoyed playing it and I think anyone that enjoyed the old 7th Guest type games will enjoy this one.
December 22, 2011
A good adventurous hidden object
This is a game from Intenium that felt very tongue in cheek in its dramatic style however if you do not like anything paranormal then it will not be for you as it opens with you having to perform an exorcism which no doubt you have guessed from the title. The graphics & artwork are very good although the animations of the figures, coaches, etc. are a little dated & there is a grainy quality to the scenes which is in keeping with the theme. The hidden object scenes are well drawn & there are interactive items, the mini games are also fun to play & range from easy to ?I had to use the skip button? hard. There was a good variety too. There was a cheat on the widescreen in that either side of the screen is a ?pillar? so it is not really widescreen but it makes a change from a black bar. The music is ok & the background sounds are good but I do wish the developer had not added an organ sound every time you accomplish a task or find something useful, it soon becomes annoying. The voiceovers are well done (except for the little girl which is obviously a woman pretending to be a child) You get a diary in which the story is written as you play & clues are collected. There are three modes, casual with 30 second hint & the H0 scenes have sparkles; expert with a 1 minute hint but no sparkles & a professional with no hints, no skip button & no sparkles. The hint was of the type where you are pointed in the direction to go next, it was fine most of the time but wasn?t very helpful in a couple of places so I had to look at the walkthrough. This was a good length game with an interesting & surreal episode at the end, I liked it.
February 26, 2012
Garret Ghostfighter Is In Trouble!
BASED ON COMPLETED GAME Do you remember our friend Garret Ghostfighter, from the original Exorcist game? It doesn?t matter if you don?t, you?ll meet him here, but it was good to see him in his prime, because we are certainly not seeing him at his best here. The STORY. We are Ghostfighter?s humble and earnest pupil Jacob, venturing out on his own exorcisms at last, when we discover our old mentor seems to have succumbed to demonic temptation! No, impossible!, we cry, and we?re off to the rescue. Like its predecessor, Exorcist II is a quirky game, though not as different as Exorcist is. The major part of this one?s eccentricity is in the STORY, which develops in quite unforeseen directions. Its opening moments also reveal much improved GRAPHICS, which are exceedingly WELL DONE, even to including a side panel for WIDESCREEN. ANIMATION now plays a large part of the VISUALS and is wonderfully done. The DEMONS are masterly imagined and depicted. The game?s first and greatest asset is the VOICEACTING and AMBIENT sounds, which are fun for their own sake, and the SATANIC WHISPERINGS throughout the game definitely ratchet up the creep factor. Jacob?s (our) VOICE is so earnest and somehow innocent, one wonders how he manages in his world of demons and devils. Primarily, this is a HO GAME, so don?t expect too many PUZZLES, but what there are, are FUN & SOMETIMES TRICKY. The ADVENTURE component is a greater part of the GAMEPLAY than the previous game, and you will need to brush up on your DEMON DISPELLING TECHNIQUES, or you?ll end up like me, asking a DIRECTIONAL HINT for, well, directions, far too often. The JOURNAL can be of some help with that. Unfortunately, NO MAP, although, really, there are not a lot of locations. The HO SCENES are INTERACTIVE LIST, very clear, but the ITEMS are sometimes VERY SMALL. I thoroughly enjoyed this game, was very much caught up in it almost immediately, but for me it did PLAY SLOWLY. I suspect, however, that was just because I couldn?t seem to get my head around the LOGICAL FLOW of the adventure. Final verdict? A well developed sequel, showing considerable maturing since the original Exorcist, becoming a game with MORE UNIVERSAL APPEAL.
May 6, 2013
Good Game
Sound and graphics are good. Puzzles are pretty good. Some eerie scenes. Fin way to spend a night.
February 19, 2013