The Secret Order: New Horizon
Reveal the secret legacy of The Order of the Griffin and restore Sunward City in The Secret Order: New Horizon! Sarah Pennington lives in a metropolis ruled by a corrupt government. When an assassin attempts to kill her she is saved by her nephew who claims to be from the future! Now, Sarah must follow in her father's footsteps and return Sunward City to its once prosperous state in The Secret Order: New Horizon, an incredible Hidden Object Puzzle Adventure game!
Overthrow a government
Follow in your father's footsteps
Restore Sunward City!
Game System Requirements:
OS:

Windows XP/Vista/Win7/8

CPU:

2.0 GHz

RAM:

1024 MB

DirectX:

9.0

Hard Drive:

728 MB
Game Manager System Requirements:
Browser:

Internet Explorer 7 or later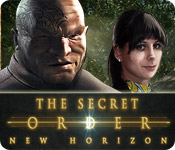 NEW299
The Big Fish Guarantee:
Quality tested and virus free.
No ads, no adware, no spyware.

Reviews at a Glance

The Secret Order: New Horizon
0
out of
5 (
0
Reviews
Review
)
Customer Reviews
The Secret Order: New Horizon
80
80
Must have game
If you ever dreamed of using a time machine to go back in time you must try this game. The story is great and interesting til the very end of the game, the graphics look professional. What else do you need? Even if you're stuck you can use hints at once! Nice job!
February 13, 2012
Very nice game!
You are visited by your nephew, coming out of the future. He tells you you have to set things right in the past, and you have to find a time-travel divice to achieve that. The story grabbed me from the very first second, the cutscenes and the way the story is told is captivating! But I really, really missed some voiceovers! They would have brought the game from great to absolutely fantastic! Nice to see a game that is set in 'real'time, not some fantasy-world, it was a nice change. This is not the easiest game I have ever played, but I really loved the challenge. HOS and puzzles were very good. Try it, I'm sure you'll love it! Have a great time!
October 16, 2013
Loved the game.
Puzzels very challenging--some a little too hard for me. But, I loved the game; able to get through it all and found the end well-worth the play time. I was always very anxious to get back to the game when I had to log off. Enjoyed the black and white change from color and visa versa.
July 10, 2013
I REALLY LIKED THIS ONE
I have to add that the hints weren't well very helpful, other than that I liked this game very much. Great story line, mini games etc. After a while I totally got immersed in the game and that is always a sign that the game was very good! Happy Gaming
June 14, 2013
Good one
I've only played the demo so far, but I liked this game. There was a lot of reading to figure out what the story line was, but not as much as with some other games. The HOGs were good, and included some interactive parts to create the needed item. I did have to use the hint button a couple of times to figure out where to go next, so it's not a dumb-downed game. The graphics are great! This should be worth the purchase. Question, though - whatever happened to being able to play for 60 minutes?? These games that limit you to only the demo are annoying!
December 17, 2011
Promising Start - A Guy's Review
*review based on completing the full game* I think this is the first and only game so far from this developer, so that is why I say a promising start. The game has its share of holes, flaws and almosts, but still end up being intriguing, interesting and entertaining. Luckily the lacks are not too apparent and doesn't ruin the game much. They have really put some time into the story in this game, and even though it has some small holes and flaws, it is a well written and exciting story you get to embark on. The best of all is that it feels believable and realistic (well, everything is relative). I don't mean that it feels like a true story, but it holds the same level of realism one finds in a good sci-fi movie. There is even a sense of urgency and thrill as you try to escape some mafia thugs and at the same time figure out what is really going on. The story progress in somewhat a comic book/dark movie way, but unfortunately there are no voice-overs. This makes it feel a bit lifeless. This story would have really benefited from having some good animated cut-scenes with voice-overs to build onto the drama. If that was the case, this game would be right up there with my absolute favorites. Everything in this game (except for the mentioned comic-book-like cut-scenes) seems to have been drawn in 3D. It looks realistic and highly detailed. The on location animations are of high quality. This developer looks to have a real keen eye for details. It might be slightly grainy at times, but nothing to really complain about. I played the game in its basic settings (didn't even check "options"), but found both music and sound effects to be rather low. Next to no voice-overs it all felt rather silent. It leaves a lot to be desired. There are moments where it is good too, but as a whole it could be a lot better. The game plays much like an adventure game with added puzzles and HO scenes for good measure. But it does it differently than most of what I have seen in other games. It has all the right foundations of an adventure game, but I feel that it could have some more adventure elements. What is there is really good though. Everything is logical and makes sense but still force you to use your head. The puzzles are creative and original and range from easy to quite hard when it comes to difficulty. This part of the game was truly inspiring. There are several mechanical puzzles as well which adds to the variation and enjoyment, at least for me personally. A good mixture and all makes sense. Thumbs up again to the developer. The HO scenes are not your typical clutter scenes you see in most games in this genre. Well, they're still clutter scenes, but here they are more "natural" environments with most items matching that certain environment. Things you'd expect to see there. They are also more naturally placed in the scene. Being in 3D they also have more depth, which in itself creates its own challenge. Some items tend to be rather small, especially if they are in the back of the scene. They can also be partly hidden by other items and/or shadows. It might be extra hard for the ones with poor eyesight. Luckily they aren't dark or grey. They all have mild interactive elements to them. The items you pick up is logical to both the scene and to what you get as inventory items. You usually get more than one item from each of the scenes. Even with the challenge of items being small and sometimes very well hidden, these are ones of the best HO scenes I have come around. Just because everything makes sense. I still think that too many of the items are retrieved through HO scenes, and wish more were through searching and finding, adventure style. The game lacks difficulty levels to choose from, and therefore the game gives you sparkles whether you want it or not. That's a shame in itself, even though the game was still rather challenging with them. Another thing that helped making the game challenging was the totally useless hint system. Sure, it works fine enough in the HO scenes, but outside of them it either tells you nothing at all or might even point you in a totally wrong direction. I found myself trying everything I could on a pole it pointed me to only to find out that I couldn't do anything there for quite a while, seeing I did not have the objects I needed to interact with it. Horrible, horrible, horrible. The map seems a bit off too. It is neat in its own way, but has bad overview. Makes it difficult to use as a navigation tool. Not that the map is really necessary as portions of the game is sectioned off and there is little back and forth movement. It is not interactive. There is no journal either, but a Codex Book that you have to find the missing pages to. You also get SMS's from your nephew. This developer shows a lot of talent and promise with this game, and I will eagerly await their next release. With a few fixes to the flaws in their formula we might be looking at a true classic. That does not in any way mean that you should pass this game and wait for the next. This game still holds its own even with its flaws. I would however recommend it more to mediocre and seasoned players than to beginners. For the guys: You do play as a female character in this one, but it doesn't affect the game play much, especially seeing there are no voice-overs. The story should fit any guy who likes a slice of sci-fi and adventure. TJ
December 6, 2012
excellent sci-fi story supported by absolutely stunning graphics
in this hidden object puzzle thriller, you are Sarah Pennington, a restaurant owner who lives in Sunward City, which is managed by a corrupt government. the story starts when Sarah is saved from being murdered. the man who saves sarah's life then claims to be her nephew -- from the future! at this point, most people might decide they were in shock from terror, but not Sarah. it turns out that her now-deceased father was a member of a secret order, The Order of the Griffin. this secret order was engaged in a battle with the mafia and used time travel to help them achieve their goals. but now that all the main players in the secret order are dead, it has fallen to Sarah to complete her father?s work. graphics: absolutely stunning. gorgeous, crisp and detailed with little fuzziness: a true joy to behold. this game's graphics are consistently of the highest quality i've seen in a Big Fish video game and they alone are worth ?the price of admission?. (the scenes in the demo version are astonishingly similar to my NYC neighborhood, which creates an eerie feeling for me.) the hidden objects scenes are logical and carefully laid-out. some items require a bit more interaction before you can collect them (pouring a glass of champagne, for example). items that you find in these scenes are used quickly, which adds to the development of the story itself. puzzles are sprinkled throughout the game, and they too are logical, fairly easy to solve (a few require a bit of fiddling to get the solution) and -- most important -- they make sense within the context of the story and also add to story development. no random brain-teasers here! music and sound effects: the music was nice and matched the ambiance of the story. there are no voiceovers. storyline: no overtly scary scenes, although the tension builds as you work your way through the game. it has neither ghosts nor graveyards, neither demons nor even any gory scenes, although it does include time travel -- but this is an integral part of this science fiction story, not the main focus of the story, which makes this fantastical element enjoyable. gameplay: the hint button can be used in hidden objects scenes, puzzles and throughout the game itself, and it recharges quickly. there is no click penalty on hidden object scenes. a communicator provides additional help (from your nephew, who has returned to his proper time zone) as well as access to a map. scripted cutscenes explain and develop the story (and its characters) very well. my one and only complaint: sluggishness: the cursor would freeze-and-jerk when i was clicking around and the game would freeze when i went from one scene to another. EXTREMELY distracting and frustrating since this pause was noticeably long, on the order of 10-30 seconds! (thus, my 4.5 star rating on a game i would otherwise give 5 stars to.) my interaction: one hour demo (this game has only one mode of play). despite its sluggishness, i did purchase this game because i liked everything else about it. wow, what a beautiful game, and by "beautiful" i mean it's exceptional in every way that a game should be: the graphics, the audio, the design, the plotting and character development. all that said, i do recommend you try this game before you purchase it to find out if the game is also sluggish on your computer and if it is, so you can decide if you can (or wish to) deal with that. many thanks fishies for sharing this wonderful game!
June 12, 2012
Battle the Mob
I just finished the demo, overall I liked it even more so as I got more into the plot. It seems from my perspective that the quality of the picture got better and more interesting, I enjoyed the Hidden Object Scene the drawings were very well done in my opinion. If you get stuck, hints recharge quickly to help find ou way. I liked the aspect of going back in time and having communication with your nephew, I am happy that this one is not a collector's edition we don't see those too often lately - although I have to say that I am a big fan of CEs. I will most likely get this one.
December 17, 2011
Nice Surprise
Pretty good game BFG. Graphics and sound top notch. Not too extremely challenging -- just enough to make it fun without frustrating. Great story line -- wish it went longer. Well worth buying.
December 17, 2011
Time Traveling How Fun Is That?
For me this proved to be a most challenging game. I was mesmerized from the beginning to the end. I don't won't to reveal any of the story but its different. I had to use my noggin and as well the walkthrough. Hidden object scenes interesting and challenging. Puzzles well some where more easy than others. Cut scenes were interesting as well. Music was appropriate to the game production. It took me awhile to get in to the game but I am pleased I stuck with it for it was well worth the play. Give it a go, I think you too will enjoy.
January 1, 2012
The Apple logo is a trademark of Apple Computer, Inc.