Margrave: The Curse of the Severed Heart
Exclusive
Deep in the English countryside, Edwina Margrave has returned to the cottage where her parents died, eager to speak with the one person who might shed light on the tragedy – the volatile landlady, Miss Thorn. But her shocking revelations are not what Edwina expected! Enlist the aid of the spirit world and evade the wrath of a disfigured beast as you explore Margrave: The Curse of the Severed Heart, a heart-breaking Hidden Object Puzzle Adventure game!
Fantastic gameplay
Exciting action
For a more in-depth experience, check out the Collector's Edition
Game System Requirements:
OS:

10.4

CPU:

800 Mhz (INTEL ONLY)

RAM:

256 MB

Hard Drive:

238 MB
Game Manager System Requirements:
Browser:

Safari 4.0 or later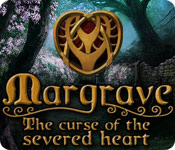 NEW299
The Big Fish Guarantee:
Quality tested and virus free.
No ads, no adware, no spyware.

Reviews at a Glance

Margrave: The Curse of the Severed Heart
0
out of
5 (
0
Reviews
Review
)
Customer Reviews
Margrave: The Curse of the Severed Heart
53
53
Quirky and Fun
First, let me get the "negative" out of the way. The HOG scenes were challenging; there wasn't one I didn't use at least one hint for. But this didn't bother me at all; the hint recharges quickly enough. And while some don't like revisiting HOG scenes more than once, I actually enjoy it because I can spot things I noticed when I was there before and get through more quickly. I didn't find the story "sappy" at all; it was your standard adventure fare, really; a girl in search of her lost parents. The characters' motives remain a mystery for some time and it was enjoyable to see where I would be taken next. The graphics were beautifully drawn and rather quirky, which I loved. The buildings and landmarks Edwina discovers are mostly lodged in the fantasy world, while at the same time based in reality when it comes to the possibility of such things existing. No fairies or magic in the settings; rather a landscape that looks like the dreams of a playful and brilliant inventor. The puzzles are equally quirky and fun and here's where there is "magic" in some instances. I found the puzzles just challenging enough - I didn't breeze through any, but I never had to resort to the skip button, either. One thing I did appreciate is that, once I had gathered all the items I needed for a particular task, I didn't have to go through a tedious step-by-step assembling process. In some other games, you're required, for instance, to gather up a bunch of weird ingredients and a container and a stirrer and a source of flame, etc etc etc and then follow some ridiculous printed instructions on how to put them together in a particular order. Ho-hum. Glad that kind of task was notably absent; I really enjoyed all the puzzles presented. Because I didn't skip any puzzles or "hint" my way through the HOG scenes, the game took around four hours to complete. I rather wish I had sprung for the Collector's Edition; if there's a sequel, I definitely will.
April 18, 2012
cute
This was a pretty good little game. Kinda hokey I thought. If you like romance novels, you will like this game. i found the shadow locks who speak in unison with little squeaky voices a bit much. But it did have a puzzle using cards that was repeated throughout that was fun. Most of the locations were softly drawn with lots of gardens and some fairy like atmospheres. Pleasant enough... fun in parts and quite romantic in the storyline. Nice little game..not overly long.. nothing creepy but enjoyable in a relaxing kind of way. I liked it.
February 7, 2012
Pleasant hidden object game
I Just finished playing this game (in french). I liked it. The pictures and the characters are beautiful But some problems. The game is playing very slowly at some moments and I could not do all the mini games. Some hidden objects are difficult to find. But the hint button is very useful and loads quickly. It is very interesting when you are stuck because it says what to do or where to go. Finally I liked play this game and for me it is a good purchase.
November 18, 2011
Wonderfully fun to play
The music and artwork went lovely together. In fact, the best artwork I have seen in a while. LOVE the tune at the starting screen. I was surprised at the voice-overs and liked most of them. They do get a little repetitive at some points. The hidden object scenes were challenging however, I did not find the puzzle games all that hard. A lot of beautiful settings that made for a fairly large "world" to investigate. It was enjoyable to play as there were plot turns to keep me interested. My favorite game since the Drawn and Dream Chronicles series (though definitely no where NEAR as hard as those). If there is a sequel, I am going to get the collector's edition for sure.
January 7, 2012
Sappy City
After reading the glowing reviews I had such high hopes ... The Upside - Graphics and sound are good HOS challenged a few times causing me to resort to hints Music was non-intrusive Instead of a journal there was a separate "discovery" section along side the inventory. The discoveries would disappear when no longer needed - that was handy The rest- Sappy, sappy, sappy storyline that grew stickier as the game went on - Daughter revisits the place where she lost her parents as a child. Lots of casting of spells and very silly "puzzles" - Non of the mini-games were challenging and there were plenty of hints - no strategy guide needed Lots of traipsing back and forth revisiting the same places for multiple HOS A young woman's British accented voice over would come with each click, like it or don't. At one point little ghost animals sing a child like song about a cursed woman. Yeesh. Guess it just wasn't my cup of tea. Choose the Macabre or the cutsie, but try to mix them, and...well...you get Margrave. Sticky, bizzare, and silly to the point of forgetting to be fun. I do not recommend this game.
February 18, 2012
Nice Game, Could be Longer.
Margrave: The Curse of the Severed Heart is a hidden object adventure game. The plot has you playing Edwina Margrave, a woman searching for clues as to what happened to her dead parents, and the legend of something called the Severed Heart. The graphics are lovely, drawn scenes. The music was very nice. The voice acting was okay, but got on my nerves at times, because the main character talks quite a bit when you are just clicking around. There are two difficulty settings for this game. I played on the harder setting. The puzzles were enjoyable, none were too difficult. Some of the hidden object scenes were repetitive, and some of the items were tough to spot. The game took me three hours to complete, playing slowly. That includes the time I got lost because I overlooked the path to a new area. If I hadn't gotten lost, it would have taken me less time to finish. Still, it was a nice game that I definitely enjoyed playing.
December 29, 2011
A Real Gem
I played this game when it first came out. Almost didn't even demo it because I had been rather disappointed with the other Margrave games. I gave it a try anyway... and was SO glad I hadn't missed out on this totally different, magical outing! I thoroughly enjoyed it's atmosphere, graphics and puzzles. The plot of the story also kept me interested to find out what happened! One of my favorite games. I highly recommend this game, especially at the DD price. Give it a try... you may be surprised, too.
May 27, 2012
Margrave: The Curse of the Severed Heart - A Nice Hidden Objects Game
Graphics: This game had some nice graphics with both creepy and beautiful scenes. It was interesting using real actors as the characters in the cut scenes except that they made it look like they were drawn and they didn't move much, which was a drawback for me. I don't really like the use of real actors as the characters because I think it looks odd against the drawn and 3D graphics. Music/Vocal: The music and sounds used where both appropriate with each scene. I have to admit that I liked the song at the menu. It really surprised me to hear a song with lyrics and I think the game pulled it off. Another thing I kind of liked was that the game used a lot of voice over material but the drawback was that when this happened, it became a little annoying. Puzzles/HOS: HOS were pretty good with enough challenge to it and the puzzles where a little on the easier side but the game balanced out. Length: I finished the game in about 2 hours and 30 minutes which is an okay length. I prefer my HOG to be over 3 hours. Story: Edwina Margrave really wants to know what happened 15 years ago when her parents died so she ventures to a cottage in the country. When she gets there things are not as they seem and Edwina must go on a mission if she wants to know what happened to her parents. Overall: The game was mostly just okay to me. I got bored through the middle of it but that doesn't mean it wasn't a good game. Margrave: The Curse of the Severed Heart was a nice game even if it was a little slow to get into the game. Happy Gaming :)
March 29, 2012
Fun puzzles and HO
This game was fun and was a relatively long game for the price (non Collector's edition). The game starts out easy, but the puzzles get progessively harder. Some of the puzzles were different from the unusal, which was also nice. The hint command helps with both the HO and the puzzles, which is helpful. Overall, it was fun to play.
December 31, 2011
repeating boring puzzles, tiny items in Hidden object scenes loses any charm this game had
At the beginning I thought this was a different and charming type of a game then I was soon disillusioned. You make spells throughout the game and there was one puzzle you just kept repeating to do with this and the other puzzles you repeated but not as much. The plot was just plain weird to me (mixture of seemingly possesed person, witches and romance)and the cutscenes of still screenshots with voiceover seemed like it was a lot older game than it is. The graphics are mostly not good especially as the game progresses but there were a couple of scenes that were lovely, (screenshots) so why couldn?t the rest of the game have as good and clear graphics? There was a lot of backtracking and on the hardest of two choices of gameplay you had random click penalty and sparkles in hidden object scenes. The H O scenes were a pain as there were either tiny items or impossible to see blended in objects, and you repeated them. The hint button did act as a mini SG but annoyingly if you were in an area it wouldn?t tell you if there was something you missed but told you what they wanted you to do next in another area. The length was good about 4hrs. I like different, quirky type of game but with the not great graphics, repeating of puzzles many times, tiny objects and weird cutscenes and the plot really lost me so I was just glad when I finished it.
May 28, 2012
The Apple logo is a trademark of Apple Computer, Inc.
The Windows logo is a trademark of Microsoft, Inc.