Margrave: The Curse of the Severed Heart
Exclusive
Deep in the English countryside, Edwina Margrave has returned to the cottage where her parents died, eager to speak with the one person who might shed light on the tragedy – the volatile landlady, Miss Thorn. But her shocking revelations are not what Edwina expected! Enlist the aid of the spirit world and evade the wrath of a disfigured beast as you explore Margrave: The Curse of the Severed Heart, a heart-breaking Hidden Object Puzzle Adventure game!
Fantastic gameplay
Exciting action
For a more in-depth experience, check out the Collector's Edition
Game System Requirements:
OS:

10.4

CPU:

800 Mhz (INTEL ONLY)

RAM:

256 MB

Hard Drive:

238 MB
Game Manager System Requirements:
Browser:

Safari 4.0 or later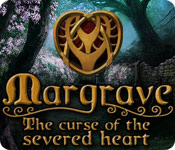 NEW299
The Big Fish Guarantee:
Quality tested and virus free.
No ads, no adware, no spyware.

Reviews at a Glance

Margrave: The Curse of the Severed Heart
0
out of
5 (
0
Reviews
Review
)
Customer Reviews
Margrave: The Curse of the Severed Heart
57
57
Nice Game, Could be Longer.
Margrave: The Curse of the Severed Heart is a hidden object adventure game. The plot has you playing Edwina Margrave, a woman searching for clues as to what happened to her dead parents, and the legend of something called the Severed Heart. The graphics are lovely, drawn scenes. The music was very nice. The voice acting was okay, but got on my nerves at times, because the main character talks quite a bit when you are just clicking around. There are two difficulty settings for this game. I played on the harder setting. The puzzles were enjoyable, none were too difficult. Some of the hidden object scenes were repetitive, and some of the items were tough to spot. The game took me three hours to complete, playing slowly. That includes the time I got lost because I overlooked the path to a new area. If I hadn't gotten lost, it would have taken me less time to finish. Still, it was a nice game that I definitely enjoyed playing.
December 29, 2011
Fun puzzles and HO
This game was fun and was a relatively long game for the price (non Collector's edition). The game starts out easy, but the puzzles get progessively harder. Some of the puzzles were different from the unusal, which was also nice. The hint command helps with both the HO and the puzzles, which is helpful. Overall, it was fun to play.
December 31, 2011
Only one negative
Based on entire game. Overall very enjoyable. Cutscenes were well done and artwork was lovely. Music was good. Human voices were pleasant. The high-pitched voices for the non-human characters done in unison were amusing. Hint system can nudge you in the right direction if you?re not sure what to do next. One negative: there is a bit of backtracking. A map would be nice (indicating where you are, especially after a lapse of several days between playing); an interactive map would be even better. HOS: Objects were readily identifiable and the scenes not too dark. [I have my monitor set to be more bright than dark.] Puzzles: Nice variety, ranging from easy to intermediate difficulty, with a fair number of dream card puzzles (needed to name the ghosts that are encountered). No ?that?s only done in the movies? or similar irritating remarks when you do something incorrect in a puzzle. Several recipes are needed to release the animal spirits imprisoned in the Shadowlocks. Finding the ingredients was not difficult and casting the spells was fun.
June 25, 2012
Captivating
This is an absolute buy for today's DD price. The puzzles are a biy different but welcomed. As the rest of the reviews said the HOS are bit hard since some of the items are VERY well hidden, but hint HELPS!!!. This game captivated me as soon as it started, I don't think I have evr played a game where there is singing as soon as you go into it. The voice overs are well done but a bit anoying at times, especially when everytime you click on something the main character's voice tells you what to do, but then again it is helpful. This is a steal for the price and you should definetely get it!!!
May 27, 2012
Unique Gameplay & Nice Atmosphere
BASED ON COMPLETED GAME FIRST IMPRESSIONS The game starts in one of my favourite ways ? with vocals as well as music! The intro is nicely done, filling us in without need of narration, but with good voiceovers. The look and feel of the game at this stage is very ?sixties? to me. SIGHTS & SOUNDS The standard of graphics changes markedly at different points in the game. The opening segments are nicely painted and although a little misty, clear. The HOPs are also very clear and brightly lit , this time photo-realistic. It is the location graphics I have a problem with, they?re awful. Very grainy, crowded and over-detailed, dark and confusing. Very sad, because the close ups are so good! Well, except the early close ups of Miss Thorn?s face, who seems to be suffering some kind of eye infection. This is not a game with much in the way of movement. The scenes are mostly static, with shutter shots replacing animation. It would have been a much lovelier game with it. The sounds are great. Voiceovers wonderful, although no attempt at lip sync. The background noise is good, and the music very evocative. WHAT?S HAPPENING? Edwina returns to the place of her childhood to meet with the one person who might know something about the death of her parents, back when she was a young child. This is a sequel to two previous Margrave games, which I have not played, but which seem not especially necessary to this story, although it does seem a little patchy to begin with. Edwina has the gift of magic, and Miss Thorn soon discovers that she (Edwina) may be able to help with the removal of the Shadowlocks, which are keeping souls locked up. But Miss Thorn is not being entirely honest with Edwina... GAMEPLAY This is primarily a HOP game. There are unique mini-games that are a part of the particular style of this game, and a number of easy puzzles, but for the most part, we progress through the use of HOP scenes. These are inanimate and the item lists do not require interaction, but they are attractive, clear and well lit, even in dark locations. They are also more difficult than most, partly because some items are small, but mostly because they are cleverly blended in. The specific mini-games are two types. One is the familiar one of collecting items from a recipe to perform a spell and there are quite a few of them. As well, cryptic clues as to what you will need to progress are given each time you find and play a record. The unique aspect of this game, and it is very appealing, is a mini-game of ?Dream Cards?. This cute little bit of magic allows you to discern a soul?s true name, and consists of matching sides of playing cards that are marked with symbols. It is a little tricky to explain. But it is a logic game that increases in difficulty each time you play it, and the final one was so complex, I cheated and looked at the walkthrough to get the first card in the formation. Instead of a journal, you have a ?Keepsakes? inventory, which holds newspaper clippings, cryptic clues, etc. The hint offers you a next step option. There is no map. There is a lot of to and fro in this game, and it is easy to get lost, so mark your bearings well. *grin* There are 2 modes of difficulty, but the only real change is the length of the hint refill. COMBINED IMPACT I was surprised at how much I enjoyed this game and it?s quirky nature. It is worth noting that at first it seems sweeter and cuter than it turns out to be. It is also longer than I remembered it. But perhaps that is because this time, I refused to skip those tricky ?Dream Card? puzzles.
February 9, 2014
cute - could be longer
very nice game beautiful graphics and music challenging but not too much five stars if longer
April 25, 2012
fun game, especially for the price
this is a fun little hidden object game with lovely graphics and charming scenes to explore. there are lots of spirits/ghosts in it. the game objective: you are edwina margrave, a young woman who has returned to the cottage where her parents died when she was a child. she is searching to learn more about how they died. the graphics: lovely, quirky at times. the hidden object scenes are challenging; they invariably have one object that i couldn't find easily, so i used the hint button because i wanted to progress through as much of the game as possible during the one-hour demo. the music: not intrusive or distracting. the voiceovers: not too bad. my interaction: one hour demo, and then i purchased this game (but i have not yet finished it). it's a fun little game so far, and i am looking forward to finishing it.
May 27, 2012
Too Short, lame ending
The game was interesting. Graphics were excellent; conversation scenes seemed boring. Storyline was not the best. The grown child comes back to a place where she lost her parents and there is a beast of some sort on the loose. The ending was lame. HOS were pretty easy, did have to use the hint a couple times in the scenes that were too dark. Not too many HOS, most were repeated twice though. Very few puzzles, all were pretty easy. The card thing was pretty simple. No map which is one thing I think all games should have. Having to continuously go back and forth makes the game less enjoyable.
April 16, 2013
Ghostly Reunion
This game is basically fun. The scenery is well drawn and quite pretty. The story line is a "sweet" as it solves the mystery in a young woman's past. The HO scenes are good - challenging but not impossible. The scale of objects you are looking for is not realistic in proportion to what they are sometimes. The puzzles are varied, fun and not impossible but make you stop and think. Occasionally I felt stumped about what to do next but muddled my way onward. The music was pleasant and not annoying. There is no journal or map and there is a bit of to and froing. It isn't particularly scary so would be suited for playing with a child. All in all a very satisfactory few hours can be wiled away with this game.
August 7, 2012
Margrave Gets a Fanciful Twist
I played the first Margrave game when I purchased a HOG 6 pack at the store and enjoyed the story even though it was a very basic hunt and seek game with a few jigsaw and find the differences puzzles. When I saw this one as a daily deal I had to pick it up as it is a much more updated, adventure style HOG that follows up on the storyline of the original. I have to say I was very impressed! The cut scenes are a bit chessy, but endearingly so. I loved the addition of Celtic legend into the mix. It made for some excellent story. The visuals are beautiful, the puzzles are fairly challenging and the divining puzzles were a wonderfully fun change to the normal puzzle choices that get cycled through so many game these days. Overall this was quirky, cute, and a lot of fun. I would love to see another soon.
August 5, 2012
The Apple logo is a trademark of Apple Computer, Inc.
The Windows logo is a trademark of Microsoft, Inc.