Fizzball
Everyone has fled the islands; there isn't a person in sight! But they left all the animals behind. Who will feed them? And who will find out what scared all the people away? Well, Professor Fizzlewizzle, of course! Bounce bubbles, rescue and feed the abandoned animals, and solve a mystery-all at the same time, in FizzBall!
60+ animal species to rescue.
More than 180 levels.
Special kids mode.
Game System Requirements:
OS:

10.4, 10.5 (recommended)

CPU:

1.83GHz

RAM:

512 MB
Game Manager System Requirements:
Browser:

Safari 4.0 or later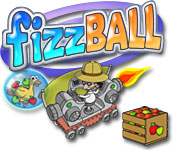 NEW299
The Big Fish Guarantee:
Quality tested and virus free.
No ads, no adware, no spyware.

Reviews at a Glance

Fizzball
0
out of
5 (
0
Reviews
Review
)
Customer Reviews
Fun brick breaking game
This looks like it's just for kids, but anyone who likes brick breaking games should try this. The story is that you are a scientist who is trying to collect animals that have been abandoned on several islands. There are aliens involved, but the story isn't really important. Instead of a paddle, you guide Professor Fizzwizzle back and forth bouncing a bubble that increases in size for each animal or food item you collect. Larger animals need a larger sized bubble, so you have to break open crates of food or knock nuts and apples out of trees to get large enough to collect them. Catch 50 butterflies and you earn an extra life. There are powerups to catch (not all of which are helpful) and many bonus levels. There are two levels of play Regular which is just the game, and Kids, which incorporates information about the animals you are catching. You can also earn trophies. The cartoon graphics are well done and the sounds the various animals make when you bump into them are funny. This game has 180 levels, so it will take quite a while to finish, and it has a lot of replay value. This clever addicting game is one of my favorite guilty pleasures.
November 15, 2011
Fun for young children and older ones, too.
My five year old grandson loves to play this game, and my older ones do too. It is even fun for me to play. It is a relaxing game that I would recomend for younger children as well as ten on up.
July 13, 2012
Keep coming back to this
I downloaded this game a year or so ago and have played it through at least twice. The power-ups and little challenges make this fun!
April 30, 2012
Fun block-breaker game for kids and adults
I'll say right up front that this game isn't super hard, so if you're looking for a high level of challenge, it won't be for you, but if you're terrible at block-breaker games like I am, it is really fun. You use a bubble to collect animals, and it gets larger the more you pick up--there are also acorns, coconuts, etc. that help expand your bubble, plus lots of powerups that float down on parachutes. If you hit an animal that's too big for you to collect yet, the sounds are pretty funny--and the chicken lays an egg, which is small enough to pick up. Every few levels, there will be a slightly different challenge, like pick up as many frogs as you can within 2 minutes, and so forth. If you lose all your Fizzballs, you can start over at the same level, just with your score reset, so you don't have to go all the way back to the beginning. There is a kid mode, in which you can't lose your ball, that's perfect for little ones. My six-year-olds love it.
September 24, 2012
FUN, FUN, FUN for Kids & "Big Kids" Too!
What can I say, I am an adult who loves Adventure, Puzzle & Hidden Object games, but I've also seen my grade school aged child playing this game for the last few years & he LOVES It! And what's not to love. The game is based on the classic break-out concept, but this time around with a living, breathing world of many adorable animals. You basically bounce a Fizz Ball off your paddle & break crates & other objects to free & collect cute animals to collect points. Along the way bonuses will drop down to enhance your paddle. And it's Fun, Fun, FUN!!! The graphics are crisp & bright. The sounds are cute & fitting for the game. They are never really annoying either. With each level you clear, the game shows your accomplishments & the animals you've saved, including new ones. Although this game is geared toward children, I can't help to think that one day I might try my hand at it because there are over 150 levels and an option to play with just the paddle (for big kids & adults) and with a safety net for younger children so that they never lose the ball. Overall hours & hours of cute, adorable family fun. And TONS of reply value since your child (or maybe even You) will want to revisit it over & over to get to that next level. Have FUN!
August 5, 2012
Cute Family Game
This one is even for the little ones. You bounce a bubble, picking up animals and things. Thank you for something my 3 year old can do, besides Dora.
August 13, 2012
Arcade fun for all the family
I don't know why this is listed under adventure games as it's an arcade game. It's very addicting this game and for me who is useless with arcade games it was nice to always get new fizzballs even when game was over (it just put you back to the screen you were on) so you never had to redo much. There are two modes of play and the kids level you can't lose the ball and they give you quizzes in between levels. It's a long game and I would recommend it more if you just want a quick 5 mins play rather than seeing this game as one you would sit down to for the a'noon, as I did get dejavu a few times as most levels looked the same. It's nothing like the other Professor fizzlewizzle games which are puzzles games, here you try and rescue animals from aliens by launching a bubble ball from your machine at the bottom which you control going side by side with your mouse. After you break some barrels and fences if your ball rolls over money or acorns etc it gets slightly larger the larger it gets the more animals it can collect when the ball hits them. Then you are eventually able to catch big animals. You have to keep the ball in play and you collect bags of money and different power ups during play. You can collect butterflies as extras. If you don't catch the ball it just immediately gives you another ball, you get 4 per scene (level) and if you lose all of them it restarts that scene. The powerups gives you faster ball, direct aim, shield etc. Some levels feature the alien, he is a UFO aiming at you when you destroy the ship you have to catch him with the ball. It's a mindless type of game for the most part which is good if you want a quick destress. Every few levels it's broken up by either a timed level or try and get as many animals as you can. If you click on achievements then animal sanctuary, you can visit the animals you have saved in a seperate area and 'feed' them by coins you collect throughout the game (I only found this at the end so maybe it's just after you complete the game as I never looked through the acheivements until I finished the game.) There are also acheivements and trophies. cons - Although some levels had snow and others had autumn scene, I felt I was replaying the same level over and over and would have loved something else than fences and barrels in each level that you have to destroy to get to some animals. I would have loved more and different types of levels like the ones scattered throughout. As it just got too much 'the same' after a while, but playing it just 5 mins at a time really helped. If you are looking for an easy game, (none of the main levels are challenging) and something different then do check it out. *I don't do ratings 'like' 'love' etc but out of 5*
June 27, 2012
Nothing Like The Other Fizzwizzle Games
This game was horrible. It was basically just a pre-school version of magicball. Good Parts: Had all the best of the magic ball games. The game got easier as the ball got bigger OK Parts: Power-ups Bad Parts: Everything about this game screamed "5 year-old" The storyline was awful Everything I loved about the Fizzwizzle games was gone. Levels were way too easy (even the regular ones) The animal sanctury (forgive my spelling) Only 2 levels of difficulty. Where has the advanced difficulty gone?!? Ultimately, I cannot and will not reccomend this game, unless you're looking for something for a pre-schooler to play
May 11, 2012