Brink of Consciousness: Dorian Gray Syndrome Collector's Edition
Exclusive
Help Sam Wilde rescue his love Anna in Brink of Consciousness: Dorian Gray Syndrome, an incredible Hidden Object Puzzle Adventure game! Sam's every move is being tracked so he has to be extra careful. Putting his journalistic talents to the test, Sam must find the maniac who has kidnapped Anna, and stop him before it's too late. Explore gorgeous locations and solve tricky puzzles in Brink of Consciousness: Dorian Gray Syndrome!

This is a special Collector's Edition release full of exclusive extras you won't find in the standard version. As a bonus, Collector's Edition purchases count toward three stamps on your Monthly Game Club Punch Card!

The Collector's Edition includes:
Bonus gameplay
Interview with the developers
Concept art
Game System Requirements:
OS:

Windows XP/Vista/Win7/8

CPU:

1.4 GHz

RAM:

512 MB

DirectX:

9.0

Hard Drive:

693 MB
Game Manager System Requirements:
Browser:

Internet Explorer 7 or later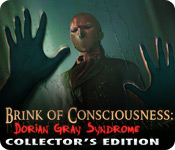 The Big Fish Guarantee:
Quality tested and virus free.
No ads, no adware, no spyware.

Reviews at a Glance

Brink of Consciousness: Dorian Gray Syndrome Collector's Edition
0
out of
5 (
0
Reviews
Review
)
Customer Reviews
Brink of Consciousness: Dorian Gray Syndrome Collector's Edition
202
202
So creepy!
It seems that hidden object mystery games just get creepier and creepier, and Brink of Consciousness: Dorian Gray Syndrome Collector's Edition is one of the creepiest by far. While there is no blood, there is one psychotic "artist" that is our antogonist, and is he ever deranged. We play through the POV of Sam Wilde, an investigative reporter, and even though the place names sound very English, the background looks to be in Central Europe. Well, Sam is getting a little to close to the truth, and even in 1950, the time when this is all taking place, some low tech can be used in finding what has been missing and saving more lives, including the one dearest to Sam, his girlfriend, Anna. "Oscar" has kidnapped Anna, and has brought Sam to his "gallery", where he has created life-sized works of art from the perfectly preserved bodies of his young and beautiful victims, dressed to reflect the image he wants them to portray, Icarus on the ceiling, his mechanic always in the garage, The Vitruvian Man, a flower girl in the indoor garden. So "Oscar" is a man of resources, but his insanity had lead him to using them for all the wrong reasons, and I was a little disappointed that in this very creepy mystery that there were not man HO puzzles to go through. Many logic puzzles, and lots of running back and forth to take one item to make another thing work, and so on, which is pretty common with these kinds of games. Had this been a horror film, I would have been riveted to find out more about Oscar. Perhaps the writers of this game might want to consider taking this script to an independent studio, because it would make one amazing scary movie. I've played my share of creepy games, and was glad not have run into swarming spiders in this one. You might even consider reading Oscar Wilde's works or at least watch LXG after playing this to learn more about Dorian Gray, but I was glad for the reprieve when I chose the more upbeat "Legally Blonde" to view after playing this game.
June 20, 2012
Great HOG with lots of backtracking
Bought this from the CE sale last weekend, I am not disappointed. The graphic is great and the voice over sounds pro, there are a lot to do although I checked the strategy guide I am already in Chapter 3 while playing for about 1 hour. The storyline is not unusual, but it is twisted so it's kinda unique in a way. I would give this game a 5 star if only there is not many backtracking.. You go back and forth, back and forth, and although there is a map, you can't click on them to move from one location to the other. Once you acquire an item, you have to go back many scenes and then go forward again to find item and them go back again... And I notice there is a 2-3 seconds loading between scenes which takes it longer if you have to go backward 5 scenes, for example. But in short, I enjoy this game and I think you should give this one a try.
April 16, 2012
Dark fun
Very reminiscent of Saw movies. So if you like that kind of stuff, this is right up your alley. Been a while since i played it, but the puzzles were good, its a dark game not only in storyline, but also color/brightness on your screen. Would recommend if you like the psycho/serial killer premise.
April 1, 2012
It's just okay
I'm glad I played Dorian Gray Syndrome once, but I'm not expecting to replay it anytime soon. The music and graphics are beautiful, first of all, and I'm impressed with the voice acting in this game. Oscar's voice actor is very Vincent Price-like and he's really what makes this game. But in terms of game play and story, it falls flat. For game-play, it's your standard HO game. You collect items, find hidden objects, and solve puzzles. So, it's pretty standard. My only criticism is there is a LOT of backtracking in the game and the world is so big it gets tedious way too early. A "go to" option on the map would have really helped. The story is essentially a rehash of Vincent Price's "House of Wax", but lacked the suspenseful build up the film had. If the story took its time gradually building up Oscar's psychological profile and what happened to the victims, I would have enjoyed it so much more. It's not a bad story - I just think it needed to slow itself down for a bit. The bonus game for the CE is a bit too short for my liking (although I enjoyed the twist). I would have liked a longer bonus game that went into Oscar's head a bit more. Overall, I'm glad I played it. It was a pleasantly creepy and atmospheric game, I just wanted a bit more from it.
October 25, 2013
Not that great.
This seemed like an average HOG. I have played so many others that were more fluid with a better story. The reason I had to write this review is because of the sound. Many people commented that the voice overs were great. I found the voice of the adversary to be truly annoying. You didn't know when he was going to start talking. Yes you could click to stop the talking, but what a pain to have to do that every time. An option to turn off the voice would have been nice. I still wanted to hear the music and other sound effects, so I didn't want to turn the sound completely off. And the coughing sound....who thought that was a good idea??????????
September 2, 2012
A little disappointed
I am writing this after just completing the standard version, so my disappointment is still fresh. I thought the storyline was good, so good that I had built up in my mind that Sam, the role you play, perhaps was the killer. I was really expecting a good twist at the end. If you want a dissent ending and some closure, you have to get the collector's edition for the bonus chapter. The games and challenges were good. There were about three or four I had to skip because I really just did not understand the directions or couldn't conceive how to accomplish them without manipulating something during play. The game really just makes you hunt down items to manipulate other items. The most challenging aspect of the game is recalling where you need to use an item. After a while, it got a bit boring.
December 30, 2012
I found my self on the verge of losing consciousness
This is a hard game to review: on the one hand it had a brilliant storyline; the voiceover of Oscar was excellent; some of the mini-games were incredibly fun. One the other hand: I found several glitches in the game and it wasn't my computer; there were many many many back and forths. It was very difficult to navigate between areas even with a map, but perhaps that is my own lack of experience; some of the mini games were so easy as to have been a waste of time. Overall though I thought the game was excellent because of its coherency. But there were small things which just bugged me. I will recommend it...and have given it 3 stars. It seems like an update to fix a few things would make this a 4-5 star game.
August 6, 2012
guess I'm different
This game is boring. Have to keep going all over the place to find clues. The screen is to dark to find items and the music is putting me to sleep. To much talking also. Not my cup of tea.
May 8, 2013
Far too much going back and forth!
And not enough HOS with too much adventure for me. The map wasn't very helpful, and if not for the guide, I'd have gotten lost/stuck. Did love the idea of putting things together in the HOS to collect items. Voiceovers excellent. Graphics beautiful. Very nice ending; didn't feel let down by this one! Puzzles and minigames were also excellent. Game felt disjointed though...just too much going back and forth, (more than any game I've played thus far) which left me frustrated and bored, at times.
January 10, 2012
Only Play If You Enjoy No-Win Scenerios!
I would recommend only buying the regular version and not bothering with the Collector's Edition. It is a waste of money, if you're hoping for a game where you win at the end. The regular game ends well and is worth the money. However, if you buy the Collector's Edition just to play the bonus chapter, be prepared to lose the game because there's no alternative! Anyone hoping to find out who the villian is, what his motives are, his background, or even to see him unmasked, will be disappointed because none of that is revealed at any point in the game. After playing the main game and not learning anything I wanted to know, I assumed it would be revealed in the bonus chapter, as is often the case, but nope! Instead, you get the unsatisfactory conclusion of losing. I won't give the ending entirely away, but I wish someone had warned me before I bought this edition, that it wasn't worth the money. Who wants to play a long game, only to be given no choice but to lose at the end?! This edition is a waste of time and money, and ends up just being irritating.
June 19, 2013
The Apple logo is a trademark of Apple Computer, Inc.