Vampires Vs Zombies
Control vampire forces to fight back a zombie invasion in Vampires vs. Zombies, a zany Time Management game! As drooling zombies descend on Transylvania in the hopes of munching on vampire brains, you must rally the forces of darkness to create the weapons you'll need to repel the attack. The stakes will be high as you harvest goods, sell them, and use your profits to produce implements of battle, but the Count believes in you!
Rally the forces of darkness
Create incredible weapons
Stop a zombie invasion!
Game System Requirements:
OS:

Windows XP/Vista/8

CPU:

1.2 GHz

RAM:

512 MB

DirectX:

9.0

Hard Drive:

296 MB
Game Manager System Requirements:
Browser:

Internet Explorer 7 or later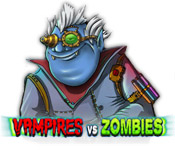 NEW299
The Big Fish Guarantee:
Quality tested and virus free.
No ads, no adware, no spyware.

Reviews at a Glance

Vampires Vs Zombies
0
out of
5 (
0
Reviews
Review
)
Customer Reviews
Vampires Vs Zombies
63
63
Hard, slow, and frustrating
I really love the Farm Frenzy series, so I bought Vampires vs. Zombies after playing the demo. The artwork is lovely and the characters so funny, nice sound, nice cartoon style. But what happened to the gameplay? 1) The gameplay is ultra-slow. The vampires are moving so slowly, as does the car that takes the goods to the market, as does the supplier that delivers goods you need to produce the final products. When I played the demo I thought things would accelerate a bit when I buy the upgrades later on, but I was wrong. Even with the highest upgrade the car and market are hardly faster than without any upgrade. So basically, you spend most of the time waiting for the car and/or the supplier. 2) this is the hardest time management game I ever played in my whole life (and boy, did I play many time management games!). I managed to get gold on only a handful of levels, the rest is silver or - more often - nothing. That's neither funny nor challenging, it's frustrating, nothing else! 3) when I finished the game (with miserable results), I wanted to replay certain levels, but what was that? You can't re-do levels after you've finished the game! The only way to replay levels is before the last level. After you finished it, the game starts over on level 1. Despite the funny, cute look and vampire/zombie characters, I can't recommend this game.
January 2, 2012
BORING TM
I wanted to like this game. I like fun TM games, but this one was not one of them. I quit the demo with 42 minutes left. I was bored with the whole game. I guess I am spoiled by R2R, MKFP etc. Am over the dash games too. So I will keep waiting for a decent TM game.
January 6, 2012
Loved it then hated it...
This game had so much potential. I play a lot of time management games and I like a challenge but this one is impossible to get a good score. The vampires walk soooo slow and the truck that takes things to the market is sooo slow and also there is no way to stop the vampires from walking into the cactus that kills them. I don't understand why you can't push them out of the way or something. It was very frustrating but I love the concept of the game so I thought if I bought the game and played longer and saved up money for upgrades that by the time I buy these upgrades I can go back and replay the first levels and get an awesome score. Well, I was smart enough to read the reviews before I bought the game and very much appreciate the people who leave such great reviews. I read that the upgrades do not change those things and that basically I'd be wasting money. I do hope that maybe they come out with a game similar to this that will play out much better as I really loved the idea of the game.
January 7, 2012
Ridiculously Slow
I loved the concept and everything because it seemed different so I downloaded it to play for the hour then purchase if I liked it....NOT!!!!....About 15mins in it's soooo frustrating, the characters take FOREVER to plant, then the carriage takes FOREVER to take to market and such so you hardly ever finish your tasks ontime to get Silver, much less Gold...ugh!....I shall be deleting this download...Don't waste your time on this game!
January 7, 2012
To enjoy it you will probably need to get over learning frustrations
I played the trial, my first thought was that it had potential. Graphics and music are good and comments are amusing. But after few levels, I realized that the "tutorial" was missing a lot of informations and instructions and you discover it the hard way (ie: Warehouse maximum capacity, Vanishing resources) and the game development is very repetitive. For EVERY level a new building or gizmo was available and we have to buy it to continue to the next level. It is annoying how quickly resources that you waited for disapear soo quickly. Some buttons were unexplained and would require a little hint
September 28, 2012
Cute game and concept, but too frustrating. No buy for me.
I loved the opening and the concepts of vampires versus zombies seem great, as one of my all time favorite games is P vs Z (not sure if I can mention that game here), but this game is more similar to Zouda farmer or the Farm Frenzy series. After the second level and unable to get gold because the vampire moves and makes pumpkins too slowly I couldn't play it anymore as it seemed too impossible to accomplish and if this was only the second level, the rest of the game would be too frustrating for me to enjoy. I think the only thing they could change is increasing the time if the characters didn't make things as quickly, but if this wasn't figured out early on by the game developers through testing then the rest of the game was only going to get worse as the levels become more challenging. The characters are really cute and the graphics and music went well with the overall theme, but with all of the great games out there, I couldn't get myself to buy this one. Sorry. )=
January 15, 2012
So Much Potential... =(
This game was recommended to me by Oscar and I can't begin to say how disappointed I was with it! Being a lover of all things spooky, the title of this game alone made me more than excited. But after the initial story boards, my excitement was already waning. Zombies are taking over the world and it's up to the Vampires (oh, and you, of course) to stop them. YAWN! But, I try to give every game it's chance to impress me, so I continued. I can't say I'm a huge fan of TMG's, but I like a good one and was still willing to give this game a shot. Sadly, I couldn't make it past the 20 minute mark. The graphics are pretty old school, the sounds appear to have come from a bad haunted house music CD and the gameplay is slow and extremely boring. I felt like a zombie myself after just playing the first few levels! So, while the game had potential, it fell short in so many areas that It sadly became a waste of time...even for a game addict like me!
August 11, 2012
boring game....
Really regret paying for the game , extremely boring and not fun at all. Certainly it has nothing to do with the farm frenzy games which I love (I thought it would be similar),
January 25, 2012
Booring!
Just like Farm Frenzy with vampires. Nothing new on earth.
January 4, 2012
Not My Cup of Tea
I usually like all the TM games that are from this company; however, this one just didn't do it for me. The graphics are great, but the controls for the characters don't seem to be all that great. There didn't seem to be a way to make sure that the main characters stayed away from the energy draining cactus. I only lasted 12 minutes and three levels.
December 28, 2011