Shaolin Mystery: Revenge of the Terracotta Warriors
Save your people from an invading force in Shaolin Mystery: Revenge of the Terracotta Warriors! Travel dangerous mountain roads, visit Shaolin temples, free a mighty dragon, and save your village in this exciting Hidden Object game! Find useful items as you search beautiful locations and explore ancient China. Will you work quickly enough to stop the Terracotta Warriors? Find out in Shaolin Mystery: Terracotta Warriors!
Visit Shaolin temples
Free a mighty dragon
Stop the Terracotta Warriors!
Game System Requirements:
OS:

Windows XP/Vista/Win7/8

CPU:

1.0 GHz

RAM:

1024 MB

DirectX:

9.0

Hard Drive:

286 MB
Game Manager System Requirements:
Browser:

Internet Explorer 7 or later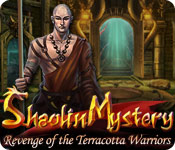 NEW299
The Big Fish Guarantee:
Quality tested and virus free.
No ads, no adware, no spyware.

Reviews at a Glance

Shaolin Mystery: Revenge of the Terracotta Warriors
0
out of
5 (
0
Reviews
Review
)
Customer Reviews
Shaolin Mystery: Revenge of the Terracotta Warriors
55
55
Awesome CE quality game at an SE price!
Love this game!!! This is a must buy. * Fills widescreen automatically. * Graphics are beautiful, story is fascinating, game play is intuitive. * No misclick penalty! (In fact you are actually rewarded for exploratory clicks... but I won't tell you how and spoil the surprise... just be sure to click on things and see.) * H0 scenes are the type that you can click and find them without using the list if you want to... at least for most of the items... which I love. * Outside of the traditional H0 scenes are the "fill the circle" type which you find the item but you don't have to fit it in the exact circle just click over the center and it fills it in for you... also nice. * Hints work outside H0 scenes. * There are also puzzle/mini-games which are perfect... not too hard, not too easy. I didn't need to skip any although I did look at the directions (optional) as I wasn't sure what to do and it took me a bit to figure out what they meant. The opening cut scene is not skippable when you reopen the game but mine said "loading" in flashing text in the bottom right corner so I think this is the way they load everything when you start in order to avoid the long loading screens between areas that some games have that are so annoying. Some won't like that you can't choose easy/hard so you are stuck with sparkles but they aren't everywhere and aren't too obtrusive. The only thing I'd wish for is that this game had voice-overs... add that and you pretty much have a CE quality game for an SE price. I hope it doesn't get missed in the CE sale feeding frenzy as it really is a wonderful game! As an SE I give it 5 stars! (I can't really knock stars for it not being a CE which is the only drawback.)
December 24, 2011
Entertaining Adventure in Ancient China
If you prefer extremely difficult games, this is not for you. However, if you want a beautiful, entertaining, and lengthy game to test your hidden object and puzzle skills, I recommend it highly. The game has two kinds of HO scenes: lists of 20-25 artistic, realistic, and well-hidden items, 2 or 3 that require an extra step to uncover. Clicking on certain objects begins the other kind of HO scene: 4 or 5 circles appear showing the pieces needed to create the object we have discovered. By paying close attention and searching each scene thoroughly, we also uncover other hidden tools to ease our journey; they are not on a list or indicated by sparkles. The constant variation adds to the enjoyment. The music is dramatic and appropriate for the ancient Orient; the artwork is colorful and imaginative. The game includes several puzzles. Most are quite simple, but a few require a bit more imagination and/or time. A help button reveals the objective of, but not the solution to, the puzzles. The journal includes a map indicating our location, available HO scenes, and rooms left to uncover. You can easily play the game without using the map. The game ends with a ?To Be Continued? teaser, so I look forward to the next game from this group. It is nice to play a game this sophisticated that is not a Collector?s Edition. My only, very small, complaint is that we have to watch the intro cut scene each time we start to play. Once is usually enough.
December 27, 2011
Dragon's Legend at Christmas Eve
I enjoyed this game so much I didn't want it to finish. The story line is original and different than usual.The puzzle are not too challenging or frustrating. Beautiful and colourful graphics, nice work! I discovered new objects with the HO and I like the system of looking for different parts to built a useful object.Play it twice just for the fun.No technical problem. Good game for a good time!
December 26, 2011
Not exactly a masterpiece..... !
Nothing original or outstanding in this new game which is a classic HOG with a bit of "adventure", except the puzzles. Here is what the demo enabled me to assess: - Intro and cutscenes: simple, unsophisticated - Music: not bad, but not chinese at all thus not contributing to setting an atmosphere; tends to be repetitive - Atmosphere: none - Graphics: okay but nothing outstanding here either. Some locations are a little bit better crafted than others. - HO Scenes: a bit cluttered though not overcrowded; most items are fairly easy to find, but a few are hardly distinguishable. As usual, 99% of them serve no purpose at all. In certain HO Scenes the items are given as a list with two requiring simple interactivity; in others you get their drawings in grey, in sets of circular boxes - Useful objects: easy to find and put to use; no originality here either. - Actions: not very many as the emphasis is placed on HO Scenes. All simple and totally lacking innovation. The first one already appeared in an other game !!! LOL - Hints: don't recharge very fast, but show HOs as well as what to do next. - Puzzles: the only strong point of this game. #1 is pretty original. But, beware, the three I played in the demo were tricky. That might frustrate some players. However I found them quite interesting, probably because I love and am used to puzzles of all kinds. Good news: they all have a Reset button and can be skipped after a while. - Minigames: haven't seen any - Tasks: given in the journal and clearly stated - Navigation: straightforward as the game is rather linear and backtracking reduced to the strict minimum There is no voice-over, the journal includes a map, so you cannot get lost, the storyline is average, and the overall difficulty is medium high due to the puzzles, else it is quite low. With a total of 30 locations -if my memory serves me right, and completing 8 of them in 1 hour, playtime is bound to be fairly short. As it is that "mystery" will be okay for a rainy day if you have depleted your stock of better games. It is a pity the developers didn't polish it up, nor seized the opportunity to provide us with extensive information about Qing Shi Huang Di, the story of the Terracotta Army -the representation of his army- discovered by archeologists near Beijing, or the achievements of this Emperor, as that period of Ancient China's history is quite fascinating.
December 24, 2011
Excellent game for all ages
When a game can hold the imagination of both my 8 year old grand son, his 12 year old sister, and m3 at 56, then it's well worth whatever it cost! It easy enough for the 8 year old, but hared enough for me to need their help with parts of it! This is a great game for the entire family.
December 26, 2011
Good - not great
While this game had all the elements of a really good HOG, I ended up being a little bit disappointed. Although the graphics were good I found the music score slightly irritating. The hos were well done, and I did like the addition of the ring-style on some. The puzzles were challenging but because of the lack of interaction with the characters I found myself becoming a little bored after a while. However, the game was a good length for a SE and ideal for passing away a couple of hours or so.
December 24, 2011
Fun game & not to difficult !!!
This game is fun and not one that you are trying to keep 10 balls in the air at the same time. The story is great and the mini puzzles were fun and not to difficult.
December 25, 2011
A real mixed bag
This game had a little of just about everything. Very good graphics, interesting story line, a map, testy HOS but not extremely difficult, and enough variety as to not get bored doing the same thing all the time. It's a pleasant change from the same o, same o ghost, goblins, mental hospitals and curses. So personally, I enjoyed it.
January 24, 2012
Great game
This game is very interesting and fun.. The graphics are vivid and almost realistic.. Finding the items are great and challenging they blend in so well it is almost hard to find some of them... It does load a little slow but it is worth the wait.
December 26, 2011
Entertaining
I like the game, storyline, grafic, story and so on, the only minus is ti's a short game, I finished it in just few houers
December 26, 2011