World Mosaics 5
After restoring the Atlantis World Museum you have been accepted into the Grand Pelasgian University to become an apprentice in Chronology in World Mosaics 5! Solve pictographic puzzles while learning about the origins of Mardi Gras, Oktoberfest, Chinese New Year, and other world holidays as you progress throughout your classes. Complete your courses and solve the puzzles to succeed in World Mosaics 5!
Complete your courses
Solve perplexing puzzles
Become a Chronologist!
Game System Requirements:
OS:

Windows XP/Vista/Win7/8

CPU:

1.0 GHz

RAM:

256 MB

DirectX:

9.0

Hard Drive:

35 MB
Game Manager System Requirements:
Browser:

Internet Explorer 7 or later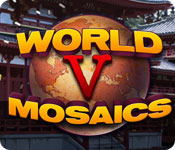 NEW299
The Big Fish Guarantee:
Quality tested and virus free.
No ads, no adware, no spyware.

Reviews at a Glance

World Mosaics 5
0
out of
5 (
0
Reviews
Review
)
Customer Reviews
ADDICTIVE GAME
I bought them all, I'm addicted to this game. Some excellent, such as 1st and 2nd, others less, such as 3rd and 4th, the level of difficulty was quite small. In 5th, the first four stages - 10x10 - are quite easy. No need hint. In the fifth phase starts 15x15, and the difficulty increases, although some are still easier. Even so, it's a game that distracts, and, in addition to have some fun, sometimes you have to think. When you start, it is impossible to stop! Only the music is pretty boring and repetitive!
February 6, 2012
A refreshing change from my usual dark & eerie favorites.
I own the first four World Mosaics, and will probably purchase this one as well. It's a very simple concept, but as you move through it can get very challenging. I enjoy these games mostly because they contain some actual "fun facts" woven into a fictitious story line, so I get to glean a little knowledge while I fritter away my valuable down time. Word of warning: As introduced in WM IV, the squares provide a count for you. I remember some fans being very upset with that feature, but I find it speeds things up a little, so I don't mind. My own tip: As one who can't stand a red X on my board, I prefer to make my mistakes on graph paper for the really hard ones.
January 1, 2012
Very addictive
Very similar to the PICCross games from Ninendo DS. If you enjoy those, you will love this. Great puzzle game with just the right amount of challenge.
December 26, 2011
I love these games!
I am a big fan of the World Mosaics series, I own all of them so far. They are a nice brain exercise that I find relaxing and challenging. I suggest giving this a try even if it isn't your typical game, it might surprise you. Two complaints. #1. The color scheme. With many of the mosaics being a similar color it's often hard to see which squares are still blank which leads to stupid errors. And #2. I miss, as in past W.M. games, a line's numbers fading out once the line is fully filled. If these 2 things could be fixed gameplay would be smooth and most stupid mistakes could be avoided. Despite my complaints I still love the game and am already on my 2nd pass through.
January 19, 2012
Very entertaining
Some how easy on the beginning, but them get very interesting. Like it
December 27, 2011
Awesome games
I have all 5 of these games and love every one of them. I can't find any other games like this but would love to.
April 12, 2012
fun game
Not as good as #4. To many 10 spot games, and only goes as high as 20, even in Bonus. It also has NO score board to keep track of times. It's fun, but not long enought
January 2, 2012
Fun Mosaics
I've just spent one hour with this game and so far it's been pretty simple but the visual quality is good and it's added a feature that some of this type game doesn't have -- it counts the boxes as you run your cursor over them. Helps in not running over and having extra errors. If I could afford it -- I would definitely buy it.
December 30, 2011
And the story of the Sea People continues.....
The story that began in the first game of this series continues in, now, the 5th. It has a great tutorial for beginners but the game has become exponentially harder as the series has continued. Graphics and sound are pretty much as in game 4 - music soothing and relaxing. Background scenes very pretty to look at. This game is centered around "New Year's". Including an entire level devoted to each of the Chinese New Year signs. You are given 6 mistakes (to make), 4 hints (to earn) and a clue as to what the sign will be. Good luck there. All in all, I wouldn't recommend this for beginners anymore. My favorite of the first 5 games is still number 4. But, we'll see if that changes as I work my way up the ladder - lol. Happy Gaming!
July 21, 2014
Overall, A pretty good game!
I find nonogram puzzles both addictive and a great deal of fun, and World Mosaics 5 was the first game of this series that I?ve tried. While overall I enjoyed it, I did have a number of thoughts about it. Briefly, a nonogram is a puzzle in which the player must determine where in the grid ?tiles? are located. A guide is provided at the head of the columns and at the left side of the rows, indicating how many tiles are in each. A simple and straightforward tutorial is provided at the beginning which will clearly instruct any newcomers to this type of game. The main game is divided into 12 subjects, each containing 12 puzzle grids pertaining to that subject. The backgrounds of each subject are interesting and relate to the topic however they remain visible through each grid which makes it a little difficult to be certain where you are on each grid. The background remains the same throughout all 12 grids of each topic. Also each topic consists of 12 of the SAME SIZE SQUARE grids. They start at 10x10, increase to 15x15 and end with 20x20. No variation at all. I found this repetition surprisingly boring. Differently sized puzzles would have added a great deal of interest to the game, and offering puzzles larger than 20x20 would also have been more entertaining. But still, I enjoyed the game. Here are my thoughts about it: PROS A large bonus area is included, consisting of 10 subjects, each with 10 puzzle grids. This is a very nice addition and gives you the chance to ?lighten up? to an easier grid if you?ve burned out a bit on some of the 20x20s. Sadly, it also suffers from offering the same sized grids over and over and over and over? There is no time limit imposed on how quickly you must finish a grid, though the game records the time you actually take. This keeps the game nice and relaxed. To fill in consecutive tiles you can hold down the cursor and slide it and the game will present a tally of how many squares you?ve opened. This is very helpful in preventing you from clicking too far. The ?hidden object? of each grid is identified on each puzzle page and once you solve the grid it develops color, allowing you to more clearly see the object you were uncovering. Interesting information is then offered about each picture. I didn?t read through them all so can?t say whether or not the information was accurate. I know this is an issue on another nonogram game. NOT A BAD THING BUT? Whenever entire rows or columns are empty, the game fills them in with push pins for you. My personal preference would have been to fill these in myself. You MUST do the puzzles in consecutive order. You can?t choose which puzzle or subject you want to work on unless you?ve already solved it once. This isn?t a bad thing but tends to make each subject a bit boring as you do the 12th puzzle in a row of the same size about the same topic. The music is mostly unobtrusive but does become boring and repetitive to the point of wanting to turn off the sound. After you?ve finished a grid you can scroll over it on the subject page and see how long it took you to finish it but you can?t see how many mistakes you made. While in a few cases I was relived about this, it would have been very helpful to see this statistic. CONS Though the guide numbers at the top and left side change from green to white when your cursor is on a column or row I often found it difficult to discern exactly which row or column I was working on and thus often made needless mistakes. A better contrast of colors (especially for older eyes like mine) might be a good idea. Also, if your cursor is on a row or column where you've already marked all the tiles, the guide numbers do NOT change color, so if you want to put push pins in the remaining unidentified squares you had BETTER be certain where you cursor is located!! I made too many mistakes because of this!! It?s impossible to stop in the middle of a puzzle and come back at another time. Thus, while you can pause the game, if you need to shut it down you will lose all progress on the grid you?re working on. There IS a warning about this but it?s frustrating nonetheless. My greatest complaint about the game is the amount of guessing that was involved. While there were MOSTLY enough clues in each puzzle to prevent having to make arbitrary moves or educated guesses, it DID happen frequently enough to be somewhat annoying. MAYBE GOOD MAYBE BAD? While you?re working on a grid the picture in it is very difficult to discern, which makes it harder to figure out what you?re trying to reveal. If you know you?re uncovering a ballerina you can use this knowledge to figure out where the tiles are but if it?s unclear, it makes it more difficult to solve. I don?t know whether this is a good or a bad thing ? since making the game harder can be seen as advantageous. You?ll have to make up your own mind. (Actually, a few of the pictures were difficult to understand even AFTER they?d been colorized and shrunk!) BIG OOPS Developers, please correct! In the DANCE category of the bonus area you meant to write the dance name ?SAMBA? but instead it reads ?SAMBO? which is part of the title of a politically frowned-upon childrens? book. Fixing this would be a good thing.
February 12, 2014
The Apple logo is a trademark of Apple Computer, Inc.