Dark Parables: Rise of the Snow Queen
Exclusive
Journey into the mythical Snowfall Kingdom and investigate the disappearance of children in Dark Parables: Rise of the Snow Queen! From the ashes of the snow, the legendary Snow Queen rises and terrorizes nearby villages with her supernatural powers. Rescue the missing children and stop the fabled Snow Queen before her sorrow brings upon the destruction of the world in this incredible Hidden Object Puzzle Adventure game!
Protect the Snowfall Kingdom
Rescue the missing children
For a more in depth experience, check out the Collector's Edition
Game System Requirements:
OS:

10.8/10.7/10.6/10.5

CPU:

1.0 GHz (INTEL ONLY)

RAM:

512 MB

Hard Drive:

556 MB
Game Manager System Requirements:
Browser:

Safari 4.0 or later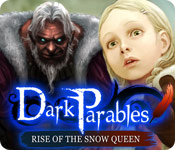 NEW299
The Big Fish Guarantee:
Quality tested and virus free.
No ads, no adware, no spyware.

Reviews at a Glance

Dark Parables: Rise of the Snow Queen
0
out of
5 (
0
Reviews
Review
)
Customer Reviews
Dark Parables: Rise of the Snow Queen
131
131
Better than Briar Rose, but still not a favorite
I'm surprised by all the overwhelming reviews for this series. Hated Briar Rose--couldn't even finish it. Had already purchased this one as well, so I went ahead and played it. Much better--the HOS more interesting, interaction with characters MUCH improved. Still, the puzzles are repetitive. You do the same thing over and over. It gets dull. Maybe if you're a strictly HOS fan, this is for you. I prefer games that give me more variety in the tasks. What kept me playing until the end was the story line. Loved it! Graphics and setting very interesting and well done.
November 10, 2012
slow start but good game
At first I bitterly despised the fragmented HO scenes but they grew on me. I didn't notice a misclick penalty so I started clicking around on anything that seemed out of place. The adventure and the puzzles were great, I liked watching locations develop as the story progressed. The puzzles were all similar but still fun. The graphics were very detailed, but gaudy and overdone. And there's no humor or wit which I need in a great game. The map is there, but it doesn't teleport you to locations and although it shows you "objectives" and "areas of interest," those aren't always helpful in showing you the next step. The hint system is the always disappointing "there's nothing to do here," so if you're stuck, you'll be clicking a lot. The game seemed short to me but I'm not sure I wanted more.
October 27, 2012
Not a fun time -
I liked the story line - the characters were believable - the mini-games were fun for the most part - but why no idea of what to do - just figure it out! Hey, I do this for fun, not a major brain think.. No, I didn't get the collector's edition because I can usually figure things out. While there was a map, only new things were shown, not anything that I needed to do along the way, and many times I had to go from one end to the other just to do a simple task. Started out playing regular game and switched to casual becaurse it was so frustrating - and after I had finished the free hour. The hints were no help at all, kept telling me nothing to do - and yet there was. Please work on this one. Not worth the money and so I"m going to just delete it
September 24, 2012
Beautiful graphics
The graphics are gorgeous in this game, but I found the storyline a bit predictable, and there seemed to be a lot of constructing of objects to do not very much. Meh. There was virtually no challenge in the HOS - in fact, the main level of challenge seemed to be wandering around to find the next HOS. There were areas/themes which could have been explored more - perhaps this happened in the collector's edition? (I honestly didn't enjoy the game enough to buy it and find out) And seriously, what was with that frog?
March 30, 2012
Confused...
I love the dark parable games so I just can't figure out why I can't stand this one. I am halfway through and I just don't think I can or want to play anymore of it because I am sooo bored! The Exiled Prince is one of my all time favorite games as it was magical and breathtaking and the developers really gave it their all and it showed but this one is just lacking something. It has great graphics like all the rest of this developers games but the storyline is rather dull and the puzzles are nothing to be desired as this developer needs to come up with some new ideas which are not putting what animal into a habitat. Those puzzles are special but not when its every single one of them. I also feel in this game I have no direction like Im just doing things to do them. Im picking up beautiful jewels just to place them 2 seconds later. I am just confused with this offering. I don't understand how a developer I love so much can produce something so boring and bland and I can't figure out how this game has so many high reviews. Yes, its visually stunning but that doesn't make a game great. Im very sad this game doesn't live up to my expectations because I love this series and was so quick to jump at the change to buy the CE of the exiled prince. I even went and bought the briar rose because I didn't realize how I could have missed out on that game the first time around and loved it but I feel like its a tedious chore trying to get through this one and the snow is just too much. Im sick of snow games and this one is beautiful but just makes no sense.
April 29, 2012
All that glitters is not gold
Clad in a wonderful, shiny armor of sumptuous graphics, with a pleasant soundtrack and stunning cutscenes, this game is in fact a highly decorated iceberg without much substance. Apart from the usual hunt for useful objects that spices things up a bit, I haven't found anything in either the HO Scenes or the puzzles which might induce me to buy this game. At least in the first two chapters since the demo doesn't give access to the rest. There are too many of these HO Scenes anyway for my taste, all highly detailed, yes, but boringly repetitive. Spending a whole hour trying to find bits and pieces of items scattered all over the place, despite their being well crafted, having to go through the same sort of search over and over again rapidly becomes very tedious, for there isn't much difference, basically, between those different scenes as they all look alike more or less. This is not at all my idea of a fun game. Fragments, yes, that's fine, provided they are not hardly recognizable and come in small amounts. There seems to be very few puzzles; those of the first two chapters, by far too simple, failed entirely to enthrall me even though they have a slight aura of originality . There isn't a profusion of tasks to perform either and all are simple, not requiring much mental effort. I would probably have liked the game better had it offered a lot less of this type of HO scenes, switched between them and interactive scenes in which you need to combine items and open or move objects, added more interesting tasks, and supplied us with a set of good puzzles and minigames. So, where is the challenge in all this ? I didn't find it. As for the storyline, nothing off the beaten tracks either. A sheer pity, really, for the game has a true potential that, unfortunately, hasn't been fully exploited. To me the quality of the game as it is does not justify a purchase nor a high rating.
January 3, 2012
Slow gameplay
I'm sure this game has a great story line etc, however i couldn't stand how long everything takes, e.g. the unlocking of doors, the cut scenes, just the general pace of the game. I also didn't like that a lot of the screen play's don't allow for close ups - and the cursor is so big that you click on a large area that says all the same hints. - gives it a very simple theme rather than detailed. I stopped playing after 15mins. maybe if i had played for longer I may have gotten into it, however I was bored.
January 9, 2012
Kids game?
This game seems to have the storyline and difficulty level geared towards a 6th grader (no offense to 6th graders). It just seemed kind of childish and the graphics were pretty choppy and of poor resolution. I got through level 2 or 3 and decided to stop playing. I have found that if a game isn't good by then, it's probably a lost cause.
April 7, 2012
Not my kind of game
This game has the kind of H.O. games that show you pieces of things you have to find in the scene and then adds the completed object to your inventory. I very rarely find a game where this kind of H.O. is fun. This one is not one of the fun ones. If you like this kind of H.O. games or the other Dark Parables games, then you will probably like this one, but I am going to pass. The storyline was slow moving and so was the progress through the game. I played the trial game and was glad when the hour was up.
January 5, 2012
Doesn't live up to previous Dark Parables releases
Unfortunately, I don't think I can say one good thing about this game. There were constant cut scenes, it was short, the puzzles were terrible (far too easy and pretty much all the same). Also the plot was transparent and boring. Maybe I'm being harsh or asking a bit much of a HO "adventure" game, but I feel like this was just a cut and paste job slapped together in a couple of days.
February 1, 2012
The Apple logo is a trademark of Apple Computer, Inc.
The Windows logo is a trademark of Microsoft, Inc.