Strange Cases: The Secrets of Grey Mist Lake
Exclusive
Discover the Secrets of Grey Mist Lake! FBI Agent Claire Ellery has discovered another Strange Case and she needs your help to get to the bottom of a set of strange circumstances. Explore a town only spoken of in legend in this incredible Hidden Object Puzzle Adventure game and save the day. Dive into Strange Cases: The Secrets of Grey Mist Lake and uncover an incredible story with shocking twists!
Explore Grey Mist Lake
Uncover shocking surprises
For a more in depth experience, check out the Collector's Edition
Game System Requirements:
OS:

10.5

CPU:

1.6 GHz (INTEL ONLY)

RAM:

1024 MB

Hard Drive:

306 MB
Game Manager System Requirements:
Browser:

Safari 4.0 or later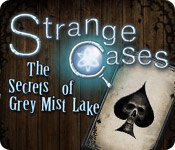 NEW299
The Big Fish Guarantee:
Quality tested and virus free.
No ads, no adware, no spyware.

Reviews at a Glance

Strange Cases: The Secrets of Grey Mist Lake
0
out of
5 (
0
Reviews
Review
)
Customer Reviews
Strange Cases: The Secrets of Grey Mist Lake
50
50
Unusual Game
I like this game interesting people you meet , the hint button not as helpfull as it could be you keep going back to the same place for the HOS The one thing that was very good even excellent was the ending very good I sat there and had to think what I was surpose to do most unusual have never seen an ending like that before.
February 6, 2013
quick fun game
Had a good time playing this game on Big Fish Unlimited. I thought having the find the card before you do the HOS was a nice touch. The ghost made the story more interesting. Sometimes I had to click on an item more than once before it would recognize my selection. The storyline is a little hoky but fun. Other than that I really enjoyed the game and would play it again.
December 22, 2012
Good game. Imaginative.
Don't like it when HOS objects are hidden in shadows unable to see. Graphics were OK. Good story line.
July 24, 2012
Need a quick relaxing play?
Insomnia and convinience told me that this game might just be interesting. The beginning was slow during the trial, but as I started to get further along it started to become a little bit more interesting. I thought this game could only get better. I will say that some of the visuals in the game and story leave you with a little peekaboo if you're easily startled, but towards the end I realized that that was all I was really getting out of it all. I did enjoy the puzzles and the games and the HOS went quite simply. I haven't played any other strange cases, and so far it really doesn't intrigue me to try the others. I might have tried the wrong one, but I do like the paranormal in the ghost area. So, if you like bumps in the night with a little quick relaxing game play on top of it and you're not really thinking about caring about a storyline, then this should be the game for you. I hate to give it such bad reviews, because it wasn't the worst I've ever played (obviously I thought it was going somewhere since I purchased it,) but if you really want to know where it stands ... wait until it's on for 2.99 and you've got the right game. :)
November 25, 2011
Good length, clunky game play
First the positives: 1. The game was nice and long, so there's your money's worth, if the length is important to you. I bought it a week ago and just now finished. 2. There was a good variety of puzzles, beyond the HOS portions. 3. The HOS often required an item from inventory to complete - that may not be a positive for some people but to me it made the hidden object gameplay more interactive and less junkpile. 4. The hidden objects did not contain anachronistic items in the searches - historical inaccuracies bug me. And the negatives: 1. The art was so-so, making the HOS sometimes a problem. Sometimes a syringe didn't look like a syringe. 2. The load up between scenes would sometimes black out completely and I could not go forward or back, but had to back out of the game and come back in - come to think of it, maybe that's why it took a week for me to finish. 3. The HINT button, even on the easiest setting, took FOR...EV...ER... to reload. And the hints were worse than useless. For instance, on one screen, if I was puzzled about where to go next, the hint would indicate an action THAT WAS UNAVAILABLE UNTIL THE END OF THE GAME. Or it would highlight an area with a note "Nothing to see here". Completely useless. Oh, and I had to use the walkthrough a lot more than I would like because the next action made absolutely no logical sense. 4. I hate voiceovers - you could click through them but the acting in most voiceovers makes me crazy. 5. The story was actually a little boring. I bought the game thinking that the story had potential but it put me to sleep - literally. I fell asleep several times while playing and had to quit. A good story will keep me engaged even if I'm exhausted. So some people may enjoy this game but I had to force myself to complete the game in order to give it a fair review.
December 11, 2011
Good game with too many "howevers" for my taste
Review after finishing the game: The Good: + Graphics vastly improved over Part 2 + good videos + voiceovers (however: not for all characters, couldn't they find a child speaker?) + starts out scary (however: the witch loses her scare factor very soon) + as usual you have to earn your search list for hidden object scenes... The Neutral: o ...however: you only search by word now - no more fragmented or picture scenes o had to give up frustrated on two riddles (two slider puzzles) o some micro lags, especially in the main menu The Bad: - guidance through the game sub par, and becomes more confusing as more areas open up - -> it's not a good sign when you have an empty inventory and you have to run around like a headless chicken trying to find a scene with something to do - hint system outside the (skip-able) riddles and hidden object scenes useless, since it usually just repeats the text from the card below Bottom Line: Good sequel with better visuals and less diversity than earlier games in the series. Still recommended, but I wouldn't hold it against you if you are waiting for the Daily Deal.
December 4, 2011
DD or free coupon only - poor sequel
It's been too long since I've played the others for me to compare them but I do remember really enjoying lighthouse (first one) thought second one was good but not as good as the first one (? ) but think this could be the worst but I still mostly enjoyed it as a filler game. I felt the plot was tied up at the end of the game - I was satisfied how it ended, there were no loose ends. The graphics in the first game were very good this looks like it is a far older game than the the first one with some of the graphics but they are OK. The plot is that you are trying to rescue your fiance from a witch and along the way you have individual stories (which are the chapters to the game) from ghosts you are trying to free from the witch spell which was good. It's a simple straightforward game although some things like the inventory bar is at the side, and using your torch is a bit different. It's heavy on the HOS with a quite a few very easy puzzles (once you get past the weird first puzzle) that most are very quick to do. 28 Hidden object scenes I always loved how this series does the HOS but here you only find one card in a scene which then unlocks the list for you to find the items. You usually need an inventory item in the scene as well. They are all list type, and mostly non junk but in the very cluttered realm. I enjoyed the scenes although there are some very small items, but they were quite well defined. There is a random click penalty. There are no sparkles on the HOS but as you repeat all of them once (you play each scene twice) you have to remember to go back and click on them. 22 puzzles The puzzles were a bit weird as they were mostly so very easy once you get past the snake head which was tricky in execution. All ones you have seen before or so slight variation on it. jigsaw,simon says, swap items to be correct, click in right order, rotate tiles, gear, find right sequence, add up numbers, tic tac, match pair but there were a couple that may take a while. There is a choice of two hardness, hint just takes ages in the hardest which I played. No sparkles on HOS or items but sometimes there were sparkles on puzzles you had activated. There is no transporter map and I don't think you had much more than about 6 back arrows, it was all very contained and I don't think you could get lost so I think *people who love a lot of HOS, don't mind a fair few easy puzzles but don't like wandering about that much, and don't like getting lost will like this game. It's not long it's under 4hrs (about 3hrs 40mins) and I didn't skip any puzzles etc or dialogue but the other two games were short as well. Although I had quite a bit of fun playing something a bit different, even though the plot was nice, it just felt like a really old game and sequels should get better and I thought the plots in the other games were far better. So my recommendation is not to spend full price on it but if you are like what I said earlier then pick it up a DD. Which is why I'm not giving it an active recommendation but check it out if you like * what I said earlier.
January 15, 2013
Fair game - not much to write home about
Good graphics, fun storyline, but it is an average game. Nothing special about it.
November 24, 2011
Lazy Sunday Kind Of Game
GAME COMPLETED A FEW TIMES This game has two features that stop it from being just another HOG. As in all the Strange Cases series (this is number 3 of 4), access to (LIST) HO SCENES is only granted after you find the TAROT CARD in the scene. In order to find it, you usually need to perform some action with an inventory item on another item in the scene. A nice change. As well, you get a FLASHLIGHT that you can keep for the whole game that lights up the ominous shadows that hide RUNE STONES. These are needed in various rituals. Otherwise, this game is basically a VERY ORDINARY HO ADVENTURE, with VERY FEW PUZZLES. Although they do vary a good deal in difficulty. The problem with this game is the GRAPHICS. Even a few years back, when this game was released, they could not have been considered all that special. They are often DARK, sometimes MONOCHROMATIC, all of them GRAINY & CLUNKY. It makes some of the objects difficult to see and does interfere with the enjoyment of the game. With NO MAP, and an unhelpful HINT, getting about can be a bit challenging/frustrating. Quite a lot of the GAMEPLAY does not seem to follow logically from one action to another. And the PACE for most of the game is very slow. Still, because more head scratching is required, the game is quite LONG, and it does suck you in eventually. The STORY is UNORIGINAL; there?s a car crash, your boyfriend is kidnapped and taken to a strange town that disappears and then reappears, and you are aided by ghosts who are doomed to stay in the thrall of an evil witch, unless you can complete their earthly tasks for them. This game might have been worthy of a higher rating in its day, but now, it can?t compete. Yet still, I did enjoy replaying it ? even though the eyestrain gave me a headache.
June 17, 2013
Not so great
It started off interesting but the HOG part of it was not fun to play.
November 26, 2011
The Apple logo is a trademark of Apple Computer, Inc.
The Windows logo is a trademark of Microsoft, Inc.