Lost Lagoon 2: Cursed & Forgotten
Escape from a mysterious and dangerous island in Lost Lagoon 2: Cursed & Forgotten! After waking up shipwrecked, you realize that you have been cursed by powers beyond your understanding. Break the curse quickly because malevolent islanders lurk in the lush landscape and are dead set on making you their next victim! Find a way to return home before it's too late in Lost Lagoon 2: Cursed & Forgotten!
Break the dangerous curse
Avoid the islanders
Escape from a mysterious island!
Game System Requirements:
OS:

Windows XP/Vista/8

CPU:

1.0 GHz

RAM:

512 MB

DirectX:

9.0

Hard Drive:

208 MB
Game Manager System Requirements:
Browser:

Internet Explorer 7 or later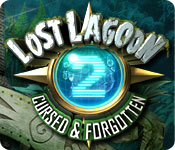 NEW299
The Big Fish Guarantee:
Quality tested and virus free.
No ads, no adware, no spyware.

Reviews at a Glance

Lost Lagoon 2: Cursed & Forgotten
0
out of
5 (
0
Reviews
Review
)
Customer Reviews
Lost Lagoon 2: Cursed & Forgotten
42
42
Back in the Tropics
This is a second installment of the same vein as Lost Lagoon 1. The heroine on her sailing boat discovers an island. Suddenly something mysterious happens to her and she wakes up on a beach before being thrown into a pit by the natives, who, apparently, want to either sacrifice her or turn her into a juicy stew, well we don't know...either way the idea is to just get out and probably solve the mystery. The tropical scenery is well rendered, simply but with neat hand drawn and highly colorful graphics. The intro is simple too but not bad at all and backed up by tribal music. Later the in-game soundtrack is quite nice and appropriate to the idylllic atmosphere of a place by Latitude 10 Degrees (or so). The cutscenes are of similar quality. The voice-over is quite natural, the comments well-worded and the heroine's voice very feminine and most pleasant. As the game is partly an adventure, you have useful items to find and tasks to perform. No difficulty here, everything is starighforward and linear. Puzzles come up every now and then, not all devoid of originality, and on the whole not difficult. Some are bit more interesting and challenging than others. All this could have been the premise to a captivating adventure had it not been spoiled by the HO Scenes. First there are too many of them. Then, they are all junkpiles. The funny thing is that the developers had enough sense of humor to admit it indirectly: as HO Scene #1 starts off, you hear the heroine say, I quote: "What a mess ! I hope there's something useful in all this trash". End of quote. Consequently, and naturally, many HOs are hard to spot and all are irrelevant to the story. I noted a few weird and funny things as I played the demo. One relates to the useful items and artifacts and how you obtain a few of them. The other concerns the HO Scenes: for instance, you see artist's paintbrushes.... on an island inhabited by primitive tribes. LOL They probably ate more than one tourist before... That said all HO Scenes are interactive; HOs are given in the form of lists when the scene is full screen, as black silhouettes in a pop up window, the size of which doesn't make the search any easier. Hints are generous with HO Scenes on the easier of the two Modes, recharge fast, and also show you what to do next if there's something to do, else they just indicate that...."there is nothing to do in this location". Misclicking too often causes a temporary deconnection of the cursor. That doesn't last long though. I am not sure of how enthralling the storyline is, nor how long the game lasts; if it has as many chapters as it predecessor gamelength should be decent. To conclude, I would say that this game is perfect for younger players and HO lovers who want a bit of adventure. For gamers like me, who prefer true adventures and a good level of challenge, this Lost Lagoon #2 is basically fine for a rainy day if there is nothing on TV and belongs to the 3 or 3.2 star category.
December 31, 2011
Nice straightforward HOG
This review is based on the 1-hour demo, which I played in easy mode. There are 2 different gameplay modes. There is only the custom cursor. There is voice-over. There are 2 different types of HOS (hidden object scenes): One is the normal kind, where you find objects from a list of words, with some objects that are interactive. The other one gives you silhouettes from which you have to guess the object. This one will only give you one silhouetted item at a time. There are quite a few HOS following each other, and in easy mode, the iHOS give you sparkly nudges for the interactive objects. Puzzles can be skipped. The HINT button refills reasonably fast. It can also be used outside of the HOS. The SKIP button takes a little longer to fill. The graphics are a little rough, but not bad. Gameplay is pretty much straight forward - not much brain power needed. --- --- --- This is a nice enough game, but I wasn?t really excited about it.
December 31, 2011
It's a NO BUY for any price.
This game was poor! 1 because the voice overs didn't match what was displayed on the screen as to what i was reading.2 because you had to figure out so many stupid things. i don't want my hand held all the time during a game but to be frustraited as to what i'm supossed to be doing where and with what,stinks. 3. Not enjoyable to play! Gave me a headache. Again it's like torture trying to play this game.
February 20, 2012
Must be for children
This game was way too easy. The objects weren't hidden at all. They were so obvious that I clicked on things without looking at the list and usually got them right.
February 21, 2012
A no buy for me
this is a mix of HOS and silhouttes to find, some challanging. 2 modes, tutorial and hint button available. music annoying, plot elementary. I only did demo try it for yourself.
December 31, 2011
Lost Lagoon 2: Cursed & Forgotten
I found this game slow, very slow when moving from one scene to another. Closing a puzzle after solving it was also very slow. I like most of the mini games however there was not much info on how to do them. The HOS left a lot to be desired. Wish I had not bought it. I did downloaded it twice to see if the slowness was from that. Both played the same slowness.
January 4, 2012
Boring Hidden Object Game
I was OK with the game, but deleted it as soon I realized besides hidden objects there were silhouettes you had to find. I don't care for finding objects that are already pictured or silhouettes. I always seem to go back to Peggel Nights, but cannot find any game like it. Any suggestions for a regular arcade/pinball game?
January 1, 2012
Unrelated
This game was not very logical. In several places things were hidden in completely random, unrelated places. The only way to find them was to run the cursor over every inch of the screen. I like a mental challenge but this game didn't seem to follow any rhyme or reason. Near the end there is a place were you have to follow a path that is blocked by brush. You have an axe in your inventory but can use it. Instead you have to find a shovel to use. For brush? Not the axe? Strange.
June 2, 2012
A nice time killer
Cartoon like but clear graphics. Decent length, as it took me about 2 1/2 or 3 hours to complete the game. The game is a mix of hidden object and adventure. The HOS have areas of interaction. The problem comes in that the hint button doesn't tell you what to do with the object you need to interact with and if you do figure it out, you wind up second guessing yourself because it will only accept your answer if you click "just right." The music I found was soothing but did get repetitive after awhile. The woman's voice when she spoke (fairly rare) was annoying and reflected poor judgment/intelligence in her statements. Puzzles were easy to medium in difficulty. Skip button available if you get frustrated or don't want to play it. Skip/Hint buttons take about 1 minute or so to refill. Overall a good game, just not great. Worth a credit.
January 4, 2012
Seems incomplete.
The music was a little irritating (but tolerable), the story line seemed to wander and you never could get into it (don't want to be too specific and ruin it for anyone), and the ending left you feeling like you must have skipped something and missed part of the ending. The graphics are pretty good but the voice over says things that are not printed on the screen for you to read. All in all, I sure wish I had not wasted a credit. The demo ended at an interesting point so I bought it....oh well. Sure left me with the feeling I hadn't finished the game. Weird.
January 2, 2012