Lost Lagoon 2: Cursed & Forgotten
Escape from a mysterious and dangerous island in Lost Lagoon 2: Cursed & Forgotten! After waking up shipwrecked, you realize that you have been cursed by powers beyond your understanding. Break the curse quickly because malevolent islanders lurk in the lush landscape and are dead set on making you their next victim! Find a way to return home before it's too late in Lost Lagoon 2: Cursed & Forgotten!
Break the dangerous curse
Avoid the islanders
Escape from a mysterious island!
Game System Requirements:
OS:

Windows XP/Vista/8

CPU:

1.0 GHz

RAM:

512 MB

DirectX:

9.0

Hard Drive:

208 MB
Game Manager System Requirements:
Browser:

Internet Explorer 7 or later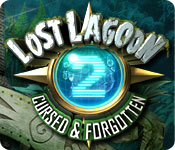 NEW299
The Big Fish Guarantee:
Quality tested and virus free.
No ads, no adware, no spyware.

Reviews at a Glance

Lost Lagoon 2: Cursed & Forgotten
0
out of
5 (
0
Reviews
Review
)
Customer Reviews
Lost Lagoon 2: Cursed & Forgotten
42
42
lazy hazy Sunday afternoon, let's go play at the Lagoon !
Nice, easy on the eyes, not too much brain drain, game ! Enjoyable to play, colourful, pleasant sound effects, a joy !
January 28, 2012
Unrelated
This game was not very logical. In several places things were hidden in completely random, unrelated places. The only way to find them was to run the cursor over every inch of the screen. I like a mental challenge but this game didn't seem to follow any rhyme or reason. Near the end there is a place were you have to follow a path that is blocked by brush. You have an axe in your inventory but can use it. Instead you have to find a shovel to use. For brush? Not the axe? Strange.
June 2, 2012
First hour was correct and then...
This review is based on the entire game ! It's an important information because it's as if you had 2 games in 1. The first hour is correct. Good graphs, good HOS, very easy but well conceived puzzles and interesting story. I want to go farther and to know more...then BANG... here come the "Twilight Zone" ! The game changed enough to pull me out ! The story became weird because of one supposed dream and the good things went bad ! The HOS became cheaper, the graphics quality goes down, the story became confused ... and that's where I began laughing. The whole thing was not credible anymore. The first game was ok, very easy but fun. Not this one. I played till the end and nothing good went out of it excepted my laughter. Somebody surely was cursed and i'm going to try to forget the whole thing :-|
February 7, 2012
Lost lagoon 2
This game has many dialogue mistakes for example..... Spray = Aerosole can Balloon = fire extinguisher Judge hummer = gavel In ian = Yin yang symbol Ears = wheat stalk None of the other reviewers mentioned these errors. If that doesnt bother you, you may enjoy this game I didnt Music was just ok, not to annoying. I dont recommend this game
January 7, 2012
Just couldn't get into this...
There was just no substance to this game or even a distinctive storyline. The mini puzzles and finding clues were difficult and there were many hidden object puzzles, almost to the point of thinking "oh no, not another one!". Plus the ending was so airy fairy you are left wondering. It's the only game I've regretted buying, sad to say, and is definitely not worth the price,
January 5, 2012
Pretty dull
I only played the demo, and struggled to pay attention through it. It was initially nice to see a HO game that was not set around death in a mysterious mansion/town but quickly I realized the game presents little challenge. (Except for a few hidden objects that are ridiculously invisible, even if you use a hint, you can't really see them, that is just frustrating) There's just not that much going on. I played it in the harder mode, maybe I shouldn't have. There wasn't any rhyme or reason to the searches or sensible connection between the locations. It didn't make sense, it was like a make work project, like in one case you need to find a stick to use as a lever to move some stones....so you find a stick, move 2 stones, then the stick breaks and you have to find something else to move the rest of the stones. Ugh. That's where I checked out. I didn't even play the full demo time. I always play without sound, so I can't comment on that. Not a good way to use my leisure time.
January 1, 2012
so so game ( ok for beginners )
Lost Lagoon 2 just doesn't make it. It is a junkpile HOG with some interactivity involved. The worst parts are the sihouette finds. Unlike the Nevosoft games ( Mysteryville ) all the silhouetted items are plainly visible. The player is asked to find 6 items and then the last goes to inventory. If the 6th is visible, why the need to pick the other 5? The HOG scenes require the use of one item to find another and some are clever but that's about the only thing this game has going for it. Someone new to the genre might find the game appealing but with so many good to great games out there, including a few of recent vintage, Lost Lagoon 2 will soon become cursed and forgotten.
January 1, 2012
Couldn't get pass the hammer
The game really can't be reviewed because everty time I get to the hammer the computer freezs up. I tried to go down the path to the right first and go back to the hammer but no luck still freezes. Its a shame because the hidden objects were fun. If they can fix the clitch might be fun.
January 1, 2012
No - Just No
Based on completion of demo: This is a very playable game. The storyline is week. The hint button, while it does take a while to recharge, is not very helpful. I dislike a game where the hint button merely says "there is nothing left to do in this area" because you can end up going in circles unless you are very intuitive. This game is so boring my wits were sleeping. The HOs were difficult in that it was difficult to find items. There were 2 kinds of HOs - find the items listed and find the silhouetted items. It just plainly wasn't fun. I dislike doing this as I prefer to give every game the benefit of the doubt but not in this case. Certainly play the Free Trial, all you have to lose is an hour. But, this Glam-ma says run for the next cave!
April 17, 2014
insipid and tedious
I struggled to get through enough of this game to rate it, and I can't take anymore. It's so easy as to be painful, so boring that it is a chore to play, so dumb as to have wooden frogs hopping around a "real" jungle. And isn't it amazing that everything is right where you need it? You mainly go from hohum hidden object scenes and dreadful silhouette hidden object scenes. Maybe this was supposed to be for kids? Anyone with half a gamers brain should skip this one.
February 7, 2012