Monument Builders: Eiffel Tower
Exclusive
Travel through time and witness a historic construction in Monument Builders: Eiffel Tower, an amazing Time Management game! Travel through the streets of 19th century Paris and visit the incredible construction site of the famous Eiffel Tower. Improve the surrounding neighborhoods for the world expo, provide parts to the construction site, develop the local economy, and improve the roads so it's easier to transport materials in Monument Builders: Eiffel Tower!
Manage the construction site
Keep your workers happy
Finish the Eiffel Tower!
Game System Requirements:
OS:

10.4

CPU:

800 Mhz

RAM:

256 MB

Hard Drive:

119 MB
Game Manager System Requirements:
Browser:

Safari 4.0 or later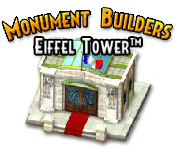 NEW299
The Big Fish Guarantee:
Quality tested and virus free.
No ads, no adware, no spyware.

Reviews at a Glance

Monument Builders: Eiffel Tower
0
out of
5 (
0
Reviews
Review
)
Customer Reviews
Monument Builders: Eiffel Tower
58
58
Not too bad
Each level has different goals, which kept it interesting. What I found frustrating was trying to remember whether I needed to build a foundry or a quarry to get the supplies I needed! I thought it was cute that the bank gave a constant supply of money to the company office, though. The game gave trivia about the Eiffel Tower, which was interesting. Overall, just not worth the credit to buy this game. Even during the demo, it just became rather repetitive.
December 27, 2011
try it but don't be fooled by the first few easy levels.
Just wondering how many people gave up on this game before it got good. I almost didn't download it because of the negative reviews. The hour trial doesn't even give a hint of how challenging some of the levels are and if anyone says they got to level 4+ on the trial then I don't know how cos I've been playing for a couple of days now and I'm still on 4-3 (and stuck btw) Although there is not the variety of commodities to make like in farm frenzy and not as many building types as in some other TM games, the challenge in this is a logic puzzle and not a speed click thing. Although you do have to be smartish on some of the levels. All in all it doesn't deserve the slating it got in those first reviews and I suspect that some of the reviewers didn't give it a chance.. it's thumbs up from me.
January 5, 2012
Could have been better
Graphics are OK but don't expect too much. Repetitive music, as well the game play. Lots and lots of clicking, less strategy. If you're bored, it will be OK to play. Not sure if I'll buy. Scale 1-10, I would give it a 6.
December 27, 2011
Cute, Easy Game
I like this game a lot, but I have to say that it is probably not for die-hard time-management addicts. I suck at most time management games, probably because I'm terrible at multitasking, and the few others I've tried were too stressful to be fun after the first few levels. This game is much easier, particularly since you can move on to the next level as long as you finish, even if you finish late and don't have a great score. The concept is cute, and I like the Eiffel Tower trivia. The graphics are attractive. I've noticed that sometimes an alert graphic will pop up in a funky place around the center of the screen, which is a little annoying. The pause between levels seems rather long. Overall, I would recommend this as a nice game that's something different for those of us who don't usually play time management games.
January 3, 2012
Easy building game
This is similar to Roads to Rome, etc., but with a Paris theme. You are building the Eiffel Tower, one small piece at a time. You have to repair roads and clear debris at the same time. It does take some strategy, though - deciding what roads to clear first and what factories to build - some you need on certain levels, some you don't. You sometimes can find supplies lying in the road, or you can buy them if you don't want to build a factory to manufacture them. Decisions, decisions! However, I was able to finish all gold in the 1 hour demo, so I would not say this game is too difficult, at least not in the start. Like other reviewers, I found the music and the slowness of the carts somewhat tedious. If I decide to buy this, I will probably turn the music down. It's definitely going on my "maybe" list - I always wait for a sale ;) I would like to see more in this series with different structures being built, or maybe a compilation game with different world monuments.
January 5, 2012
badly executed time management
I was very happy to see a time management game based on building the Eiffel Tower. As soon as I downloaded the game I was turned off by the VERY poor graphics. This game is slow, the graphics are appalling and the only good thing about it was facts on the tower. Iwould not buy this game for 6.99, 4.99 and still it would be just a maybe at 2.99
December 27, 2011
Pitiful
The most fun I had with this game was when I deleted it after about 15 minutes I had all I could stand. This game has the worst graphics I've ever seen they don't even look like they are complete they are all pixel looking even the custom cursor looks that way they are the worst graphics that I have ever seen. The game looks like it was just thrown together overnight. I'm a huge fan of time management games and I hate to be so negative to one of my favorite genre's but this game is pitiful and should never even make it to the daily deal. This probably could have been a good game and I appreciate the effort the dev's made but sadly this game is an epic failure and one of the worst games I've ever tried.
December 27, 2011
Interesting Game
I enjoyed this game. I must say the level of challenge was not particularly high but sometimes that is nice when you want to have some fun. I also liked that it was educational with all the information about the Eiffel Tower included within the game. If the Eiffel Tower is ever a Category on Jeopardy, I'm ready! I was able to get gold on all the levels except the two where you have to do a great deal of clicking to kill some thieves. All that multiple clicking is difficult for me, makes me lose all the sensation in my fingers. However on the whole it was not a major click fest as some of these games tend to run. The levels were repetitive at times but each one had its own set goal and gave you something to work for as I enjoy those type of challenges: here is your goal now go accomplish it. I have played better games in this genre and I have played worse. I'd say this one is good if you are getting tired of all the HOGs and need a break. Enjoy!
January 24, 2012
A Build a Lot wanna be
Pretty slow game play, and clearly a simpler version of Built a Lot or Royal Envoy type of game. Graphics were pretty simple, and just wasn't as fun as games of its type.
December 27, 2011
Not too bad
I've read the other reviews, and I didn't have any of the graphics problems some people complained about. For a small game, (80 Mb), it's not bad quality and good to while away some free time. Game play is easy to understand, and as another person mentioned, the levels have different things to do so it's not boring. I haven't decided to buy it yet, but might. The historical info is interesting too and music is varied enough to keep that aspect tolerable. I've only played a few minutes so far.
December 30, 2011
The Apple logo is a trademark of Apple Computer, Inc.
The Windows logo is a trademark of Microsoft, Inc.