Curse at Twilight: Thief of Souls Collector's Edition
After being summoned to a mysterious manor, you must unravel the story of an ancient evil and discover your destiny before it's too late in Curse at Twilight: Thief of Souls! Unlock memories from the past and solve intricate puzzles to break the webs of a curse. Explore a magical world beyond your imagination that has been waiting for you to save it. Experience Curse at Twilight: Thief of Souls, a stunning Hidden Object Puzzle Adventure game!

This is a special Collector's Edition release full of exclusive extras you won't find in the standard version. As a bonus, Collector's Edition purchases count toward three stamps on your Monthly Game Club Punch Card!

The Collector's Edition includes:
Bonus gameplay
Integrated Strategy Guide
Wonderful Wallpapers
Game System Requirements:
OS:

Windows XP/Vista/Win7/8

CPU:

1.0 GHz

RAM:

512 MB

DirectX:

9.2

Hard Drive:

133 MB
Game Manager System Requirements:
Browser:

Internet Explorer 7 or later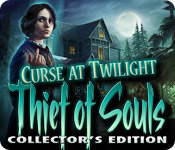 The Big Fish Guarantee:
Quality tested and virus free.
No ads, no adware, no spyware.

Reviews at a Glance

Curse at Twilight: Thief of Souls Collector's Edition
0
out of
5 (
0
Reviews
Review
)
Customer Reviews
Curse at Twilight: Thief of Souls Collector's Edition
135
135
I Don't Like Fragments!
The music is fine, graphics are great (with a darkness/lightness adjustment at the beginning of the game). Story line is good also. The hint button will not help you find any fragment of an item that you need to use in the game (i.e. a book or a pair of scissors). You also cannot get any hint from the SG. This is fine if you have bought the game, but if you are trying it out, could use up alot of the alloted time. Its a pretty good game and I have not gotten it all figured out during the trial (which I usually do). You WILL use your sneakers ALOT...but that's okay. Will definitely purchase this one, if for no other reason, to figure out the mystery/story.
January 4, 2012
A little of everything
I enjoyed the promo very much. I plan on buying the full version.
January 3, 2012
An Average Game with Nice Graphics
The storyline is simple and unoriginal. Your mission: escape a manor in which an evil spirit has trapped you and take Sarah [a ghost] with you. Just as unsophisticated is the intro, although the voice-over isn't bad and sounds fairly natural. The in-game music is soft and not unpleasant. The graphics, though not exactly outstanding, are well drawn and nicely colored. The game is more an adventure than a HOG as the emphasis is placed on tasks. These are all simple, unimaginative, similar to those you see in many other games such as.... fixing a broken bridge. Most useful objects come in fragments scattered all over a scene; you need to find them and assemble them. There are not that many per scene and none present any real difficulty. HO Scenes are few and far between, something much to my liking. They are a bit cluttered but neat enough for you to be able to spot the objects without trouble. You can collect gold coins [which actually look like copper coins !], 4 per scene. Their purpose ? each set of coins gives you a photo of the location which is then stored on the map. The advantage is that this avoids backtracking as you can navigate from one locale to another just by clicking on the photos. However, collecting them is not compulsory as you can backtrack if you wish. There is a total number of 28 locations to explore. Hints recharge fast on the easier Mode and show you what to do next. However indications are a bit blurry so I had to keep my eyes peeled to see where I was being directed. Puzzles and minigames are unimaginative, too, and not particularly challenging. There's no instruction but they can be skipped. I didn't see a Reset button. The SG lets you have a glimpse at its 7 Chapters, but the Bonus Chapter is locked. Navigating from page to page is awkward; you have to use a slider at bottom left which does not respond very well. I also noted that gameplay was not fluid, even jerky at times, which is astonishing for a 125 MB game running on my Quad Core. And something weird: in order to access the dungeon cell and then the grotto you have to go through....the first floor of the manor ! Huuuuh ??? Playtime seems short as one hour of the demo took me almost to the end of Chapter 2 without rushing and even taking time to sneak peek into the SG to see if the CE was worth it. This easy game is well suited to younger players or beginners, but may not satisfy seasoned players. In my opinion it is only worth between 3 and 3.5 stars, the CE not interesting enough to justify the extra expense and the SE should be sufficient. I suggest you try the demo and see how you like it. As for me, Curse at Twilight is not enthralling enough to be on my shopping list.
January 1, 2012
Excellent graphics ... OK game!
Hmm? Well, the graphics are amazing ... the storyline, and game in general, was lacking! The storyline was vague at best. There's no journal, so the story is told by the VERY FEW characters you come across throughout the game, so in my opinion, there wasn't really much of a storyline at all. I mean, I knew what my goal was, but I'm not sure why? There are the 2 typical modes of gameplay, casual and expert. In addition to being able to adjust music and sound volume, you can also adjust the brightness, which was a pretty cool feature. Throughout the game you will see silver, bronze and gold padlocks that can only be unlocked if you are playing the CE. It's just torture if you play the SE, so I HAD to play the CE! I should note that the padlocks throughout the game is the bonus gameplay and that there is not a bonus chapter or bonus game, just the bonus area when you unlock the padlocks. That being said, I wouldn't have purchased the CE if I had known this, but on the other hand, I'm glad I got the CE, because I referred to it often to guide me back to areas I had already been to use inventory items picked up later in the game. I would've been running all over the place if I hadn't had the SG. The SG is okay, but if you're a gamer that relies on the SG to assist in finding objects in the HOS, you will be disappointed with this SG. It is very helpful, as far as telling you which scene/area you need to go back to when you come across an inventory item that belongs in another area/scene, keeps you from going area to area trying to remember and find where an inventory item goes. The SG also assists in solving some of the puzzles, but not all. There is an interactive map that allows you to click on an area you've already been and transport there immediately, which I think is a great feature! The CE also offers soundtracks, concept art and wallpapers. The HOS are interactive and the objects are very cleverly hidden. Also, when you click on items during gameplay you must find the pieces of that item to complete it and then it will be added to your inventory. Some of the pieces you must find to complete the inventory item are extremely hard to find and I spent A LOT of time trying to find one or two pieces of several different inventory items. I found this frustrating at times. The puzzles range from easy to very hard, but I really enjoyed the puzzles. I guess to sum it all up, the storyline was, from what I could gather, pretty lame and lacking, the puzzles were challenging and enjoyable, the HOS were good, finding the pieces to complete inventory items was a great concept, but some of the pieces were too difficult to find, the SG was okay and the bonus gameplay throughout the game wasn't the best. I would much rather have a bonus chapter or game. I hope this review helps other gamers decide whether to purchase the SE or CE, if one decides to play it at all. HAPPY GAMING!! :-D
January 6, 2012
good hidden object game, but too much direction.
Good hidden object scenes, I also like how you have to revisit areas to use objects found in another. voices are annoying,plot is disjointed. The major flaw is much too much direction, e.g. you happen upon something and the game comment tells you what you need to do. I play these games to find that out for myself! The Hard level was pretty easy. I did like the rune box puzzles, but they could have been harder. In the CE the "bonus scene" is the end of the game,not really a bonus scene at all, and borrows liberally from Alice in Wonderland and Xanth. I'd give it 3.5 stars if I could, but I can't, so it gets 3 stars. Beginning and intermediate gamers will probably like this game a lot.
January 2, 2012
This one was disappointing
I bought this game immediately because I loved the graphics and the fact that it had such a mix of puzzles but it didn't take long until I got frustrated. The story is seriously lacking and there are so many holes that it makes the game a bit confusing as far as figuring out what to do next, particularly towards the end of a chapter or starting of a new one. The wooden door pieces you find after you complete a chapter are in the dumbest places and the last puzzle you do before you move on in each chapter literally makes no sense whatsoever. The one to get the rose towards the end was just plain ridiculous as was the one with the harp and moon. This was the first CE I've been really disappointed in... but thats just my opinion. If more time would have been spent putting a little effort into making the game a bit more logical it would have been so much better.
January 1, 2012
FIND YOUR DESTINY
Average adventure game. You have: * Two modes of play; * Voiceovers [at the beginning but not through the game]; * Find coins to locate pieces of the interactive map. You also have to find: ~ 1 gold lock; ~ 6 silver locks; ~ 1 bronze lock; ~ 9 pearl locks. Once you find these you get keys to open the locks. You then have to put back items. You also have to find a lot of fragmented pieces to get the item you need. You will be doing this a lot. The HOS are quite cluttered so you have to look carefully. The mini-games are easy, so you won't be hindered for long. Overall a good adventure game. I played on expert all the way through. I tried the hint at the end and it worked okay. Had a look at the Strategy Guide and all seemed okay as well. Its quite a long game which I did over the course of the week. Haven't done the bonus game yet but will do so shortly. Definitely recommended for your collection.
February 17, 2014
Oh no not again!
I found this game to be challenging insomuch as it tested my patience to the enth degree. Why oh why after completing a task/puzzle did the game make you search for random shaped/coloured fragments???? The graphics are gorgeous and the story a little more unusual than most but I didn't finish it as my patience broke and I made the dog jump when I screamed in frustration! I wish I had waited for the SE and then I wouldn't feel so annoyed.
January 8, 2012
A bit too easy...
Disclaimer: I only played the 1-hr demo :) When I first saw this game advertised I was excited, the title itself is very eye-catching. The voice acting is superb and really nice to hear, the graphic is nice and the idea of a 'haunted house' is spooky, however unfortunately almost everything is already 'directed' in the game, they tell you what to do with the item, tell you the goal, and the puzzles are relatively very easy. Not to mention loading between rooms.. when I check the SG, I am already on Chapter 3 from 7 or 8 if not mistaken and I'm only on the demo! I'm a bit concerned whether this game is going to be short.. I hope not.. Maybe I'll wait for the SE to buy this or on promotion :) Hope my review helps :)
January 3, 2012
Good for ones starting our in HOG
This game was just ok. The hidden objects were few. The hint button was very hard to see where it went too. There are objects that you have to click on to make complete which you dont even know about unless you click on it by mistake. Nice concept once you collect all the coins in the scene it gets added to the map and you can click that picture and go right to it very nice for those who hate going back and forth, Not a buy for me. Might concern when its not in CE.
January 1, 2012
The Apple logo is a trademark of Apple Computer, Inc.