9: The Dark Side
End a centuries-old war between the Guardians and the Clan of the Nine in 9: The Dark Side! Are you the Last Descendant of whom the legend foretells, the one who will stop the darkness that haunts Prague? Find out in this incredible Hidden Object Puzzle Adventure game! Take on dark enemies and solve perplexing puzzles as you explore the gorgeous city of Prague. Fulfill your destiny in 9: The Dark Side!
Game System Requirements:
OS:

Windows XP/Vista/Win7/8

CPU:

2.0 GHz

RAM:

2048 MB

DirectX:

9.0

Hard Drive:

209 MB
Game Manager System Requirements:
Browser:

Internet Explorer 7 or later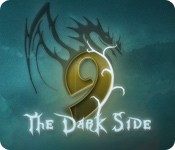 NEW299
The Big Fish Guarantee:
Quality tested and virus free.
No ads, no adware, no spyware.

Reviews at a Glance

9: The Dark Side
0
out of
5 (
0
Reviews
Review
)
Customer Reviews
Intriguing Adventure, A Galore of Puzzles, Great Storyline
This game has truly been one of the more challenging games I've played in awhile, with many different puzzles, mini-games and some HOS intermixed in-between. I needed help from the blog walk thru's a few times on some of the more challenging mini-games. I don't like games that are mostly comprised of HOS and this had the right amount mixed throughout the game. The graphics, music and voice overs were very well done and there was a few times that I was scared, because I wasn't expecting things to jump out at you. The game length was good and not too short. Overall a great quality game for the money.
January 25, 2012
An Awesome and Creepy Hidden Object Game
This is a new game but its actually very very well made.. another hit for BigFishGames
January 24, 2012
Wonderful HO Game!
This was one of the best HO games I have played. Graphics were great, mini games were more difficult, and this is one of the longest games I have played. Well worth the money. I wish more games were like this one!
January 23, 2012
Not my fav, but better than many!
I really enjoyed this game, more than a lot of these that I've played. The story was better than most, although the ending was a bit abrupt. Would have liked to see that played out more. The length was pretty good. The HO scenes were pretty easy. I played the Hardcore version with no hints and had no trouble finding everything. Did not have to use a walkthrough for any of the game but did have to skip a couple puzzles because I couldn't get them or got tired trying. There was some running around, but it wasn't too bad since things kinda' opened up gradually and most of them finished up pretty quickly. All in all a great game that I'd highly recommend.
January 23, 2012
Great Game
I really enjoyed the game, it is quite challenging. I should have played it in Casual Mode rather than Advanced because I think I would have liked it better. I found some of the puzzles quite difficult and had to skip them. Will play again.
January 23, 2012
Great for anyone who likes a real challenge!
This game offers a wide variety of puzzles to solve. They are NOT easy, and most certainly not for novices. The blog walkthrough was an absolutely necessary guide for completion, and even then I had to skip a few puzzles (something I NEVER do) simply to keep my sanity intact. Cons: Several of the later puzzles are extremely time-consuming and tremendously difficult, and some feel a bit repetitive when you have to start over if you don't get it right. Most of the voice acting is all right, but some of it is downright laughable. There are also a few spots that don't give enough direction, forcing you to use hints or go to the walkthrough to see what the heck the game wants you to do next. Once you complete the game, there's really no replay value. That may be different in the SE. I also felt the ending could have offered more of a reward after so many hours playing the game, but again, I completed the plain version, not the SE. (Side note: I can tell exactly where the extra SE content is in the game - there's a section I never gained access to, and I kept expecting to find the item that would open that gate.) Pros: This is a LONG game that will give you hours of entertainment. The graphics and music are very nice, as is the huge variety of types of puzzles. There are no penalties to using hints, and those hints are (usually) genuinely helpful. The blog walkthrough is very thorough and spot-on, which helps to alleviate any real frustration. The storyline is creative enough to be interesting, and the game overall is "addicting" enough to make you want to play to the end and see how it ends. If you're looking for a long-term game with a high level of difficulty, you'll enjoy this. If you just want something simple and fun, try something else.
January 22, 2012
Headache producing mini games!
Graphics and story line were very good. I played in hardcore mode as I like a challenge. Hidden object scenes are pretty mundane, same old same old here but it was some of the mini games which got me. Definitely some different ones and lots of them but boy were some of them difficult. Playing in hardcore mode there is no option to skip so had to work my way through as walk through not helpful as some games had no reset button. Game took me hours with quite a bit of frustration hence the 4 star rating, play in game mode where you can skip. Apart from the frustration, an entertaining and challenging game , didn't need to use the hint button. Have got a sense of achievement completing the game in hardcore mode. Will play again but at an easier level. For long time gamers who like a challenge this is the one for you. Mini Games aren't as interesting as say Return to Ravenhearst but still challenging.
January 22, 2012
Interesting.....
Great story, good hidden object scences, and relatively exciting play action. Lots of scampering to and fro, which we like. If there was any complaint.... the puzzles were honestly too hard. My husband prides himself in solving all puzzles without skipping. Dinner burned last night before I finally said "use the skip button for pete's sake". Overall we really enjoyed this game, except for the frustration on several of the puzzles. This game is recommeded especially if you are up for really challenging puzzles, or like to use the Skip button (a lot).
January 22, 2012
brilliant
This game has to be in my top ten of great games. The story line is great and just enough hidden object scenes, and I must say that the graphics are fantastic. Puzzles I found are a wee tad hard (but that's just me).
January 22, 2012
Confusing at times, but worth it !!!
This is one game that I regret not getting the CE version. If for nothing else than going down the stairs. There are surprises and fun interactive creatures to mess with. The first game to give me an expected startling moment. The HOGs are well placed and gave just enough of a challenge that I found them to be enjoyable and not boring. The lighting and detail make them visible unlike some games where you have to stare at the shadows until you grow cross-eyed to find the object. The puzzles are some of the best I have seen in a long time. refreshing to find new puzzles and not re-hashes of the same old thing. I will admidt you go into some of them blindly and it takes a bit to figure out what it is you are to do. I guess the Hint feature would help, but I refrain from using it. So I stagger around a bit. But I can tell you this, they can be solved. The music does get old. However, every so often there are sounds that break it up. The graphics are really good. The voice overs could be better. But I do not buy games for the speaking parts. Here is my downfal when comes to the following the game. If I am bored with the story line, I skip all the conversations and just find the items. I found the conversation parts to be a bit drawn out. So I would read a little and press on. So I may have missed the storyline. But what I did sit through followed along with the plot. Moving about from place to place could have been made easier with a map. But half of my fun is trying to remember where that puzzle was that I now have the item needed. It is good for our memories to have to use them now and then. So it doesn't bother me that there is no map. The objectives are clear if you need reminding. Overall my experience with the game was a good one. I enjoyed it. Like I said in the beginning, this is one game that I wished I had purchased the CE version. For my first PFG game, this is going to be another good company to follow.
January 21, 2012