9: The Dark Side
End a centuries-old war between the Guardians and the Clan of the Nine in 9: The Dark Side! Are you the Last Descendant of whom the legend foretells, the one who will stop the darkness that haunts Prague? Find out in this incredible Hidden Object Puzzle Adventure game! Take on dark enemies and solve perplexing puzzles as you explore the gorgeous city of Prague. Fulfill your destiny in 9: The Dark Side!
Game System Requirements:
OS:

Windows XP/Vista/Win7/8

CPU:

2.0 GHz

RAM:

2048 MB

DirectX:

9.0

Hard Drive:

209 MB
Game Manager System Requirements:
Browser:

Internet Explorer 7 or later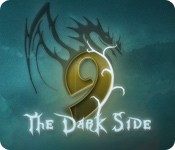 NEW299
The Big Fish Guarantee:
Quality tested and virus free.
No ads, no adware, no spyware.

Reviews at a Glance

9: The Dark Side
0
out of
5 (
0
Reviews
Review
)
Customer Reviews
Whew...!!
Wow, this is a long game! I just finished it and have to say, toward the end I was getting tired of it. It's a good game, challenging mini games, pretty easy HOs and very lengthy! I hated the music so would turn it off. Sometimes things weren't logical so I wandered around a little and I pride myself on not using hints or walkthroughs but must admit, I had to use the walkthrough a few times. All in all a good game.
March 24, 2012
Man, was this frustrating!
Just finished this game & am actually feeling cranky about it. The story is excellent, the graphics are beautiful & it was challenging even without the extremely frustrating mini games. There weren't too many ho scenes, for those of you who prefer fewer of those. You can use the hint button any time,but beware, it will tell you exactly what you need to do & where to find the object to do it with. More of an answer than a clue. The adventure part of the game is outstanding & I would give this game 5 stars if I didn't have to skip most of the puzzles. That took a good bit of the fun out of it for me. I wasn't alone with this frustration, as I saw in the forum when I went there for help. For most of the puzzles (for me), it was difficulty plus an inordinate amount of time & moves required to solve that ruined them for me. I lost interest & hit the skip button long before they would have been solved by me. One person commented in the forum that one of the games, by her count, required about 160 moves...I had skipped this one because you almost had to plot all of the moves before you made them because just 1 move to a wrong square required a "reset". GRRRRRRRRRRRRRRRRR. I will play again at some point & try to solve the puzzles--but not for a long time. I am recommending this game, but only for the very patient. :-)
May 28, 2012
A good game
I was hooked with the game, because I do appreciate a good story-line, and great graphics. However, the puzzles (there are indeed many) just bored me with the time. Sliding stones, pushing buttons, etc. and this all over again and again just in a different manner. I would have given the game a 5 star, if it were not for the puzzles. Some people might like this sort of mini games, but it just gets boring. I would have appreciated some more creativity. Despite that it's a good game. Not the best I played, but above average.
March 18, 2012
Just like the title says...
It takes 9 medallions to destroy the dark side. A lot of puzzles and backtracking to get there. No Map. Graphics and sound were solid and go very well w/ the game. Very good storyline which makes this a good game. Plz don't 4get 2 post ur fav game after writing ur review, so others can chk it out, as I do. ty game on gamers...
May 17, 2013
Defeat the forces of evil!
Looks like you're the chosen one, the "Descendant" who can defeat the Evil that has plagued the city of Prague in the 14th century. Nine ghostly figures in nine locations must be appeased before they give you their magic amulet/medallion. They ask for things like wine, a sign of death, a sign of life. Hmmmm, so if they're so concerned about saving the city, wouldn't they just GIVE you their medallion? Anyway, you have to gather nine of these and place them at the table at the top of the red carpeted stairs before you can get the "Artifact" to defeat the Evil. The art is quite good, the music a bit too repetitive (lots of lightning crashes) as you plod through the rooms of the castle, its cellar and its grotto, and eventually even a bit of outlying village and a cemetery. This is a good long game with fairly clear HO scenes and some pretty good puzzles -- there were a couple at the end that are real fun and challenging (fill in all the cubes with one continuous line). No map and a sometimes very obscure "hint" system hinder gameplay -- such as "Grab the book of secrets from the secret room" -- WHICH secret room? There are so many! I also wish the story were a little more compelling, it feels strangely flat. The game ends rather abruptly -- perhaps the CE version spins a bit more story at the end?
February 25, 2013
Very Challenging Adventure Game
Based on complete game. Gameplay: More an adventure game with numerous puzzles and a few HO scenes. Long game, with total time quite dependent on ability and patience in solving the puzzles (see below). Hint: When an apparition disappears, look around to see if anything useful appeared in the scene (besides any item you were specifically given). Visuals: Quite nice. Journal: Gave a lot of story background and detail, which was certainly interesting. Storyline: Found the story difficult to follow. An amulet and a Gateway to the Dark Side together made up the artifact. The Guardians stole and hid the amulet and the priests opened the Gateway to release a deadly mist. So why would the priests want to help the last Guardian find the amulet? I just couldn?t get my arms around it. Usually I don?t care if the story is very good. But this was an interesting story, so I did want it to make complete sense. HO scenes: The list of items needed to more clearly differentiate between found and unfound objects. The slight contrast between them meant it was very difficult to determine what was outstanding. It looked like different items were outstanding every time I shifted my position or tilted the screen. Puzzles were many and some were terribly challenging (much more than merely difficult). Quite a few depended on reading glyphs and putting them in the correct order. Sometimes the information could be found elsewhere, but too often it seemed like I should have taken a couple more college-level logic classes to solve them. I apparently had an unknown time limit to solve puzzles, because I used the skip button because I just gave up. Not quite a 4 1/2 star game because of difficulty in logic of the storyline.
June 14, 2012
Enjoyable Game
I thoroughly enjoyed this game. The story was well written and it was decent in length. I also appreciated the variety of different types of puzzles balanced with traditional HOS. However, there were several typos, especially towards the beginning of the game which is why I gave it such a low visual quality rating. Another problem is that the hints were sometimes too vague and didn't make much sense. While I'm all for hints being hints and not flat out directions, the hints in this game sometimes sent me running around in circles trying to find something entirely different from what I wanted. Regardless of those two problems, I'd still recommend it for a rainy day.
January 20, 2012
Very Interesting Game
I have completed the whole game. I did have some difficulty with the mini games. They were pretty hard, but fun. It is a very long game for lots of pleasure. The graphics were awesome and if I were a better player I am sure that it would have been a five star for me. I did have to use the guide some. Enjoy
January 12, 2012
A good game but ...
This game has good graphics and a long playing time, but something was missing for me. It just didn't grab me. Perhaps it was the uninspired story line of evil forces trying to ruin the world, AGAIN. There are plenty of mini games and HO'S and all the factors to make a good game. So on that note I do recommend this game.
November 13, 2012
Great fun
Just gave it 4 stars because I thought the puzzles were a little too difficult. Otherwise a great game, make sure you turn your sound up, it'll make you jump!!!
January 29, 2012