Dark Tales: Edgar Allan Poe's The Premature Burial
Exclusive
Step into Dark Tales: Edgar Allan Poes The Premature Burial , where Julien has hired the world famous Detective Dupin to investigate the sudden death of his beloved Victorine. After her passing, Victorines husband, who she has no love for, has her buried incredibly quickly, making Julien uneasy. Become Detective Dupins assistant and use your Hidden Object Puzzle Adventure talents to unravel the mystery!


Game System Requirements:
OS:

10.4

CPU:

1.4 GHz (INTEL ONLY)

RAM:

1024 MB

Hard Drive:

647 MB
Game Manager System Requirements:
Browser:

Safari 4.0 or later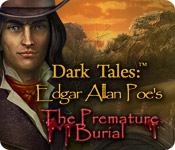 NEW299
The Big Fish Guarantee:
Quality tested and virus free.
No ads, no adware, no spyware.

Reviews at a Glance

Dark Tales: Edgar Allan Poe's The Premature Burial
0
out of
5 (
0
Reviews
Review
)
Customer Reviews
Dark Tales: Edgar Allan Poe's The Premature Burial
150
150
A good game for the most part
This is a fun HO game with an engaging story and puzzles. For the most part, it looks great. If you like the demo, you'll most likely enjoy the whole thing. A few things hold it back from five stars... Voiceovers were great for some characters, but for others... no. While the visuals are mostly great, during the moments when a character was talking to the player, the animation just didn't look good. Names of a few objects in the HO scenes had apparently been mistranslated. Personally I find it really irritating when a game won't let me progress without finding a particular puzzle item when I have, or can see, identically useful items. In this game, I had to hunt quite a while for a pack of matches to light a bunsen burner... in a room full of candles! Some odd writing choices, too-- the player is a detective who's meant to be trying to discover whether a woman has been buried alive, but at one point he won't climb a tree without a ladder because it will mess up his clothes? Sort of detracts from the urgency. Even with all these caveats, I had fun playing the game. It looked great, I liked the HO scenes, and the puzzles kept me involved. After a while, I started skipping the dialogue scenes, and I was happier then. All in all, a good game.
March 27, 2013
Finished review
I loved the game just the right amount of games to play and HO sences. The story was great. I already go another one from Edgar Allan Poe and will be getting the rist. Fun, great storly line. Don't for get those rose. They will come in handy!
October 24, 2012
Great Game but,,,
Really enjoyed the game, great hidden objects screens. But could have used some hints or maps for certain areas.
July 13, 2012
Dark Tales: Edgar Allan Poe's The Premature Burial
My favourite of the Edgar Allan Poe games. THE GAME: - Very enjoyable mystery type game. The story was good with a nice happy ending. - Graphics are the best out of the three Dark Tales games; probably because this is the most recent of them. - Few things towards the end annoyed me a bit though...(1) for some reason, the game started telling what to do and what to use for certain situations. For example, if I examined a pot plant base, the character said "Ooh, a key. I'll need a magnet to get this" or when I was looking at a curtain, the character said "Hmm, this tassel will be good, I should cut this with my knife". I hate this! I like to play for myself and not have my hand held so much.....and (2) the game started to go very slow and took a good 10 seconds to move between scenes which is frustrating to say the least, especially when you're near the end and want to get finished. HOS/PUZZLES: - HO scenes were ok, but quite easy. I found all objects fairly quickly with ease. The descriptions of items were random sometimes though and didn't match! For example, the clue was 'Bowl' and the actual item in the scene was a cup! This happened a few times. Quite irritating. - Puzzles were ok, again fairly easy. Nothing new....all puzzles I've seen before. WHAT DO YOU GET? - Notebook - Hint and Skip buttons (no hint button in main game though, only in HO scenes.) - No map - No extras, collectables or achievements - Two modes of play; casual or expert. I played in expert. LENGTH OF GAME: - Average. Took me two evenings to complete the game. Despite there being a few frustrating and bad features, I did enjoy playing the game.
July 1, 2012
Fun game.
Very fun game. Good storyline. A lot of HOS's, sometimes too many. I have enjoyed all of the games in the Dark Tales series that I have played.
April 23, 2012
No hint button no buy
I love to play ERS games but now with all the going back and forth in the games I at times need a hint. I donot like going to the walk through just to see what to do next. So now if there is no hint button I do not buy.
November 18, 2012
pros and cons list - good game not great
ERS knows their formula and have stuck with it. That is a positive and negative thing for them. While this game is good the formulaic style leaves me a bit bored, I know what to expect and I get nothing new or exciting. But that is ERS for you- you know what you are going to get. Which is why I don't give any of their games an A as you have to do something out of the ordinary and push yourself to do an exceptional game instead of giving us a good solid B game. pros - collecting roses nice touch for a SE and if you get all the roses makes the game plot at the very end slightly better - romantic plot - couple of medium puzzles, they usually have all easy puzzles -no sparkles on my setting cons - - I just don't like their washed out graphics which they love - A bit glitchy - sometimes the 'eye' wouldn't pick up on a HO scene and had to be very accurate on a non accurate area (ie at end there was a big expanse of grass for a HO scene but if you didn't hover over it in the exact spot you wouldn't know there was one) - Also had to exit the game to get one of the puzzles working - The junk pile hidden object scenes - all of their scenes were this way. While a couple of items in it is interactive most other DEVS are at least doing a few non junk pile HO scenes as well as being interactive (ie doing something in a scene to reveal an item) - puzzles are always on the easy side with ERS they need some more that are a challenge. If I pick a harder setting to play then the puzzle should be harder as well. - opening with broken down mode of transport (and there have been a few carriages in games) it just gets old and a bit predictable and boring
January 6, 2012
Premature? Just at the right time!
I thought this was a fun game. I enjoy games which aren't overwhelmed with HOS and this was not. There were many and at times they came in clumps, but not too many. There was a storyline that moved well and was interesting and I didn't think the HOS interrupted the progress. Some of the other puzzles in the game were a little too easy...or I just got really lucky on my first attempts. My criticism of some other puzzles isn't so much about their difficulty but about the directions. There needs to be more clear instruction about what to do (I don't mean solving the puzzle for me). I was often left wondering what the designers meant by their instructions and resorted to the walkthrough to figure it out. To it's credit this game did not have the annoying back and forth that many do. When you get to one area there is usually a real purpose and you're there for a little while. Of course there are exceptions but they are few. I thought the scenery and artistry were beautiful in this. The music was constant. At times there were sound effects or musical interludes which seemed meant to underscore the suspense but I thought they missed the mark...I couldn't tell what triggered the "there's something exciting and scary happening here" music and it didn't really fit. The regular sound track could be a little annoying because there is relatively little change to it throughout. Still, it really gave a very nice European feel to the setting. All in all, a well designed, fun game which I thoroughly enjoyed.
July 20, 2012
Unfortunately a Boring Game
I found this game to be very boring. The storyline did not keep my interest, and by half way through I was anxious for the game to be over. There are not really that many scenes / rooms - in comparison with some of the really great games that are out there. The graphics were decent - no issue there. The games were a bit dull and repetitive. The hidden object scenes were fine. I think it was the lack of 'adventure', lack of scenes and places to go, as well as the dull storyline. I don't recommend this game.
March 25, 2012
Not my favorite But Definitly worth my time
I found this game a very easy paced one with puzzles that were mostly on the easy side. This is perfect for those days when you want to just relax. I'm not a detective and mystery fan but I did enjoy this (it is Edgar Allen Poe!) Some of the hidden objects were outstanding within the HO picture, but I did get tired of the "junk filled style." What I do like, from my old Adventure games is going back and forth between screens which this game does. However, I think there should have been more scenes to work through. I found the different scenes to be short of things to click on which I also enjoy doing - one or two usually. It was challenging at times when you needed to think outside of the box with your items and how they were used - some were very creative. Again, a great game for a raining day or 100 degrees like Tucson, AZ.
July 13, 2012
The Apple logo is a trademark of Apple Computer, Inc.
The Windows logo is a trademark of Microsoft, Inc.