Grimoire Chronicles
Join Myra, a young witch, on a fantastic journey to save her best friend in Grimoire Chronicles, an incredible Strategy game! Enter a world at war and take on elite warriors who are at war against all of the magical kind. Find new characters, hidden dungeons, amazing bosses, and incredible weapons! Complete unique quests and discover secret areas as you explore an incredible realm in Grimoire Chronicles.
Explore a magical world
Discover secret areas
Help Myra save her best friend
Game System Requirements:
OS:

Windows XP/Vista/8

CPU:

800 Mhz

RAM:

512 MB

DirectX:

7.0

Hard Drive:

93 MB
Game Manager System Requirements:
Browser:

Internet Explorer 7 or later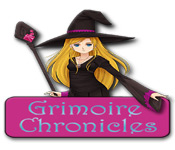 NEW299
The Big Fish Guarantee:
Quality tested and virus free.
No ads, no adware, no spyware.

Reviews at a Glance

Grimoire Chronicles
0
out of
5 (
0
Reviews
Review
)
Customer Reviews
Grimoire Chronicles
25
25
A Stinker of an RPG
Rating (for the impatient ones): 1/5 This is a RPG (role-playing game) made with software called RPGMaker, which means the graphics and sound will be familiar to anyone who has played RPG games available on BFG and elsewhere. This isn't necessarily a bad thing -- there are a lot of great games made with RPGMaker, but unfortunately, Grimoire Chronicles isn't one of them. The plot centers around a young woman who is hunted by the church for being a witch. She is rescued by rebels and an adventure begins to overthrow the church and save the other witches. This story is almost identical to one of the Final Fantasy games (6, I think), so the plot is pretty derivative and the story isn't all that interesting. A key feature of RPGMaker games is generally the story, so when that falls flat, there is little to make a person want to keep playing. The gameplay is also, unfortunately, uninteresting, and can get both frustrating and boring. There are usually only one to two types of monsters per area, and the monsters respawn and are often impossible to avoid. The only good thing is that the monsters are usually visible (as puffs of smoke), so you can see them, but that doesn't do you any good when the path is too narrow to avoid them anyway. I personally love RPGs and was excited to see that BFG had added a new one. Sadly, this game is just really not very good. If you are interested in trying RPGs, start with the Aveyond series (Aveyond I: Rhen's Quest, available here on BFG, is a great game and the latest build supports both the mouse and the keyboard). The Aveyond games are great examples of RPGMaker games done extremely well.
January 6, 2012
Not the best, but not a stinker, either
I've played through to the end, and while this is no Aveyond, the game does have its merits. I don't regret buying it and I had fun while playing, so, I guess that makes me a happy camper, overall. On to the particulars: 1) The story has a logical flow. You know what the characters are doing and why they are doing it. There's a little mystery with Elphaba, but it doesn't interfere with your other tasks and you'll get the answer to that in due time. That said, I really don't like the whole "the rich rulers are oppressing the masses" speech, which seems to be such a trademark of these types of games. Probably because I'm a business major and know a thing or two about macro-economics. The way this game and others like it (particularly Millenium) try to explain the "problem" is ridiculous and one can tell the writers have no clue in matters of Economy, or philosophies. It reads like propaganda or socialist rhetoric, so that bothers me a bit. Although, to be fair, this game does it less than others. 2) The dialog is funny and witty at times, which is always a good thing. But the spelling and grammatical errors are disappointing. One in particular that drove me a bit crazy is the use of the word "then", instead of the word "than". That mistake is made A LOT of times. Also, the wrong use of the words "there" and "their", and "its" and "it's". It really bothers me when I find that. The number of mistakes increases toward the end of the game, with typos even in the characters' names, missing words, and transposed letter. This makes me think that the developers were on a deadline or that they were just tired and wanted to get it finished. 3) The overall flow is very linear, which is neither good, nor bad. It?s a matter of what a gamer likes. I don?t mind linear stories, they are easier to follow, and in games without tutorials, walkthroughs, or strategy guides, such as this one, that may be the best way to go. The chances of you getting lost or accidentally doing something that messes up your game are practically zero. That?s one thing that always bothers me with ?non-linear? games: if you do ?X?, then you will never get quest ?Y?, and the game doesn?t have a warning, so you end up having to go to a previous save to complete it. You will not find that problem here. Also, while non-linear games, like Aveyond, let you visit every town in sight, enter any dungeons you want, etc.; you will find yourself running around and around for hours because you don?t know where to look for something or where to go next (lots of wasted time), or you will get killed if you enter a dungeon before you have leveled up enough. So, it seems that non-linear games are bit more linear than gamers think. Also, you don?t get multiple endings here. And, again, I can?t say this is a good or bad thing, particularly if the game is setting up for a sequel. I have found that in non-linear RPGs with multiple endings, when you get the sequel, the ending you chose might not be one your developers had in mind and they ?reset? your chosen ending to what they need for the sequel. This doesn?t bother me at all, I just don?t see the point of having multiple endings if they are going to change it for the sequel. In Grimoire Chronicles, there?s only one ending, but it seems to be set up for a sequel, so, I think that?s very appropriate. 4) Fighting has lots of room for improvement. The monsters are visible, but practically unavoidable, so, they may as well be invisible. These monsters will actually chase you to the very end of the screen; the good thing is that your characters are rarely in a level that will get them killed (given the non-linear aspect of the game), so you will defeat the monsters. That said, there are way too many battles and they become repetitive. Once my characters got the multiple hit spells, it was practically the same strategy for the all the dungeon fights, so, they just became a time-consuming chore. Other games have monsters that require magic to be defeated or hits to be defeated, or monsters that are particularly vulnerable to one type of spell, thus making your choices in battle more relevant. As someone else mentioned, you don?t see your characters in the fight scenes and you don?t know who is hitting or in what order. Deadly Sin does a great job at this with animated characters and probability of which character is going to get hit, but that game has other drawbacks, and this is not the place to discuss it. The point is that Grimoire Chronicles could do a better job on this front. That said, I played while watching TV, so, I was able to do other things while my characters were fighting, so, I guess you can multitask while playing, giving you the chance to not get bored. 5) No Strategy Guide, Tutorial or Walkthrough. These are always a plus, although because the game is very linear, I wasn?t in need of one too often. What the developers did do very well, was have the dialog clearly guide you to were you need to go. You have to READ what the characters say, and if you do, you will never get lost. I think this is a good thing because the tasks then become something organic that came from the story, and not some guessing game that you have to spend hours solving or go online to find out how to do it (For example: the quest is to find a chalice but the game doesn?t tell you where it is, turns out you have to go to a house and press enter in a particular spot, then the floor crumbles and you find a secret room, but the game or the characters never gave you a clue; you found the answer in a walkthrough). The main problem is that if you missed the dialog, then you will have to ask somebody what to do because there?s no other way to know. I think developers and BSG are missing a big opportunity here. I paid full price for Millenium 4 and full price for the strategy guide at the developer?s site, just so I could have everything needed to complete the game. So, if any developers are reading: build strategy guides and walkthroughs!!!! 6) No Quest Journal. This I didn?t like at all because I had to write down everything I had been asked to do, just so I could remember. That said, there are only 15 side-quests, so, it?s not a daunting task, but it is annoying. 7) Restorative Items and Equipment: I give this aspect an A+. While there were few places at the beginning to get them, monsters drop a lot of these, and with all the fights that you do, you end up having plenty. Also, you find a lot of valuable equipment in chests throughout the game. The best thing was the prices. It always frustrates me when I've done a lot of fighting in a game to reach a new town and when I get there I can't afford the best equipment. In Grimoire Chronicles, the prices for items and equipment are reasonable, so you can always have the best stuff on your characters and enough restorative items for the next dungeon. Overall, I liked the game, it gave me a couple of days of fun, but it can be improved.
January 14, 2012
Worst of the Genre
I normally love these games, Aveyond & John Wizard games, but this one is one of the worst I have ever tried. Most of the time I buy these outright and don't try them, but after reading the reviews I decided I better trial it first. I'm glad I did, deleted it after 10 minutes. Story line is crazy, jumps from person to person without reason, and above all (worst of all) the dialogue is waaaay too chatty, with nothing being said, most of it inconsequential. AVOID this game like the plague.
January 7, 2012
Not for someone new to RPG's!
This game is not for someone new to RPG's. There are little in game directions, so you have to read the dialogues! They actualy do tell you what to do or where to go next. However, there is no journal to go back to. As someone who LOVES these types of games, its an extra challenge for me. The monsters are just right, not too hard, not too easy. If you develop a good system you can knock them out without much HP loss. Some bosses are hard, but they are supposed to be. I had to go and level up to knock out a couple of them. Just note there are forums out there that address the most common questions or problems you may encounter, so don't get frustrated. The game won't let you go anywhere you are not supposed to. Over all, I liked it! This is not a 4- 6 hour collectors edition Hidden Object game. This game takes commitment! I'm not done, and 30 hours in. Some people have finnished in 50, so you get your money's worth!
January 16, 2012
Unimpressed
I love RPGS, I can usually even stomache some of the more amatuer types because I love games like this so much, but I just could not get into this one. The story line was very boring, the few things I did get to do before my time was almost up were far and few between. RPGS are supposed to be full of adventure, not boring words upon a page and them forcing you to do limited things.
January 6, 2012
You got to be kidding!
I love these types of games and have bought a few through Big Fish. But this game is just awful. immature dialogue. No load just save so you must close off to menu to reload a saved game. Slept over night in "camp" and health and magic did not renew. Graphics were typical of this type of game so that is not my beef. I suppose my biggest beef was the immature dialogue (way to much). Turned me off the game right away!
January 6, 2012
Funny Game!
I have to say I found this game fun....I bought it with my credit the minute the hour was up. I had to say the prior reviews gave me pause....not really sure how it would be, but I found it fun.....okay...disclaimer...there will be a lot of reading at the start...I like reading. So I enjoyed that part. The one liners to me were funny....okay they were cheesy, but I must say I enjoyed the humor of them.... One particular line comes to mind... "I'm the tooth fairy come to loosen your teeth" Okay...I may have a wierd sense of humor but I thought it was funny as well as some of the other's..certainly try the hour if your not sure. As to the battle sequences, I found them to be nice, with the usual ability to pick which attacks to use. Some were slightly tougher than other's so the attack's came in handy. The monster's were nice. I HATE the invisible monster's that some RPG games have, so I didn't mind the tornado like monster's barreling down the paths towards me. To be fair i could avoid a few but in order to power up I had to fight a lot. I didn't mind that part as it comes with the territory of an RPG. Overall I liked the game and the story. There are lots of chests to open, and it's fun talking to people in the game as quite a few of them had something funny to say. I may be easily amused. SO JUST TRY it and decided for yourself. I thought the music was fine, but i had to turn it off due to trying not to disturb others, and while the music went away the battle sounds didn't. Not a deal breaker, but if I hit turn of music and that's the only sound volume I do expect it to turn of ALL the sounds. I minimized it since I can only work on part of my computer and it took it down to a four in square box that was rather small but I could still play on. Full screen is fine, but I couldn't use it because my computer screen is broken. I think it's fine as a nice soothing RPG....Not too overcomplicated. Just fun!
January 7, 2012
Very poorly made game
This game is a RPG and when i saw this game I thought it would be like other RPG i have played but i was wrong. the biggest thing that wrong with this game is there are no anime like close-ups of the charters. during fights and dialog i could not injoy the game because of the blank, big, dark blue row that the name and dialog was on. this game felt unfinshed and cheep it is not a game worth buying.
January 7, 2012
Story vs. Tedious Battles
The biggest problem with this game is that the battles take forever, and there are a lot of instances where you have to backtrack through areas. This factor alone can make you grit your teeth if you're playing for a longer amount of time :P However, despite the grammatical errors, the story itself become very engaging, plus the humor in the dialogue is often very entertaining. For that reason, my review is very skewed. For the battles/backtracking, I'd give this rpg about a 1.5. It gets really old! But the story and dialogue are usually very good, and I'd actually give the game a 4 for that.
January 8, 2012
I actually liked this
Due to the ridiculously high encounter rate, I played this in short bursts over several months. It is not the kind of RPG you play in one weekend or so. I liked the art style (the backgrounds are similar to those in Vagrant Hearts) and the music. A couple of the towns and dungeons were cleverly designed.
March 3, 2013