Grimoire Chronicles
Join Myra, a young witch, on a fantastic journey to save her best friend in Grimoire Chronicles, an incredible Strategy game! Enter a world at war and take on elite warriors who are at war against all of the magical kind. Find new characters, hidden dungeons, amazing bosses, and incredible weapons! Complete unique quests and discover secret areas as you explore an incredible realm in Grimoire Chronicles.
Explore a magical world
Discover secret areas
Help Myra save her best friend
Game System Requirements:
OS:

Windows XP/Vista/8

CPU:

800 Mhz

RAM:

512 MB

DirectX:

7.0

Hard Drive:

93 MB
Game Manager System Requirements:
Browser:

Internet Explorer 7 or later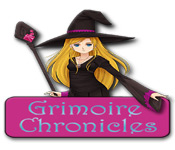 NEW299
The Big Fish Guarantee:
Quality tested and virus free.
No ads, no adware, no spyware.

Reviews at a Glance

Grimoire Chronicles
0
out of
5 (
0
Reviews
Review
)
Customer Reviews
Grimoire Chronicles
26
26
Repetitive and a bit confusing
I love RPGs and I, like many others, thought this game would be fun. However, I spent 40% of the free hour in one place, fighting the same (super easy) battles over and over again, 40% in another place fighting more of the same battles and 20% reading dialogue. The dialogue in itself was confusing because even though you could see the name of the speaker, you have a hard time following the conversation because there is no graphic representation of the speaker. I only figured out which characters were which when they are by themselves or when going to the in-game menu. I think this game had potential (hence the 2 stars rather than 1), but after an uninspiring first hour, I am not convinced that the rest of the game would be any better. I might buy it if it goes on sale for $2.99, but I won't waste a game credit on it.
January 18, 2012
A Stinker of an RPG
Rating (for the impatient ones): 1/5 This is a RPG (role-playing game) made with software called RPGMaker, which means the graphics and sound will be familiar to anyone who has played RPG games available on BFG and elsewhere. This isn't necessarily a bad thing -- there are a lot of great games made with RPGMaker, but unfortunately, Grimoire Chronicles isn't one of them. The plot centers around a young woman who is hunted by the church for being a witch. She is rescued by rebels and an adventure begins to overthrow the church and save the other witches. This story is almost identical to one of the Final Fantasy games (6, I think), so the plot is pretty derivative and the story isn't all that interesting. A key feature of RPGMaker games is generally the story, so when that falls flat, there is little to make a person want to keep playing. The gameplay is also, unfortunately, uninteresting, and can get both frustrating and boring. There are usually only one to two types of monsters per area, and the monsters respawn and are often impossible to avoid. The only good thing is that the monsters are usually visible (as puffs of smoke), so you can see them, but that doesn't do you any good when the path is too narrow to avoid them anyway. I personally love RPGs and was excited to see that BFG had added a new one. Sadly, this game is just really not very good. If you are interested in trying RPGs, start with the Aveyond series (Aveyond I: Rhen's Quest, available here on BFG, is a great game and the latest build supports both the mouse and the keyboard). The Aveyond games are great examples of RPGMaker games done extremely well.
January 6, 2012
Worst of the Genre
I normally love these games, Aveyond & John Wizard games, but this one is one of the worst I have ever tried. Most of the time I buy these outright and don't try them, but after reading the reviews I decided I better trial it first. I'm glad I did, deleted it after 10 minutes. Story line is crazy, jumps from person to person without reason, and above all (worst of all) the dialogue is waaaay too chatty, with nothing being said, most of it inconsequential. AVOID this game like the plague.
January 7, 2012
Unimpressed
I love RPGS, I can usually even stomache some of the more amatuer types because I love games like this so much, but I just could not get into this one. The story line was very boring, the few things I did get to do before my time was almost up were far and few between. RPGS are supposed to be full of adventure, not boring words upon a page and them forcing you to do limited things.
January 6, 2012
You got to be kidding!
I love these types of games and have bought a few through Big Fish. But this game is just awful. immature dialogue. No load just save so you must close off to menu to reload a saved game. Slept over night in "camp" and health and magic did not renew. Graphics were typical of this type of game so that is not my beef. I suppose my biggest beef was the immature dialogue (way to much). Turned me off the game right away!
January 6, 2012
Very poorly made game
This game is a RPG and when i saw this game I thought it would be like other RPG i have played but i was wrong. the biggest thing that wrong with this game is there are no anime like close-ups of the charters. during fights and dialog i could not injoy the game because of the blank, big, dark blue row that the name and dialog was on. this game felt unfinshed and cheep it is not a game worth buying.
January 7, 2012
should have listened to other reviews!
i love all rpg games...at least i thought i did this game holds your hand in the worst way changing between countless characters to play with loosing my interest the dialog goes on forever and the constant battles are so tedious i cant enjoy the game at all.... it stinks
April 8, 2013
Grimoire Chronicles
I found this game to be a bit childish with the spelling an grammar errors and it seemed unfinished with pictures missing and the dialogue seemed tense.
January 6, 2012
HORRIBLE
Horrible game nothing interesting in it at all. Mostly words and nothing really that you can do.
January 6, 2012
Just Awful
This game is awful. Most of the game is spent clicking through conversations. When you're not doing that, you're involved in really lame "battles". There are no directions, and there is no challenge.
January 28, 2012