Hallowed Legends: Templar
Exclusive
Strange figures have taken over a small town in Hallowed Legends: Templar! Stop the Knights of the Templar in this exciting Hidden Object Puzzle Adventure game! Travel to your brother and his wifes hometown and take on an incredible mystery. Scour gorgeous scenes and search for important clues as you track down the terrifying evildoer and save the entire town in Hallowed Legends: Templar!
Save an entire town
Search amazing scenes
For a more in depth experience, check out the Collector's Edition
Game System Requirements:
OS:

10.4

CPU:

2.5 GHz (INTEL ONLY)

RAM:

1024 MB

Hard Drive:

642 MB
Game Manager System Requirements:
Browser:

Safari 4.0 or later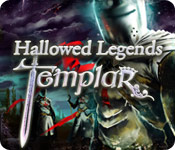 NEW299
The Big Fish Guarantee:
Quality tested and virus free.
No ads, no adware, no spyware.

Reviews at a Glance

Hallowed Legends: Templar
0
out of
5 (
0
Reviews
Review
)
Customer Reviews
Hallowed Legends: Templar
80
80
Knights, madmen, dead men and rats! Where's that flask of wine?
If you go into a game distracted or tired, you will lose interest quickly. You have to be in a good mind set when playing games such as this one. I'm halfway through the SE and so far there is a lot of back n' forth and difficult objects to find in the hidden object scenes; good storyline; nice graphics. There are junk pile HOS but the objects are challenging to find. Items will be situated in odd places or right in front of your face. So, if you're tired, close out the game and come back to it later. As I've always mentioned before, if there is too much time spent on HOS, and not enough adventure, then the game is not for me. But not so with this game. Hallowed Legends:Templar has enough in it to keep me interested. Regarding the items in your inventory, some of those will be needed in the hidden object scenes from time to time. In the meantime, you have real people in the cut scenes, who were very good, in my opinion. Hint button was great; morphing doves are in each scene just about; as far as receiving an achievement award for those, there is none at least not in the Standard Edition so it's possible that it might be in the CE. There is no transporting map, which I feel all games should have but there are some players who don't mind this and who play in hard core mode without the whistles and bells.To each his own. In either case, this game is truly clever even though sometimes there is no rhyme to its reason. A madman needs water, for instance, but the water is contaminated, so hey, there's some wine barrels somewhere in town; grab the flask and get the OLD wine to him! He'll chug that down real quick, let me tell ya'! It's not THE perfect game, but I would definitely recommend it for its cleverness, fun factor, and challenge.
January 25, 2014
A bit bothered by the negative presentation of the Knights Templar
Yeah, I know it's a game, and I played it, but still . . . couldn't they have created a fictional order? And those were some pretty chunky knights. A good, solid game; pretty much what you expect from an HOS adventure. Nothing stands out as exceptionally good or bad. It had the usual positives and the usual negatives. A lot of backtracking. Puzzles were rather tedious. Vocabulary issues -- it's clear that a lot of the terms come out of a dictionary. There is a great difference between "nitrogen" and "liquid nitrogen." Toward the end, especially, I just had to randomly try out different items to figure out what to do next, and when I did, it made no sense. Doesn't every priest keep a can of gas in the confessional? A diver's helmet is no good without a source of oxygen, to say nothing of the rest of the suit. Of course I'd chop the head off of a wooden statue; makes sense to me. And who wouldn't blow up a couple of barrels of fuel, rather than just walk around them?
May 21, 2013
Fantastic offer as the Weekly Catch, but...
I'd go for the CE for this game. I own the SE, but will upgrade to the CE eventually. The game is quite long and you have to think out of the box. Without giving too much away: I remember one scene where I had to attach 'something heavy' to something and immediately thought of a weight, but what was needed was something which 'yes...IS heavy as the real thing' (I won't say anymore because I don't want to spoil the solution for anyone). It's a great game with lots of Hidden Object Scenes and puzzles to solve, but as one the first reviewers mentioned, the SE is lacking the final chapter. I don't often advise to invest into the CE of games, but in this case it's worth the extra money.
January 31, 2013
COULD HAVE BEEN BETTER
I have other Elephant games which i love, but this one just didn't do it for me.Try not to use hint buttons, but had to in this game, it nearly drove me nuts because it tells you exactly what to do instead of giving just a hint!! Graphics were ok, story was a bit hazy, but it gave me something to do on a rainy afternoon.They missed the chance of making Templer a really exciting game by focusing more on the knights and their evil doings.Pleased i bought it cheap certainly wouldn't buy the CE. Having read the other reviews it's obvious a lot of people like it so enjoy folks.
January 28, 2013
Not bad!
Review based on trial. I was happily surprised by this game. I thought it would just be HO scene after HO scene, Because the pictures on the game page only show HO scenes. (Hinting to BF that they should put a better variety of pics on here) Turns out its actually a pretty good game. The graphics are clear, the game play is smooth, & the puzzles make sense and have instructions in case you don't understand. The hint button tells you exactly what to do, instead of just saying "there's nothing to do in this location" which drives me nuts. That may be a negative aspect for some people that don't like hand holding, I prefer the hints that show just an arrow so I know what scene I need to do something in but have to figure out what for myself. I'm not sure about the storyline since they don't really get into it too much in the trial. I hope it gets better, since I'm going to buy it. It's perfect for the weekly $2.99 deal. It's not a very well known game and this way people will find this hidden gem. I gave it 4 stars because I'v played some amazing games and this one isn't quite as amazing as those, but it's still looking to be a pretty good game. I'v just been spoiled. I recommend this game, especially for the weekly deal.
January 28, 2013
not great but good
Seems like you were just going from one place to another with not real apparent reason. No real flow for finding things to use and advancing. The HOS were not hard and some were different. Puzzles were ok. Not elephants best game.
February 21, 2013
Hallowed Too
Hi Fishes, well right off the bat it is way too quiet, it just doesn't have the impact that it should have.. I mean for crying out loud,you've got the Knights of the Templer in full armor coming after you. The graphics are okay, much better than the first, but are still not quite up to snuff. The gameplay (after 40 minutes) is much the same as most of the games out lately, therefore, there is no challenge for me.Its much the same as a repeat of an old detective movie. You know whats coming next. The hint system is exactly the way I like it. A fast recharge, and helpful in general gameplay. The tutorial was good as well. You have the option of skipping it each time it tells you something, which I really appreciate. There is one thing they didn't explain though. There are doves in each room, but when you click on them they disappear. And then, nothing. You don't collect them like morphing objects so I can't come up with a rhyme or reason for them. If I missed the explation, then please someone fill me in.It's seriously bugging me. I also appreciate the fact that it's not dark and ugly.It has several colors. LOL Not just silvery blue or orange haze. There aren't very many HOS so far, which makes me very happy. I guess I'm bored with them anymore. It's unfortunate because to get to the parts I love (puzzles and adventure) I have to do them. I zone out. When I snap out of it I think "oh yeah I was looking for an eggplant." An eggplant? Seriously, who keeps an eggplant in the she?. There is only a little interaction in these scenes Personally I think the interaction is silly They're nothing but a waste of time and eye strain, but then diversity makes the world go 'round. I'm going to pass on this one. Happy gaming!!!
December 9, 2011
Two Thumbs down for Templar CE
This is the first time I have submitted a review of and game on BF. I was alerted to this game by a postcard invite from BF. I was under the impression that this would be a spectacular game given the dollars spent on its promotion. What an utter disappointment. I just could not get pass the revisionist pov of Templar's plot line. This made it impossible for me to enter into the spirit of the plot line or the game. I found it utterly ridiculous to see 2 or 3 knights armed with everything possible have trouble breaking down and smashing through doors. The game, for me, quickly became tedious and boring. I did not even bother with the bonus play. The musical score meant to drive the action and create a sense of urgency was undermined by having to run hither and thither collecting stuff to "save" the day. This contributed to the over all sense of "slowness" of Templar. In addition, many of the puzzles were "tired" and should have been retired for a game of this supposed caliber. I was playing expert mode, when I ran across one these oldie moldies, I would switch to casual mode in order to skip them. The saving grace of Templar was the bright and colorful graphics. I, for one, am getting v/ tired of wandering around in the dark, as seems to be the fashion at the mo in HO/ADV games. This is one reason I would recommend playing the SE game. The other reason I would recommend it: not all players will be bothered by the altered history of the Knights of Templar, and therefore not find it as irksome as I. Happy Gaming!
December 23, 2011
Leaves a lot to be desired
The story line left a lot to be desired, not what you would expect from a game dealing with the Knights Templar. The graphics were grainy and cartoonish for the most part. The HOS were either straight forward or interactive with your inventory and some of the inventory just sat around forever only to be used in an HOS. The VOs were badly done in my opinion. The puzzles were not much of a challenge at all. It also lacked clear direction and I found the hint button to be a needed asset much to my disappointment. You do get the button to charge faster as you collect birds throughout the game which made it a little easier to swallow. Im glad I purchased on sale because it definately was not worth paying full price for. It makes for a decent rainy day game when you don't want much of a brain stimulator. Im going to recommend the game because everyone deserves a break and others may find it interesting for beginners.
November 11, 2012
disappointing after reading other reviews.
I don't write too many reviews, but I was disappointed after playing the game. The story line didn't lend itself to using the inventory collected. I had to resort to the walkthrough several times to understand where to go next. More time should have been spent connecting the inventory to the story line. Glad it was the daily deal or I would really be upset!!
December 24, 2012
The Apple logo is a trademark of Apple Computer, Inc.
The Windows logo is a trademark of Microsoft, Inc.