Fear for Sale: Sunnyvale Story
Take on another incredible mystery in Fear for Sale: Sunnyvale! Investigate a strange murder and get to the bottom of a complicated case. After making it to the scene of the crime, a deputy is kidnapped by a terrifying ghost house that appears out of nowhere! Discover the connection between the latest murder, and another killing that occured many years ago. Put your detective skills to use and appease the ghosts in Fear For Sale: Sunnyvale!
Appease the ghosts
Solve a murder
For a more in depth experience, check out the Collector's Edition
Game System Requirements:
OS:

Windows XP/Vista/Win7/8

CPU:

1.0 GHz

RAM:

1024 MB

DirectX:

7.0

Hard Drive:

1066 MB
Game Manager System Requirements:
Browser:

Internet Explorer 7 or later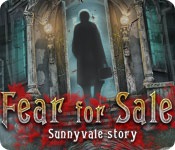 NEW299
The Big Fish Guarantee:
Quality tested and virus free.
No ads, no adware, no spyware.

Reviews at a Glance

Fear for Sale: Sunnyvale Story
0
out of
5 (
0
Reviews
Review
)
Customer Reviews
Fear for Sale: Sunnyvale Story
48
48
Weird, Not As Good As Expected, But Solid
Headline says it all. The standard story soon gets weird, with little explanation of things that are essential to plot. Like why and how the house came to be kidnapping people in the first place. And just what sort of evidence rules do they have in Sunnyvale? Major leaps in logic make the game confusing, which it otherwise wouldn't be... Because the gameplay is straightforward and vintage Fear For Sale, the HO scenes are really interactive and clear, the puzzles are fun, and the artwork, while not as good as I anticipated, is still above average and worked well on wide screen. Things I particularly liked were the multiple uses of inventory items before you lose them. Also, if you have to fuel up something, you don't have to traipse around half a dozen places getting a funnel, a hose, a gas can, the fuel, etc. A simple HO scene and you collect a full can with a pouring nozzle. The disjointed story is mirrored by music that clearly had not been intended to produce an appropriate atmosphere. Sometimes it was actually quite cheerful, not spooky at all. I actually got a kick out of it, it made me smile each time it chimed in with just the wrong kind of theme. McInroy Manor was quirky and so is this one - and a good game without setting the world on fire. I think most people will like it.
January 15, 2012
An entertaining game a little above average
The spectacular intro with a soundtrack of rare quality let me presuppose the game would be outstanding. Well, not really. The promising music rapidly turns into a funeral march, and, setting aside the supernatural which is now common to many storylines, the game is just a classic hardly different from its predecessor or games of like genre, although it does offer a couple of originalities here and there. Nevertheless, there are many good things in Sunnyvale: the puzzles are interesting and challenging, the HOS's not overloaded and interactive, their items easy to find and the hint system lenient, tasks are simple, objectives are clear and the use of objects is good fun, backtracking reasonnable, the graphics neat, well crafted and colorful, the voice-overs and cutscenes professionally acted and near realistic. Of medium difficulty in Regular Mode, the game makes you think enough for a bit of challenge and much enjoyment. Total playtime is bound to be short in spite of the 6 chapters, as I completed Ch 1 and 2 in 58 minutes exactly when I tried the demo of the CE.
January 6, 2012
Mixed feelings
I was a bit disappointed in this game after all of the great reviews. While it had some good stuff and plenty of potential, I felt it could have been much better. The Good: The graphics were very nice. I had no trouble finding things in the HOG scenes, even though they were junkpiles, because the graphics were very clear. The music was appropriate and not intrusive. Also, there were several voice-overs that were done well. The game play was fairly typical HOG/ adventure. Not terribly challenging but not too easy either. The same could be said for the puzzles. You are given the choice of easy and advanced modes (sparkles only for HOG scenes). I played on advanced and did not find it too hard. The Bad: The storyline was nothing special - solving the haunting of a town and uncovering its secrets. It wasn't bad, just not very original. There was a good bit of back and forth, for little reason but to make you run around. However, the biggest complaint I have is that it was very short. Most HOG games these days have several hours of game play. This game was only a couple of hours long. If you did not have the back and forth, it would have been even shorter. To make matters worse, the ending was so abrupt and unsatisfying, I did not realize it was over right away. Perhaps the bonus game elaborated more but I don't want to have to pay double price for a decent ending. So overall, it had nice graphics, decent music but an average story, a short run time and a poor ending.
January 6, 2012
odd but fun
This one was different. The storyline had some huge gaps. A thirty year old murder where you can find the murder weapon and lift prints? A husband falsely convicted and executed who returns in ghostly form still in the electric chair? A deputy who was fired but then is always in the police station and a another who is duped by a doll. A house that appears and grabs people with vines? Where did it get the vines? it's a house not a tree. hmmm. However having said all of that... I kinda liked this one. It's a bit heavy to HO scenes and has the feel of an older style game. But the locations are well drawn and there are a lot of them. A supermarket, a police station, a decrepite amusement park and of course the vine house just to name a few. You go out in boats and down into sewers. The mystery keeps your interest and there are several to try and figure out. Missing people, a thirty year old murder, a much more recent murder and the house of vines. If you don't insist on a game where every detail makes perfect sense, this is one is interesting and kind of fun. 3.5 stars from me.
January 7, 2012
Good game, but worse than the first
I preferred the first Fear for Sale. The images are good, but the story does not provide much news. Different from the HOS, which are easy, but interactive, there are several interesting and challenging mini games. I do not like when has voice over unnecessary ! Is a good entertainment.
January 7, 2012
Very bland game
I purchased this game after playing the free trial and I wish I hadn't. Very poor animation when you deal with the characters. HUGE PLOT HOLES abundant. No really clear resolution to the mystery other than someone gets sent to jail. The hidden object scenes were very easy to solve. Even the first Fear for Sale was better than this one was. Wouldn't recommend it to anyone who enjoys playing Hidden Object games.
January 16, 2012
nice hidden object game.
I really enjoyed playing Fear for sale as I did the previous one. Puzzles were not so difficult and what I really enjoyed was the beautiful graphics.! I have only one complaint and that is " THE GAME WAS WAY TO SHORT!! Especially without the extra play of the CE version. I loved it so give it a try!
January 9, 2012
Great HOG / Adventure
I have just spent quite a few pleasant hours playing this game from start to finish. I used no hints and did not refer to the walkthrough and nor did I skip any puzzles. I am therefore unsure why some reviewers have advised that this game is short as in my opinion it is not. Well worth the money. I agree the ending was a little abrupt but I wouldn't have thought the CE at double the price could offer much more to justify the extra cost. The music started off great as did the background noises but about half way through I turned both of these down as they got a little irritating. I did leave the voiceovers turned up which were okay. The 5 stars I gave for visual/sound were simply for visual. This is the second Fear for Sale I have purchased, played and thoroughly enjoyed. I look forward to the next.
January 10, 2012
Ending ruined it
This game hooked me from the beginning as I liked the house taking people concept..something new BUT this SE isn't complete. The ending gave you no sort of resolution to what actually happened and I assume thats because the bonus game in the CE gave you the appropriate ending. I think it cheats the buyer to do that as bonus games should be a BONUS, not an ending to the game. So you never find what happened afterwards or if the town went back. Really disappointing. The game was VERY easy even on expert and HAD a bazillion hidden object scenes although pretty easy ones. However, when I saw one, I cringed because I would have liked more adventure. Also, in expert mode you can see the sparkles for the hidden object scenes so you are not completely on your own and the top bar gives you suggestions of what you might need instead of leaving you to do it yourself. I did like the music and the graphics. Loved the story idea but hated the ending. Wish it had been harder but had the ending been sufficient I would have given this 4 stars. I can't say whether I recommend this game or not. If you don't care about storyline and endings then go for it and if you are a new player this is probably an easy game to get you started. I don't mind an easy game now and then, they can be fun (haunted manor queen of death didn't even have a difficulty level and I LOVED that game) BUT like I said disappointing ending. sigh.
March 21, 2012
I liked this one!
It's a pretty straightforward HOG with skippable mini games. Creepy scenes, spooky story, decent characters and okay voice overs came together for an enjoyable 2 and a half hours.
January 6, 2012
The Apple logo is a trademark of Apple Computer, Inc.