Fear for Sale: Sunnyvale Story
Take on another incredible mystery in Fear for Sale: Sunnyvale! Investigate a strange murder and get to the bottom of a complicated case. After making it to the scene of the crime, a deputy is kidnapped by a terrifying ghost house that appears out of nowhere! Discover the connection between the latest murder, and another killing that occured many years ago. Put your detective skills to use and appease the ghosts in Fear For Sale: Sunnyvale!
Appease the ghosts
Solve a murder
For a more in depth experience, check out the Collector's Edition
Game System Requirements:
OS:

Windows XP/Vista/Win7/8

CPU:

1.0 GHz

RAM:

1024 MB

DirectX:

7.0

Hard Drive:

1066 MB
Game Manager System Requirements:
Browser:

Internet Explorer 7 or later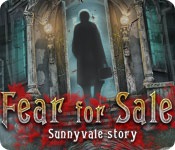 NEW299
The Big Fish Guarantee:
Quality tested and virus free.
No ads, no adware, no spyware.

Reviews at a Glance

Fear for Sale: Sunnyvale Story
0
out of
5 (
0
Reviews
Review
)
Customer Reviews
Fear for Sale: Sunnyvale Story
50
50
odd but fun
This one was different. The storyline had some huge gaps. A thirty year old murder where you can find the murder weapon and lift prints? A husband falsely convicted and executed who returns in ghostly form still in the electric chair? A deputy who was fired but then is always in the police station and a another who is duped by a doll. A house that appears and grabs people with vines? Where did it get the vines? it's a house not a tree. hmmm. However having said all of that... I kinda liked this one. It's a bit heavy to HO scenes and has the feel of an older style game. But the locations are well drawn and there are a lot of them. A supermarket, a police station, a decrepite amusement park and of course the vine house just to name a few. You go out in boats and down into sewers. The mystery keeps your interest and there are several to try and figure out. Missing people, a thirty year old murder, a much more recent murder and the house of vines. If you don't insist on a game where every detail makes perfect sense, this is one is interesting and kind of fun. 3.5 stars from me.
January 7, 2012
Good game, but worse than the first
I preferred the first Fear for Sale. The images are good, but the story does not provide much news. Different from the HOS, which are easy, but interactive, there are several interesting and challenging mini games. I do not like when has voice over unnecessary ! Is a good entertainment.
January 7, 2012
I liked this one!
It's a pretty straightforward HOG with skippable mini games. Creepy scenes, spooky story, decent characters and okay voice overs came together for an enjoyable 2 and a half hours.
January 6, 2012
Not what I expected!
I read the rave reviews in the Big Fish forums and knew I had to have this game. I guess my expectations were to high. The story was good and a bit unusual. The graphics and voice overs were very well done. What let me down was the actual level of difficulty in game play. The hidden object scenes were fun and very interactive but also a bit to easy. There were very few mini games and what there was didn't seem to be that hard to work out. You do a lot of traveling to places that you only need one or two items from. I kept looking for more to do in each area and was disappointed each time. I purchased this with a coupon so I have no regrets and wouldn't even for the $6.99 but I did feel let down at the end. Perhaps the ending in the CE would have been better but I am glad I didn't spend that much on it. To sum it up this is an interesting game but just not the challenge I was looking for.
January 20, 2012
good game just too much going all over the place
The music is good and has voice over. Graphics are good. The HOS are not hard and the puzzles are ok. Has some flow to the game BUT lots of going all over the place to try and find things.
May 21, 2013
Good adventure leaving you feeling wanting a little more...
Hmmm...there was definitely a lot of positives about the game, such as the graphics, music, most of the voice overs and the puzzles. The HOS's were good, probably a little too many for my liking, particularly when you do the same scene 2 or 3 times, but I did like the interactive elements in trying to find some of the items. I did enjoy the number of various scenes and places the game took you. The storyline was average and your typical who dunnit murder mystery. As I had mentioned, most of the voice overs were good, but one key character's voice over was a bit cheesy and didn't make quite the spooky impression it should have. This is probably a little nit picky, but the abrupt and uneventful ending was almost unforgivable. Why put in so much time, effort and quality, only to end it with a quick mini-game? Where was the cresendo and grand finale? Oh well, I did enjoy the game, but believe that the other Fear for Sale - Mystery of McInroy Manor game was better. I'd still recommend it though as it was a fairly good game.
January 27, 2012
Good but not the best
I liked this game, but it was too short and ended abruptly. One thing I really liked was that there wasn't a whole lot of back-and-forth as there are in some games. Most objects you need are fairly close to where thay are needed. Graphics were good with decent voiceover. The HOS were good, and the puzzles weren't overly difficult. The hint system works well throughout the game, so a walkthrough is not needed.
January 25, 2012
PUT ON YOUR BEST RUNNING SHOES. :-D
Review based on completed game. Enjoyed this game very much. Storyline - You are a newspaper reporter conducting an investigation in a small town regarding a house appearing out of nowhere and taking people IHOS - Clear, mostly large items, some small items, scenes repeated Misclick Penalty - Screen partially fills with vines Hint - Recharges quickly and acts as guide. No map Inventory - Items used fairly quickly in other scenes Avatars/VOS - Good though characters moved in a wooden fashion Puzzles - Varied levels of difficulty. Skip button is available and recharges quickly Items to be found outside of HOS. Be sure to scan each scene thoroughly Journal - Keeps track of information and photos you find in your search In future games, I hope the dev will design the avatars to move with fluidity. Give this game a try and happy gaming!!!
November 4, 2012
I am still confused about the story
The storyline was confusing. A house? But the game itself? great! I played on expert/hard mode. With this mode you still get sparkles, and skips (for mini games), and hints (for game play and HO scenes) They just took a lot longer to reload. I usually do not miss the help buttons (see above) when I play these types of games. I am kind of glad that this game had them, even in the hard mode. I ended up using more often than I should have. The hidden object scenes were attractive and interactive. Many you had to revisit twice. It was interesting because the interactive items required more than one "step". The Mini games were varied. I found them challenging. The help button (while in game play, not in HO) told you what direction to go and reloaded immediately. Sometimes all a game will say is "nothing to do here!" but not in this game. (To me that is a plus plus!) There were character interactions, and they spoke plus words on the bottom. Lately it seems game developers have been lazily only having written words, nothing spoken. The characters were likable. There were a couple of lines in the development of the story that were "eeh" or confusing. But during all of the interactions, you can skip entire conversations or click ahead. The game was pretty long. I was a bit surprised by the length of the game considering it was not a collector edition I played. Overall, glad I bought it. I would suggest buying it at even the BFG club price. It was that fun. I would probably play it in one sitting (one long sitting) next time. I did get lost (no map or task list) on where I left off when I returned to the game.
July 28, 2012
Not bad at all
After reading what others wrote in their review i gave the game a try. What i did find is that the game is nowhere near as scary as it made it out to be, but an OK choice of music and other ambiant sounds kept a certain atmosphere going. There was quite a bit tooing and froing which you get used to after a while. There is a variety of puzzles of different challenge levels and the HOS were very clear therefore making it easier to find things.
March 24, 2012
The Apple logo is a trademark of Apple Computer, Inc.