Time Mysteries: The Ancient Spectres Collector's Edition
Take on Time Mysteries: The Ancient Spectres, a challenging Hidden Object Puzzle Adventure game! Stop the evil witch Viviana and save Esther's family! With her heritage on the line, it's up to Esther to discover the history of the ancient Ambroses and explore time itself. Go on an incredible adventure and change events in the past to solve an incredible mystery in Time Mysteries: The Ancient Spectres!

This is a special Collector's Edition release full of exclusive extras you won't find in the standard version. As a bonus, Collector's Edition purchases count toward three stamps on your Monthly Game Club Punch Card!

The Collector's Edition includes:
Bonus gameplay
Integrated Strategy Guide
Concept Art
Game System Requirements:
OS:

10.4

CPU:

1.0 GHz (INTEL ONLY)

RAM:

512 MB

Hard Drive:

378 MB
Game Manager System Requirements:
Browser:

Safari 4.0 or later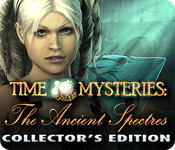 The Big Fish Guarantee:
Quality tested and virus free.
No ads, no adware, no spyware.

Reviews at a Glance

Time Mysteries: The Ancient Spectres Collector's Edition
0
out of
5 (
0
Reviews
Review
)
Customer Reviews
Time Mysteries: The Ancient Spectres Collector's Edition
71
71
um, no.
I purchased this when it was on sale for the SE price. It looked like it was going to be really good. The graphics are amazingly beautiful, and the story line seamed like it had a mild spooky bend to it, which I love. It was wonderful, up until you fix the time device. Then, the device basically tells you exactly where to go, and takes you there instantly. This kind of ruined it for me, so I tried going on a "time device diet." The places you go are practically random; you really do need the device to tell you where to go. Sometimes, you can't get to a place without using the device. Basically, there are two options: wander aimlessly for hours, or get detailed directions without the chance to figure it out yourself. Objects are not replaced in HO scenes you revisit, which is nice. There were a couple of items nigh completely obscured, and if you begin an interaction, you'd better know where to finish it because you cannot click anywhere until you do. I'm very disappointed, especially since the graphics are mesmorizingly beautiful, both in spooky and non-spooky locals. Clicking on the little fire butterflies was about the only thing I enjoyed in this game. The character bought into the idea that her family members were time travelers far too quickly. The villain did not pose a threat. In the bonus game, you save the main character from the regular game from a fire . . . I think. I followed the map, went where I was supposed to go, did what I was supposed to do, but I have no idea how fixing random machines accomplished anything. There was very little story logic behind the game play. Shiver does a much better job with the inherit-a-haunted-estate story line. I'd recommend that instead of this game.
June 14, 2012
Definitely a Challenge.....and not in a good way!
Excellent story line makes you eager to find out what will happen next. The year is 1830. You have been raised in an orphanage. You are now a governess and having reoccurring dreams of an old mansion and an old oak tree that has a face. A package is delivered to your home with a note from a long lost aunt. You are told of your family?s estate and you go there to investigate. You are a descendant of the wizard Merlin. Your nemesis is Merlin's former student/lover. You are given a time traveling device that is used throughout the story. There are two options of play, I chose expert and still got sparkles. I?m not sure why you are even given a choice as there seems to be no difference, the hint filled up fairly fast and the puzzles were no more difficult than usual. The HO are truly junk piles. Several times I would click on an item and it would not remove it (like a banana#, I would hit the hint and it would go straight to it. I would click it again and nothing. After several clicks #5-6# it finally removed it. Hint penalty? Not sure what to tell you, I clicked like a maniac and never had one, then out of the blue half way through the game BOOM, I got one, than two so, sometimes yes, sometimes no. Okay, like I said the story is really interesting and the time travel adds a whole new dimension to the game play, unfortunately it is not done very well #IMHO). I rarely if ever use the strategy guides, however, with this game it was used constantly. You never know when you have to jump to a different time to do something. If you hit the hint it goes to the time device, but which year? There are 5 different years to travel to. I started off really enjoying this game. Than when the time travel came up it became frustrating not knowing when or where to jump to. Half way through I was just going through the motions, using hints and guide without even trying to figure out what to do. Oh, and the ending ?well ??to be continued?.
June 12, 2012
I guess I'm in the minority....
...because I hated this game and could not wait to be done with it. The voiceovers are annoying and if you make the mistake of clicking in the same place again you have to hear the same annoying voice saying the same annoying thing over and over. There is WAY too much back and forth, once you get the hang of the "time machine" it's a little better, but to me, without the time machine telling you where there was stuff to be done, you never would have known how to do anything or where to go. There are 2 good things....the strategy guide actually keeps up with your progess in the game, that is until you close the game, then you lose your place. The other is, if you get stuck and simply cannot find a hidden object, you have the option to play a mini game of match 3 intstead. Overall, it's taking me twice as long to finish because I have to keep stopping because I get so annoyed at the whole thing.
July 8, 2012
A GAME TOO LONG
This is for those with a huge appetite who just can't get enough of a game, others (myself included) will be left crying, 'enough is enough' long before the end. I ended the game using the, thankfully, ever ready hint button. It is, for this casual player, simply too crowded. No idea, however small and unnecessary to the overall objective, escapes this designers hands, and deemed unworthy of an extra h.o.s. or another journey hither and thither through time. The result is to exhaust interest in the game too soon. Having said that, the graphics are of a high quality; the h.o.s. do not rely on the tiny and obscure for their interest; the puzzles are amusing and the interactive areas work spontaneously for the correct solution. The voice over is unobtrusive and and better than many games. The story line however is unremarkable. I recommend that casual players who are tempted by this game choose the s.e., because, having been out there on the long, long trail with this game, a bonus chapter may be just what you don't want.
June 11, 2012
I really dislike "to be continued"
Poor endings are a major gaming cop-out. You shouldn't be able to accept peoples' money for an unfinished product. That's all I can say on the subject.
June 20, 2014
A feast of HOS
After I played the demo I bought the CE because I liked the time travel gadget. I like gadgets. But to the rest, if you like hidden object scenes then look no further. This game you will love. HOS to HOS with few breaks in between. Leave one junk pile and delve into another. Objects repetitious and no class to them, just a junk pile to reward you with an object forming part of several same type objects to collect from HOS areas before you can put them together. Hither and thither, two and fro. The developers recognized the tiresomeness of it all and so using the gadget, it is transportation from room to room in the same mansion but at different time zones. I refused to travel any other way looking for HOS. I just get transported to them. That is pretty cool. The story line is good, the graphics excellent, the music a bit tiresome and a few interesting mini games; but all in all a lengthy feast of HOS for you HOS lovers to gorge on. I love HOGs, this genre is my favourite but the game must not be replete with HOSs to the point of nausea. Especially collecting a list of items that makes no sense to the game. So for you lovers of junk piles, I recommend five stars. Oh alert - I am giving a spoiler - the ending is a cliff hanger, rather abrupt. Developers say to be continued. The CE does have a nice extra little game at the end with another banquet of guess what ---- Hidden object junk piles. HOS lovers, go search for feathers, bells, pipes, hour glass, roses and other whatnots. Enjoy!
August 25, 2013
STORY LINE ENDS WITH "TO BE CONTINUED"
This game doesn't have an ending. Its ok if they continue to another story if at least the 1st story in done, but this just leaves everything hanging. The travel clock is nice at first but just plain irritating after a while and you have no real choice as to what to do next. The farther you get into the game the less choice you have as to your next step. Don't often regret buying a game but I do this one. Also the HOS are not of the quality they should be.
April 17, 2013
Real Challenge.....and not in a good way!
I would not have had any idea where to go next throughout the game and would never have finished it without the SG. Way too much moving around, which had to be carried out with the SG. No rhyme or reason for all the moving around. Puzzles were good and graphics were great.
June 10, 2013
NO
To much jumping around; I'm sure some would enjoy it but, me not so much.
August 20, 2012
There's a Mystery here: How did The Ancient Spectres achieve a 4.2 overall rating?!?!?!?
I played this game for the one hour trial. I made very little progress. Based on the one hour's play I could not justify spending the money required to own Ancient Spectres. I would not apply game credits to get it for free. That would be a waste of a precious "CE coupon. Before I proceed with the "play now" option of a game for testing purposes, I read the reviews of others. There are a few, Pennmom36, Nilosh, and a relatively newer reviewer, ElitistGeek, whom I ALWAYS seek out because they put a lot of thought and work into their reviews. I don't necessarily agree with their findings, but I absolutely trust their business-like approach to reviews and the integrity with which they write. They inspire me to write the best possible reviews I can. Please believe me when I say, I'm not just taking potshots Time Mysteries. THIS GAME gave me nothing in the first hour of play that made me want to continue. OVERALL: Guess. FUN FACTOR: Well, there were points in the game where I laughed out loud. It was because it was a funny moment, not a fun moment. Fun is what I have when the other elements of judgment are good: Audio-Visual elements, Storyline, Challenge (HOG and Puzzles). My "Fun" score and my "Overall" score are usually the same. VISUAL/SOUND QUALITY Visual: Perhaps the developers did exactly what they set out to do...if what they set out to do was create a game with virtually incomprehensible visuals. Every scene seemed as though I were looking through a smudged dirty window into a room with very poor lighting. I couldn't make anything out, and my eyesight isn't failing. Objects were not discernible to me. Consequently, the majority of the hour test time was spent on two HOS. Throughout both I got to a point where I just rapid clicked in order to clear the items. Sound Quality: The voice actors were annoying at best. They were wooden in the voice acting. Emotions of surprise, fear, discovery, trepidation, success...These don't sound the same...right? In this case they did sound the same. The couple/few voice actors I heard sounded like they were reading, not acting. Another annoying audio "feature" is the repetition of a spoken line: you click in a certain are and that sparks a particular line of script to be spoken. This area is too large. As a result there's way too much repetition of spoken lines of script. You cannot short-circuit the line by clicking on something else: once the line of script is started, it plays through to completion and you can do nothing else while it's being spoken. When you add this repetitiveness to the poor acting, it's almost unbearable. LEVEL OF CHALLENGE HOGs: As I wrote earlier, it's difficult to see the individual items because of the hazy and poorly lighting. Additionally, the scenes are heaps of items thrown together in piles and indistinguishable. These objects are not hard to see because they blend into the background or are exceptionally well-hidden. They are hard to see because they're unclear, because they are poorly described AND AFTER AWHILE, because you just give up, realizing that it's a fool's errand searching after them. Puzzles: The challenge here is more realistic. In my hour I played only two puzzles/mini-games. They were not difficult, particularly, but they were fun. They are not new, but presented a slightly different take on old, reliable styles of games. (At the time Ancient Spectres was published, these games may have been new and state of the art. If so, bravo to them. STORYLINE I only know what I've read and it does sound interesting. I know there's a lot more to the story than what experienced in the hour I played but I'm not paying to play a poor quality game just to find out. CONTEXTUALIZING OTHER REVIEWS: This is not a new game and game development has come a long way since this Ancient Spectres was "born." When I looked at the reviews of this game, I discovered that the likelihood of a high score increased with the age of the review. Older review=higher score. Newer review=lower score. This is a function of the great strides in game design over the last year: games have gotten a lot better. A high score on on a recent review of an old game translates into CLASSIC!! That is not what we see here. Please bear this in mind when making decisions based on reviews that are relatively old. Considering the age of Ancient Spectres, I think you can do much better than this. You can find classics: for instance, try Edgar Allan Poe: The Black Cat Collector's Edition; Haunted Halls: Fears From Childhood; and, Macabre Mysteries: Curse of the Nightingale Collector's Edition. These are examples of games which, while old, stand the test of time and are objectively good games. While they may no longer be your "up of tea" you will not see them as being qualitatively deficient. I cannot recommend this game to you in any format...CE, SE, paid or free...This is a waste of time and money. And...it's a good reason to find a few reviewers whom you can trust: read what they write carefully, depend on them.
December 18, 2013
The Apple logo is a trademark of Apple Computer, Inc.
The Windows logo is a trademark of Microsoft, Inc.